Mr. Brainwash is excited to announce his biggest and most ambitious exhibition to date entitled Art Show 2011.  Not only is Mr. Brainwash putting on an art show, he is inviting any and all artists to come and participate in the event as a community art project. 
 

Since M&F is the voice of LA's street art community, Mr. Brainwash extended a special offer to the followers and supporters of the blog by offering an exclusive first chance to put art on the walls this past Sunday. There was a huge turnout opening day with everything from five year olds to 60-year-old grandmothers, and first time artists to seasoned street art veterans. Here is a sampling of the great shots and amazing stories we captured from first day of Mr. Brainwash's 'Art Show 2011.'
If you want to be part of Mr. Brainwash's 'Art Show 2011.' it is not too late. Due to the extreme popularity of the event, Mr. Brainwash has extended the hours, and the space will be open one final day, Sunday, October 16th from 11AM-10PM, so come share your art!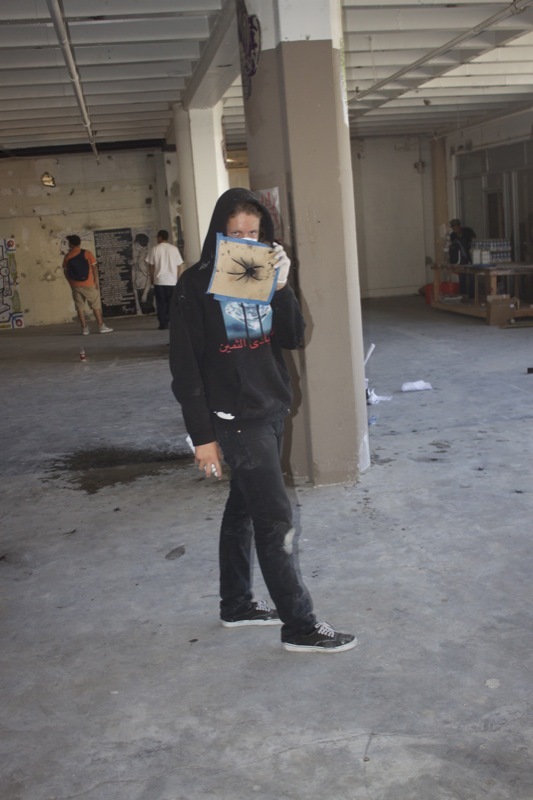 AMK - LA based stencil artist AMK applied his signature spiders all over Mr. Brainwash's 'Art Show 2011' and maintainted a stealthy look all the while. More HERE.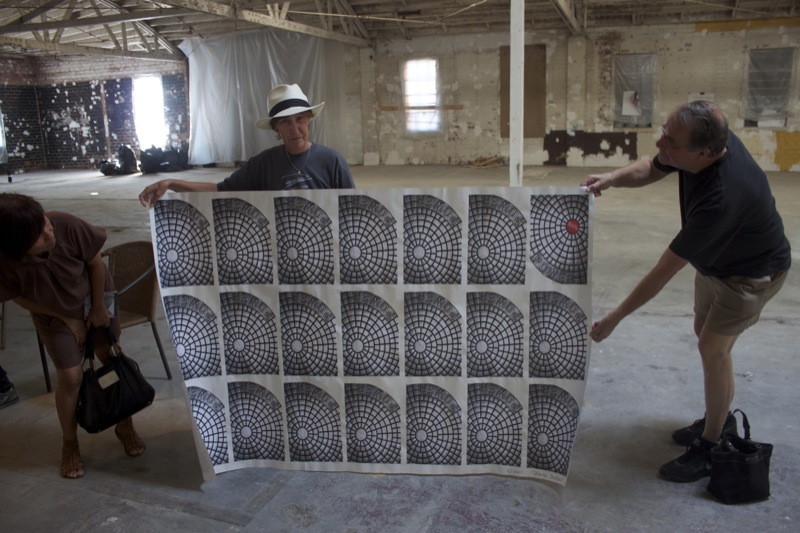 Art Queen - One of the most compelling stories of the day was the 60 year old 'Art Queen' who has long been a fan and photographer of street art, but became inspired to create her first street art as part of 'Art Show 2011'. She said that this is a secret side of her that most of her family and friends don't know about. More HERE.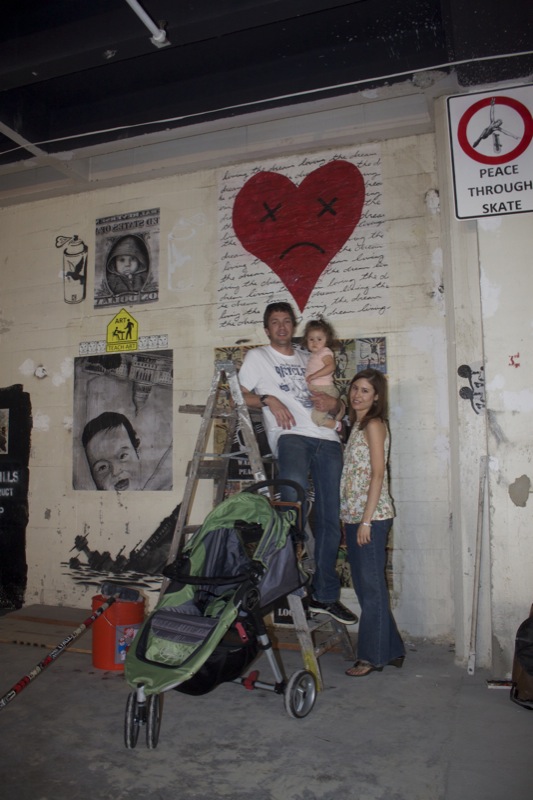 Family Affair - 'Art Show 2011' is a family affair. Here are shots of a happy family supporting Dad as he places a piece on the wall and then all the cheerful members posing for a family portrait. More HERE.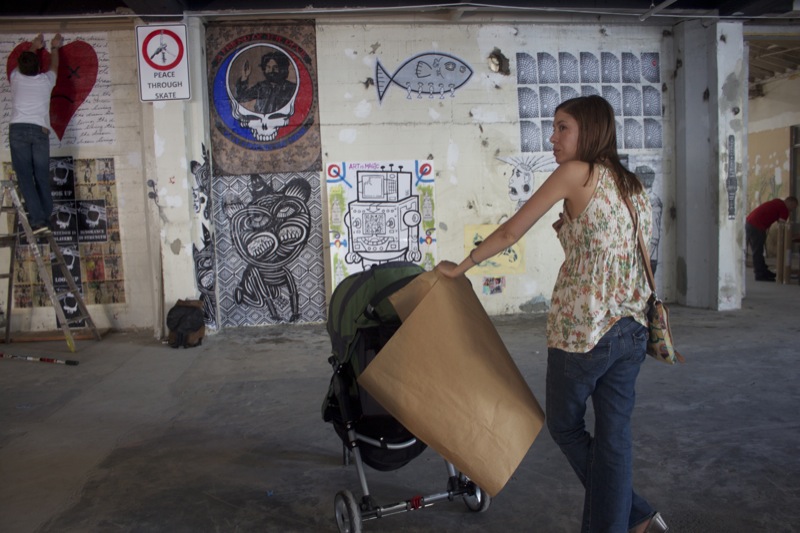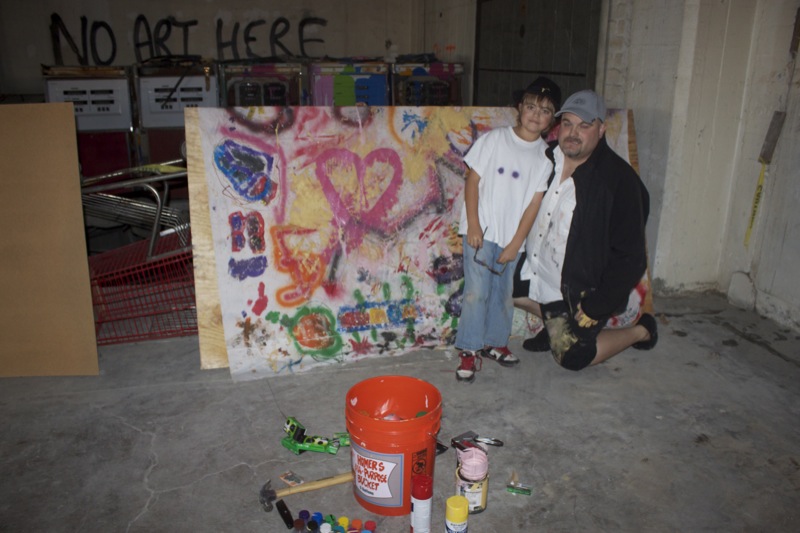 Highway Art - This was probably the most striking story of the day. This family lives in Reno, Nevada. But when the father heard about the opportunity to be part of Mr. Brainwash's 'Art Show 2011,' he and his son hopped in the car and drove straight to the gallery. The piece is called Highway Art because it was created along the way, with collaborations ranging from truck drivers to Mr. Brainwash. More HERE.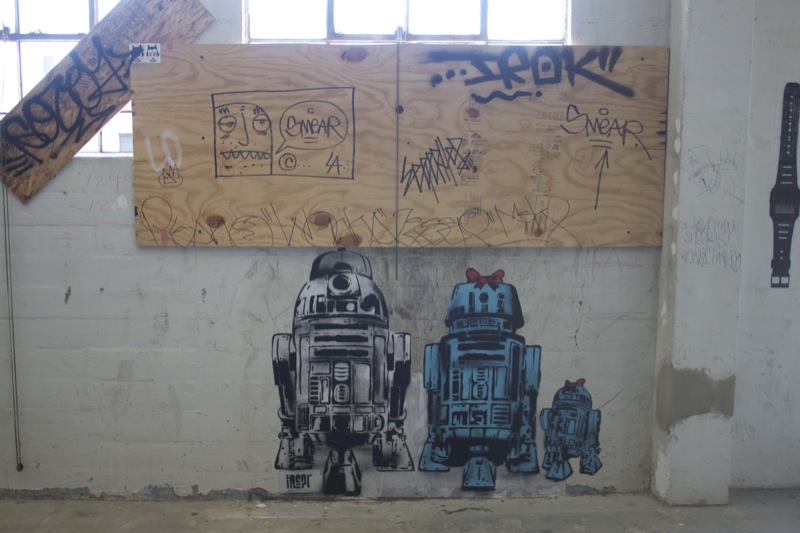 Inept - One of our favorite pieces of the day was this Star Wars-themed family portrait from street artist Inept. More HERE.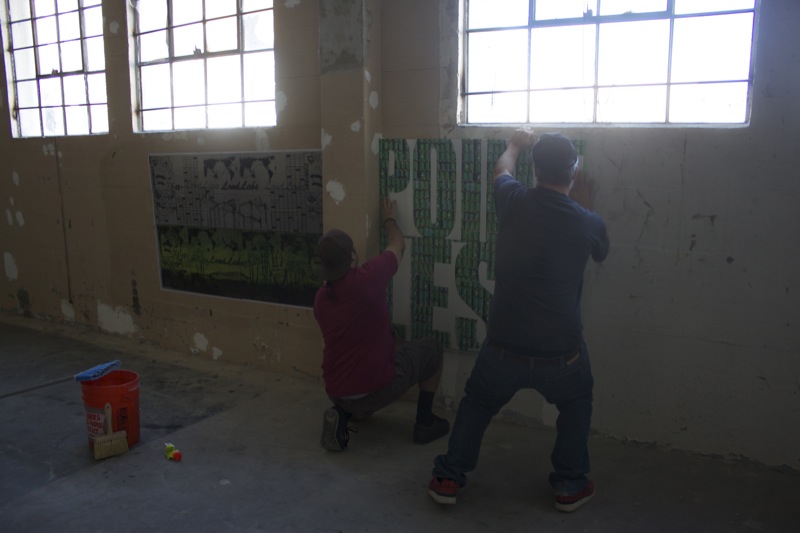 LOUDLABS - The LOUDLABS crew affixing an actual canvas, not a wheat paste, to the wall inside 'Art Show 2011'. LOUDLABS have distinguished themselves by bridging the gap between fine art and street art, as they only place canvases and tile pieces of art on the street. More HERE.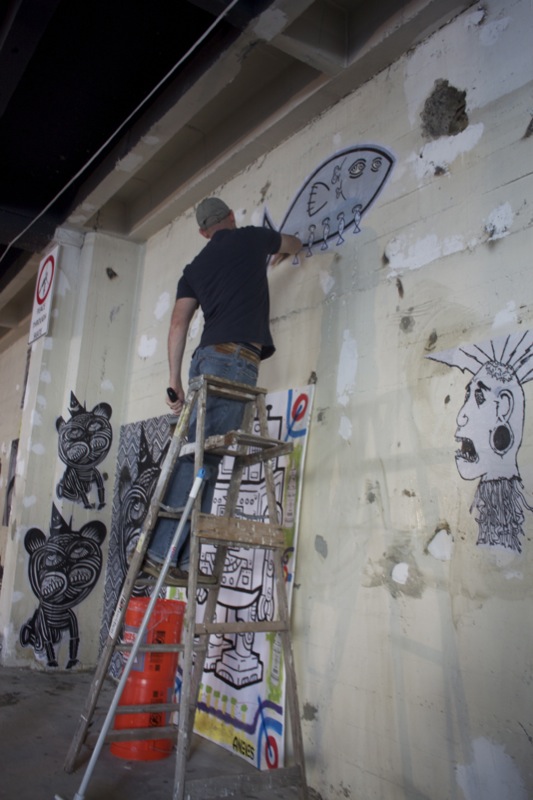 Maggot - Maggot installing one of our favorite pieces to hit the streets of Los Angeles this year, featuring a mother fish nursing a bunch of baby fish. More HERE.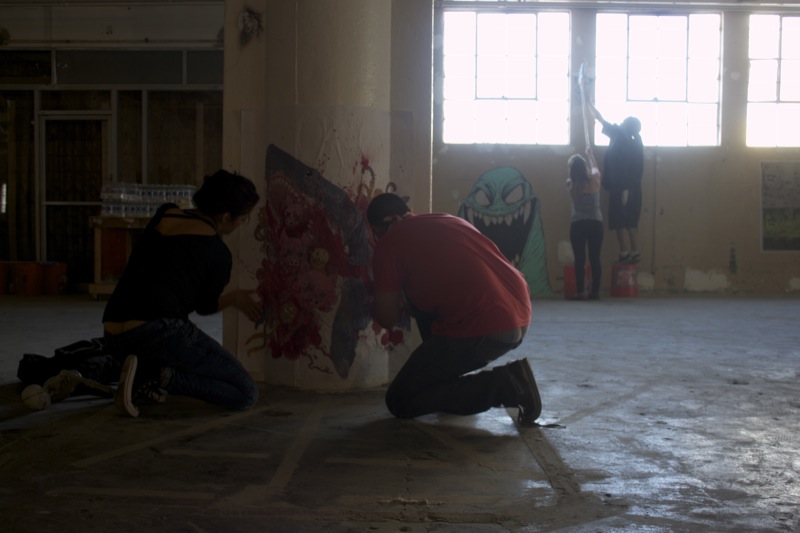 Phobik - Street artist Phobik wearing a bandana and installing a hand painted shark piece. With fellow street artists KilleD and Surrendr putting a piece up in the background next to a piece by Gune Monster. More HERE.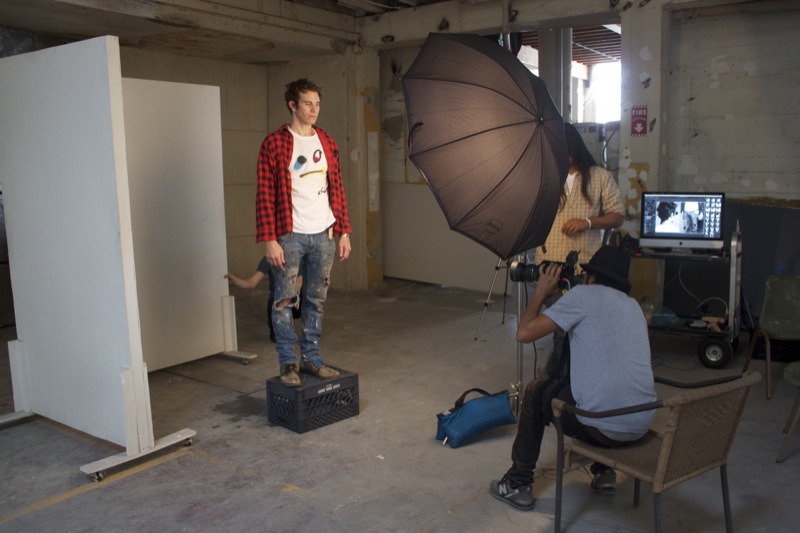 Professional Photo Shoot (With Gregory Siff) - There was a professional photographer on hand to snap anonymous photographs of the participants. Here is LA-based street artist/actor Gregory Siff striking a pose for the photo shoot. More HERE.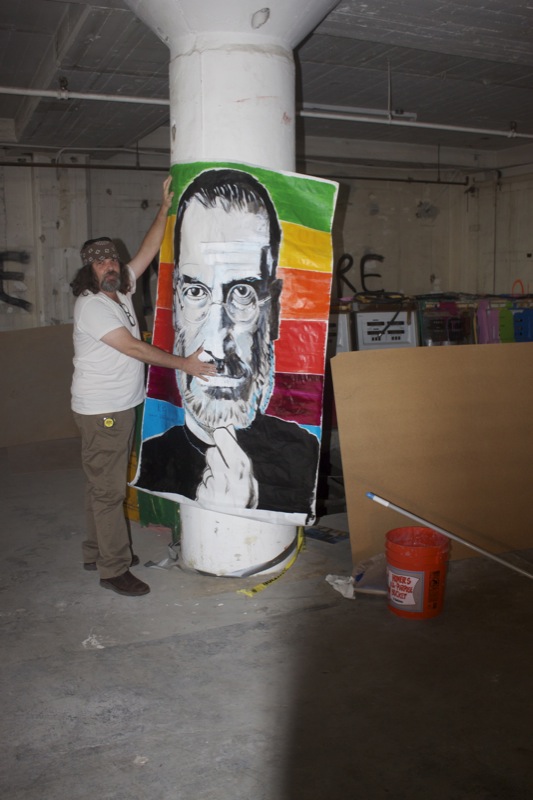 Steve Jobs Tribute - A Steve Jobs tribute piece hand painted by artist Robert E. Richards. Dig the OG Apple throwback color scheme. More HERE.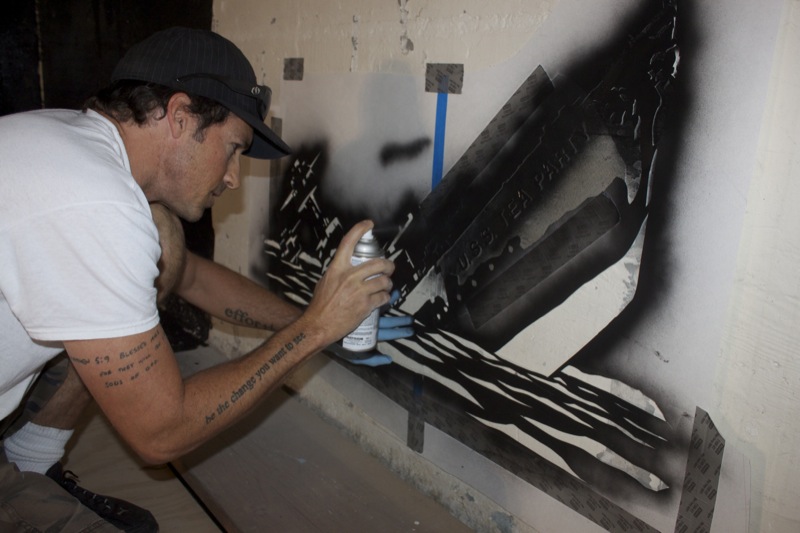 Teacher - Teacher has earned a name as one of LA's top street artists. His pieces are almost always hand-painted or printed from a hand painted piece. The art pieces aren't just aesthetically pleasing (although they are that), each one also comes packing a socially relevant message. Add that to the fact that Teacher is rolling out fresh new imagery and messages every week. And top it off with Teacher's continually hitting some of the biggest, highest, hottest spots in town, and it becomes clear why Teacher has earned this street cred.
And the best part is that Teacher is a great guy in person. He really is a nice, positive person, and like his tattoos say, Teacher really strives to 'Be The Change You Want To See' in the world. Here is an action shot of Teacher stenciling a piece at 'Art Show 2011'. More HERE.

FOLLOW HUFFPOST