August 28, 1955 - Emmett Till is murdered in Money, Mississippi.
August 28, 1963 - Rev. Dr. Martin Luther King Jr., gives his "I Have A Dream" speech in Washington D.C.
August 28, 2008 - Barack Obama accepts the Democratic Presidential nomination in Denver, Colorado.
This is another bloody summer in Chicago. A summer tragically highlighted by the execution-style death of Robert Freeman. A 13-year-old boy shot 22 times near his South Side home.
Murder. Murder statistics. Shootings. Gangsters. Gun laws. Illegal gun sales. Three Chicago police officers murdered in two months. Banksters. Foreclosures. Unemployment. Poverty. Deprivation. Depression. Depravation. Desperation. Savagery. Violence! Peace?
Peace... we must respond to violence with peace. Martin King understood this, "True peace is not merely the absence of some negative force -- tension, confusion or war; it is the presence of some positive force -- justice, good will and brotherhood."
The faith community of Chicago is responding with the positive force of peace using August 28th as a symbolic focal point because of its historical significance:
Emmett Till represents the 'violence against us'.
Martin King represents the 'dream for us'.
Barack Obama represents the 'promise of us'.
As a nation we rose from the violence set upon 14-year-old Chicagoan Emmett Till to the vision of a former Chicago resident, Martin Luther King Jr., to the presidential victory of a South Side organizer named Barack Obama. Now we must pledge to extend this tremendous legacy. Violence against one is violence against all. Violence is the absence of peace. Peace is greater than violence. This is not a point to be argued but practiced. That's why we're asking everyone to take the Peace Pledge: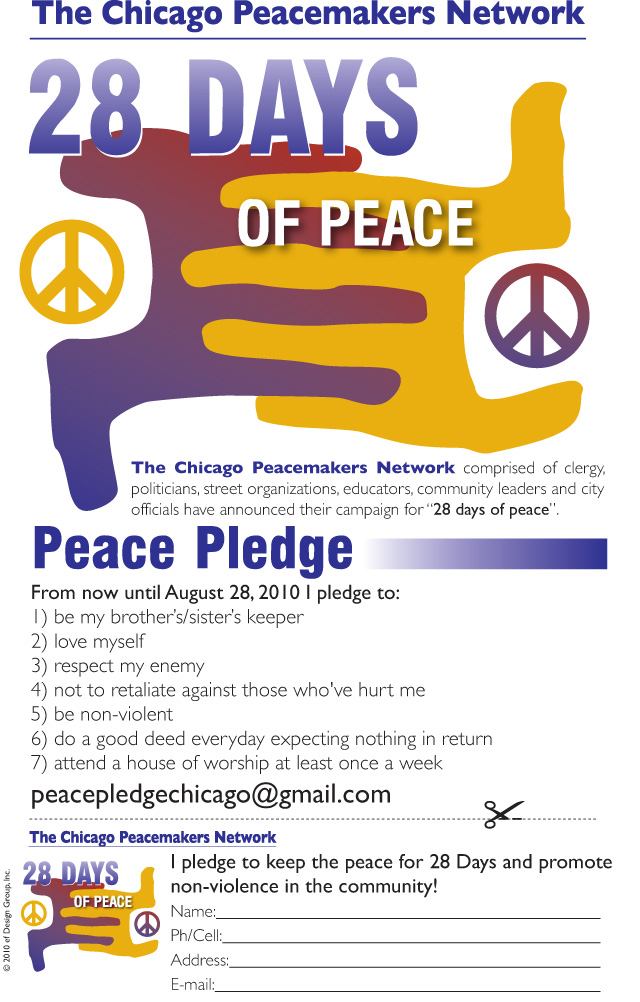 Mayor Richard Daley, clergy, gangbangers, police officers, children, parents et al, have already signed this Peace Pledge. Practice the principles of peace at least 28 days a month. The difference will of course be obvious.
You don't have to be a Chicagoan to sign this -- create the positive force of peace wherever you are and place the same signature on this document you place on a mortgage or an insurance policy. Your signature, your involvement means something. Peace...
SUBSCRIBE TO & FOLLOW THE MORNING EMAIL
Start your workday the right way with the news that matters most. Learn more