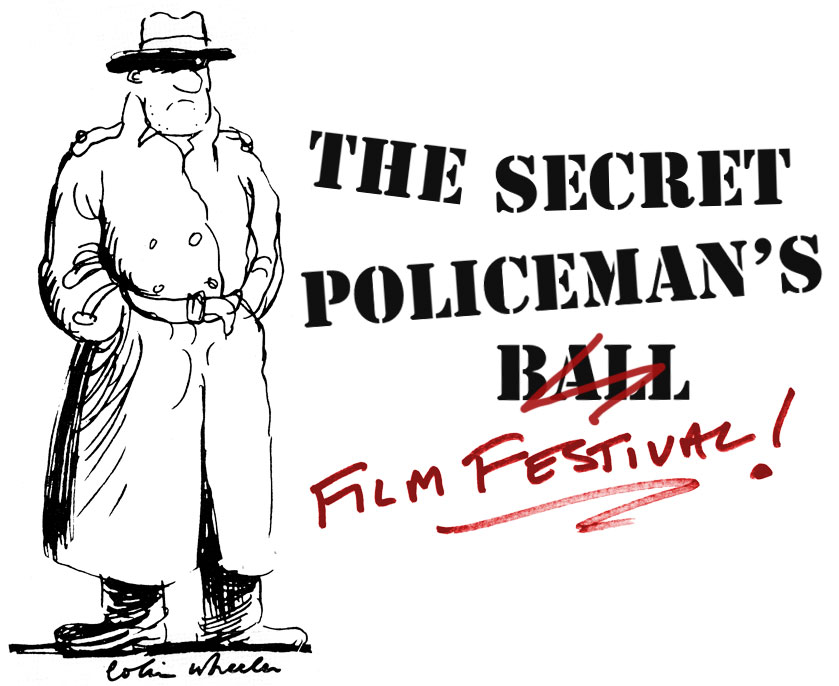 June 2009 marks the 30th anniversary of the pioneering Secret Policeman's Ball series of benefit shows for Amnesty International. The anniversary is being saluted with a major film festival in Los Angeles and New York: June 11 - July 31. Huffington Post bloggers are providing extensive coverage of the festival.
A tropical thunderstorm doused New York City as Amnesty International executives and administrators -- and a few special invited guests -- assembled at Lincoln Center on Friday evening for a private gathering to mark the East Coast opening of the Secret Policeman's Film Festival -- celebrating three decades of comedy and music in service of Amnesty's efforts round the world.
Surrounded by blowups of Tim Hetherington's impassioned photos of challenged and transitional world cultures, Amnesty bigwigs in attendance included Executive Director Larry Cox, Deputy Executive Director Timothy Higdon, board member Simon Billenness and Sandee Borgman -- who as Director of Entertainment Relations coordinates Amnesty's outreach to the entertainment community. Amnesty's guests included Paley Center curator Ron Simon, BAFTA-East Coast founder Freddie Ross Hancock, actress-musician Jill Hennessy and Secret Policeman's Ball co-creator/producer Martin Lewis.
In opening remarks about the anniversary, Lewis paid warm tribute to the team who energized the Secret Policeman's Ball series singling out John Cleese for special praise as the instigator of the very first show. Lewis talked of the contributions of the comedic talents that Cleese had rounded up over the years including his fellow Pythons, Peter Cook & Dudley Moore; and of Cleese's championing of emerging talents such as Rowan Atkinson, Stephen Fry and Hugh Laurie.
Lewis also spoke of the inspirational import of the first musician he'd recruited to the Amnesty cause -- Pete Townshend -- and explained how Townshend's musical contributions in 1979 and evident love for human rights "opened the door" for Lewis to recruit other musicians to the cause including Sting, Eric Clapton, Jeff Beck, Phil Collins and Bob Geldof -- which in turn led to Bono and U2, Peter Gabriel, Bruce Springsteen and so many more musicians joining the human rights struggle.
Lewis then introduced the new anthology film commissioned by Amnesty to celebrate the 30th anniversary of the Secret Policeman's Ball series -- Triumph Of The Ball. "I wanted a title that would push Leni Riefenstahl's work one notch lower in the alphabetical universe of film titles..." quipped Lewis.
Triumph of the Ball -- which will be screened during the festival in both Los Angeles and New York at the respective branches of the Paley Center for Media -- is a Hellzapoppin' style cavalcade of highlights from thirty years of Amnesty benefit shows and fund-raising projects -- bringing together much more talent than could possibly fit in this paragraph (or even web-page). The aforementioned performers -- yes -- and then an explosion of other talent ranging from Kate Bush to Youssou N'Dour, Sarah Silverman to Russell Brand, Pink Floyd's David Gilmour and Eurythmics' Dave Stewart to recent supporters Green Day, Daughtry and Nickelback.
Essentially, as the Balls have grown and grown -- from Ball to Other Ball to Third Ball and Biggest Ball... through Amnesty music tours Conspiracy of Hope (1986), Human Rights Now! (1988) and "new Balls" staged as recently as 2006 and 2008 -- so too has the talent roster of celebrity Amnesty supporters. Scope the festival schedule online for more info.
Following the screening, Amnesty's Executive Director Larry Cox, paid tribute to the value of the entertainment shows in spreading the Amnesty message: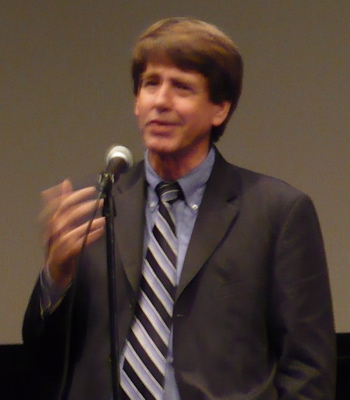 Amnesty Executive Director Larry Cox speaking at Lincoln Center
(photo: Gregory Weinkauf)
"I just want to say a word of heartfelt appreciation for all of the many, many, many, many people over the years who have contributed to these projects, that have meant so much, not only to Amnesty International, but more importantly to the broader fight for human rights.
"You know, from the very beginning, back in 1961 when Amnesty started, it struggled with the question of 'how do you get the message out to people? How do you let people know that there's a way they can really make a difference in the world?' There's a way they can change the world. 'How do you get that message out beyond what the media will let you do? How do you reach people?' And even though there were a lot of brilliant people thinking about that question in Amnesty, as far as I know, nobody ever thought that the answer might lie in a sketch about a dead parrot!
"It really took Monty Python to show us the power of comedy. And it took these incredible musical artists like Bono, like Sting, like Joan Baez -- who was one of the people that started Amnesty International USA -- to show us the incredible power of music. And it took Martin Lewis to bring together both the comedy and the music, and to link it to the power of Amnesty.
"It made a big difference, once we had The Secret Policeman's Ball and The Secret Policeman's Other Ball, and the Third Ball, and every sexual pun we could think of... And then -- not to add another pun -- but once the Ball got rolling, it just never stopped. It led to the other concerts, the Conspiracy of Hope, that incredible thing, and of course the Human Rights Now! tour.
"In the process, what's really important is that millions and millions and millions and millions of people who never would have thought about human rights got the message, and saw these incredible spokespeople saying, 'Hey, this is about us. You can make a difference. You can do something about the horrors that you see every day.'
"I just want to say thanks once again to all the incredible people -- both the artists who have been with us for a very long time, like the ones I mentioned, the ones you saw; but also the new people that Martin mentioned -- we're so blessed that people are continuing to lend their talents."
An intimate after-party at the nearby studios of Gibson Guitars offered the delightfully quasi-unhealthy combination of real New York pizza and real Belgian beer accompanied by an informal jam led by veteran David Bowie guitarist Earl Slick with session and road-dog veterans Benny Harrison (Fleetwood Mac, Aerosmith, The Band, Corey Glover) on piano; Tony Beard (Jeff Beck, Peter Frampton, CSN) on drums; Jeff Allen (Duncan Sheik, Avril Lavigne) on bass. Jill Hennessy sat in and delivered an alarmingly good cover of "Thunder Road".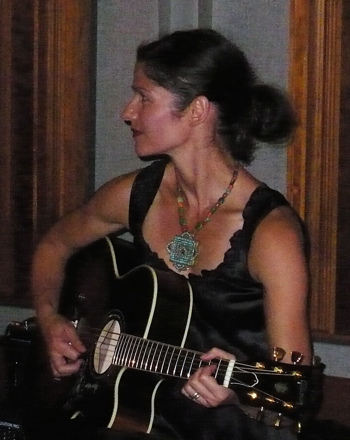 Actress/musician Jill Hennessy performing at Amnesty's after-party

(photo: Gregory Weinkauf)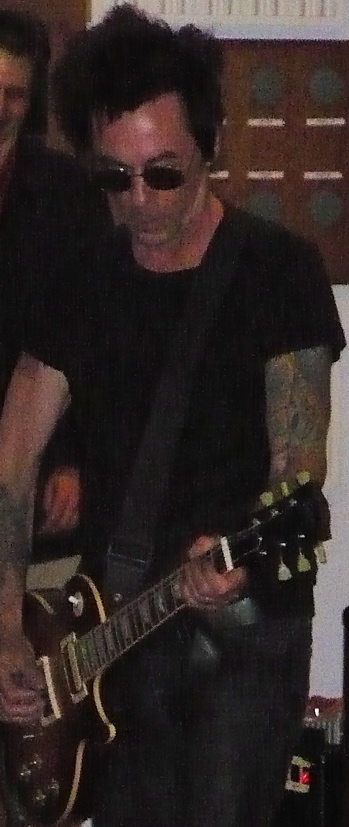 David Bowie guitarist Earl Slick leading the after-party's informal jam
(photo: Gregory Weinkauf)
MORE ON HUFFINGTON POST ABOUT THE FILM FESTIVAL
• Having A Ball For Amnesty (includes ultra-rare film clips)

• Even Bigger Balls Than Mark Sanford...

• Smile and Say "Cleese!" - How the Secret Policeman Mocks, Rocks and Shocks

• The Secret Policeman's Film Festival: Be There -- With Balls On!

• 30 Years of Mocking and Rocking

• Having a Secret Policeman's Ball

• And Now For Something Completely Different: The Secret Policeman's Film Festival

• Monty Python & The Holy Grail... of Human Rights
OFFICIAL FESTIVAL WEBSITE
• The Secret Policeman's Film Festival -- Official Website
FOLLOW HUFFPOST