I was five years old when the greatest pop-rock band ever to come out of the U.K. made itself known to me. Here's the scene: It was late 1974, it was a tinny clock-radio, it was an utterly hypnotic song called "Killer Queen" -- and my life, destiny and especially taste were irrevocably changed. By 1976 I was watching Queen pretend to perform their revolutionary hit "Bohemian Rhapsody" on Dick Clark's American Bandstand, and, like most of the populace of Earth that year, I was amazed: Nothing could compare to Queen. This personal history could go on infinitely, but let's put a fine point on it and say that if there were a world-record for largest number of times a human being has listened to Queen's soundtrack album to Mike Hodges' and Lorenzo Semple, Jr.'s 1980 cinématic masterpiece, Flash Gordon, well -- yep, right here, baby. Thank you.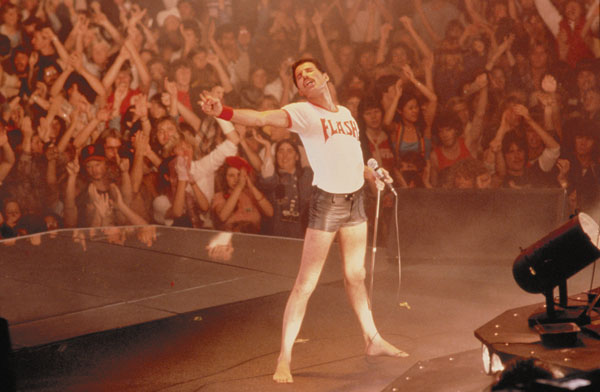 "He'll save every one of us!" -- Freddie Mercury.

photo © Queen Productions
Thus is it that, like many (very many!), I have for years greeted the notion of a full-blown Queen movie with the expected mixture of excitement and dread. Excitement because -- well, duh: It's Queen! And dread because -- as you have probably figured, the notion of casting the role of superstar frontman Freddie Mercury (né Forrokh Bulsara) proves confounding and possibly even painful to the many millions of us who looked to his persona as both inspiration and genius.
Under pressure I'd vote for a gifted unknown, but moreover I simply don't want to watch anybody romping around, playing Freddie (or, as the poster tag-line and Oscar-bait blurbs are sure to declare, "being" Freddie). Much as with Andy Kaufman when the otherwise clever Man on the Moon movie came out, my feeling is: You want to see the guy? There's a lot of excellent video and film of the actual guy. Queen's astounding Wembley Stadium appearances in 1985 and 1986 are readily available, and -- even better -- the band's magnificent 1976 free concert in Hyde Park is almost as easy to find. (Take me to dinner and you can borrow my copy.)
And, as you've likely guessed by now, I am displeased with the casting (formally announced last Friday and already widely tweeted and facebooked and whatever) of extremely obnoxious comedian Sacha Baron Cohen -- the literal definition of "ass-clown" if ever show biz has seen one -- in the role of Freddie. I read the press release, and I understand that bigwigs including tireless Queen honchos Brian May (the biggest wig of them all, bless him) and Roger Taylor are backing the project (Queen's brilliant bassist and hit songwriter John Deacon retired from professional music a few years after Freddie died in 1991 of AIDS-related causes) -- but even with their approval, supported by producers Graham King and Robert DeNiro, I feel personally stung by the announcement, as if Borat with his little baggie of his own dung is intentionally dumping it over our Freddie's head -- because he can.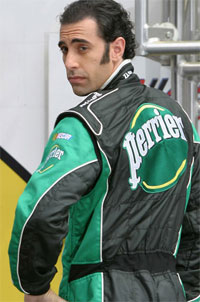 The Ass-Clown: Sacha Baron Cohen as gay caricature
in Talladega Nights: The Ballad of Ricky Bobby
photo © Sony Pictures
They couldn't find a proper actor? They had to hire a joke?
Come the counterstrikes: "He looks just like him!" -- and, no, not really. His features are close-but-no-cigar, he's a bit too old and a lot too tall. "He's the perfect performer to play him!" Let us also mention: Much too damned annoying. Whatever he's like in person, the baggage associated with Baron Cohen as a performer primarily involves being a repulsive, sociopathic jerk. I never knew Freddie -- but that's simply not Freddie.
Then there's the matter of Freddie as gay icon. Allegedly he held a fondness for females early on, but homosexuality and/or bisexuality proved a salient component of the Freddie Mercury persona. Not my field of expertise, but the man made it okay to be gay. Which stands as a very stark contrast to Baron Cohen, whose tiny range spans from being annoying, to being an annoying gay man. From Talladega Nights to Brüno, Baron Cohen aggressively exploits homosexuality as a cheap joke, a nasty caricature, and he certainly does not explore it as a lifestyle.
The question resounds: WHY THE HELL HIM?! There's no director slated yet, and the other actors have not yet been announced, so why raise this casting stink so far in advance? It's puzzling. An iffy comedian (I'd say a lame Peter Sellers-wannabe) as Freddie Mercury? Really? Will Rob Schneider step in as Brian May? David Spade as Roger Taylor? Heck, why not throw all logic to the wind and cast Dave Chappelle as John Deacon? (I'd pay to see that.)
So yeah, this bothers me. But it's not just about Baron Cohen. I'm not an absolutist in my opinions, and he may defy expectations and do a credible job. Rather, this casting choice provokes in me a perception of capitalist grotesquerie, or even creative cannibalism. Freddie's dead, to put it neatly. Therefore, is this project to be classified as "celebration" -- or merely as further exploitation, devouring and digesting what remains of our wonderful collective memory of the actual performer?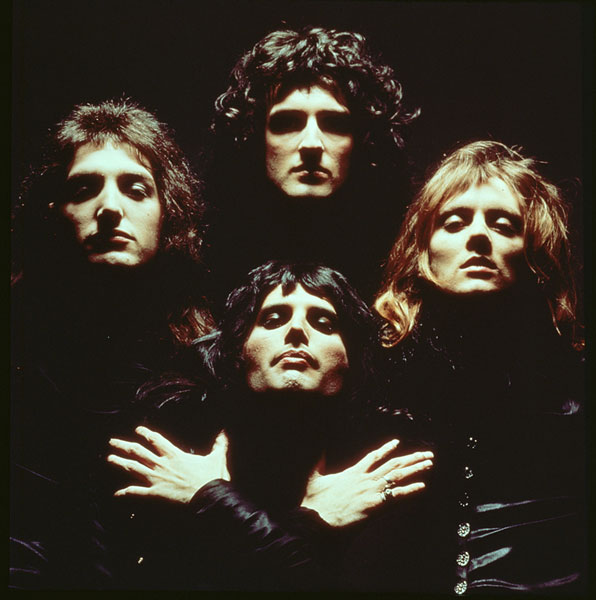 "Is this the real life?..." -- Queen perform "Bohemian Rhapsody."
photo © Queen Productions
I went to see the peculiarly-named "Queen + Paul Rodgers" twice during 2005/2006 -- and loved 'em. Why? Because (even though the warm-up track was Eminem -- heh, small world) it wasn't bullshit. That band up there should have billed themselves more accurately as "Mercury-Free Queen," but otherwise, it was a straight-up (pun intended?) affair: Rodgers, not my fave vocalist but a talented and even thrilling frontman in his own right, was not playing at being "The Great Pretender"; instead, he and two of Freddie's legendary bandmates were giving us the astounding songs we love, as a salute to Freddie but moreover as an authentic performance as themselves.
Unfortunately, now I sincerely dread that everybody will be associating reigning ass-clown Baron Cohen with the irreplaceable and highly original rock icon we all know we've lost. Following the relentless repackaging of Queen material after Freddie's death (Disney's Hollywood Records surely makes a pretty penny; Guitar Hero, too), and then the beloved Muppets (another Disney property) and their YouTube take on "Bohemian Rhapsody" (cute but vulgar -- and how could its fans possibly know that "Freddie would have loved it"?) -- I feel that something worth treasuring (Queen = the very best pop-rock music ever) is becoming ever more sullied. Actually, I'm starting to wonder if it was Wayne's World killed Freddie. His remarkable song was never a joke before that.
I'm not a gambling man, but if I were, I'd be taking bets that the absurdly-talented Brian May and Roger Taylor are already in talks to do a worldwide arena tour with Baron Cohen "being Freddie" (shudder) sometime around the movie's release. (File that future concert film under Horror.) I'm also not a religious man, but please, gawd, don't let that happen. The five-year-old inside me -- who as a teen bought every Queen album on vinyl, and as a young adult re-bought every Queen album on CD, and swooned to their greatness with his friends -- doesn't want all his fond memories annihilated. Sounds like the greenlight for this Queen movie is set, and who knows -- perhaps we'll gain some sensational insights from it. But after this, please, could we just stop milking the dead man?
SUBSCRIBE TO & FOLLOW ENTERTAINMENT
THE spot for your favorite fan theories and the best movie recs. Learn more