Today, the seventh of June, is the birthday of Prince Rogers Nelson. The year is irrelevant: If you've ever seen Prince and his amazing band play live -- as thousands of lucky participants and I just did during his sensational Los Angeles "21-Nite Stand" -- you know that time stands still and an ageless, dreamlike quality engulfs y'all. My first rock concert was Van Halen (in the sixth grade -- me, not them), and I've been present for the likes of everything from Dead Can Dance to Donovan, Loreena McKennitt to Paul McCartney, James Brown to Pavarotti -- but nobody, really, nobody puts on a show like Prince. He cavorts like a little kid, jokes like an old soul, dances like a gazelle, bellows like a bitch in heat, and dons more fancy costumes than a cadre of superheroes. I'm gonna call it: Prince is the consummate entertainer. He is a national treasure. They should clone him and put the clone in the Smithsonian.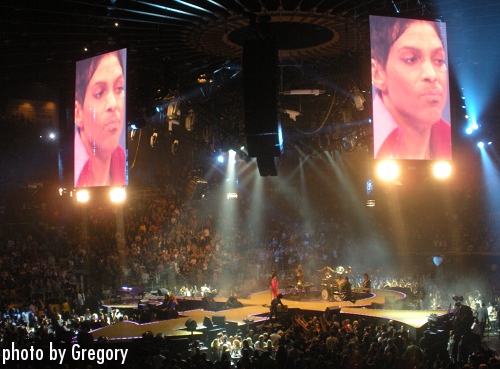 Greatest. Concert. Ever.
I grew up with Prince. Well, not literally -- but I was gazing at a fat Zenith with wooden legs when he mimed "I Wanna Be Your Lover" on American Bandstand in 1980, then peculiarly told Dick Clark he played "a thousand" instruments. Clark wasn't buying. But a few albums later, in 1982, I was buying: the straight white AP student so embarrassed about picking up Prince's 1999 on cassette for his sister at Musicland (hey, people knew me there!) that I actually put on a "disguise" consisting of a stupid hat and glasses. I wasn't ready. But then Prince went away for a year, and in 1984 came back with a full-band sound and Purple Rain -- the classic, genre-scrambling album the whole world still rightfully reveres. He's made terrific music almost non-stop since then (I enjoyed tormenting my dour Pink Floyd-head college roomie with "Housequake," and recently I've been revisiting Musicology), and -- setlists available elsewhere -- you name the hit, he played the living hell out of it during his recent run.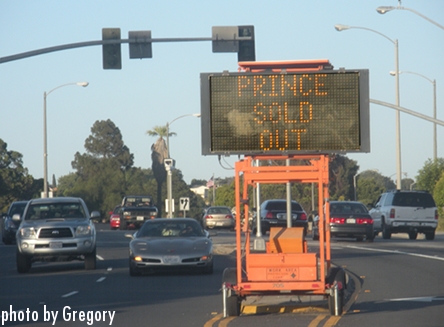 Oh no, he didn't!
But what is Prince? Personal anecdotes and hearsay aside, I can tell you that his appeal spans generations, and the ladies looove him -- probably because he gets up there and does all the things they wish they could get away with. (One look at their seated, sullen boyfriends tells you plenty.) Prince is also a lot like Bono (except Prince's weird moniker is his real name) in that he very clearly aspires to be the portal through which all pop music emanates -- the primary differences being that: a.) Apart from some of his lyrics, Prince isn't prone to any idiotic messiah complex and b.) Bono's guitar skills are to Prince's what George W. Bush's oratory skills are to Obama's. Speaking of which, Prince still occasionally suffers grammar issues: "The time for leaders are gone!" (sic) he declared to the seventeen thousand of us inside Inglewood's famed Forum. Oops.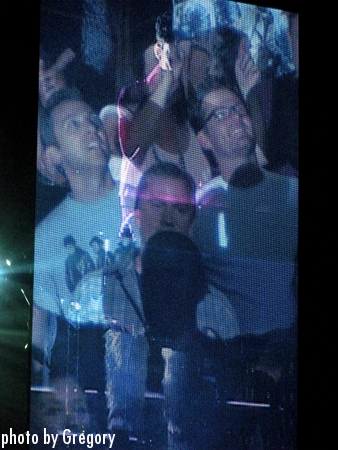 "Now all you others say, 'HELL, YEAH!'"
Prince encourages white guys to monitor their own dancing.
So Prince is not perfect -- not that you'd notice while he's effortlessly running his "Mountains" into a sing-along of Sly Stone's "Everyday People," channeling Michael Jackson via a ballsy cover of "Wanna Be Startin' Somethin'" or jamming his own countless hits alongside everybody from the legendary Maceo Parker to Sheila E. to his brilliantly-revamped New Power Generation. Perhaps what's most bewildering about the man is his sheer drive: a good night can go three and a half hours, and it's all good. I considered this alongside the news that Prince's brother, Duane Nelson, just died a couple of months ago. Perhaps shaking that ass is the therapy. It's been said that original soul-stirrer Sam Cooke toured as much as possible after the death of his young son (and Prince lost a boy, too; he and I share a name) -- so maybe we are witnessing some sort of exorcism, along with the pop perfection. Or maybe it's because Prince is a quintessential, split-personality Gemini; a few years ago I romanced a rotten Gemini girl with an allegedly sweet reputation, thus Gemini, to me, equals doubt and dread -- but I'm willing to sidestep the Zodiac if a person displays a variety of talents (whereas she only had one talent). So Prince's personal life remains enigmatic, and I'm sure not going to delve into it. But on that stage, trust me, Prince really is all things to all people. When he brings his brilliance to your region, you must go dance in the reign.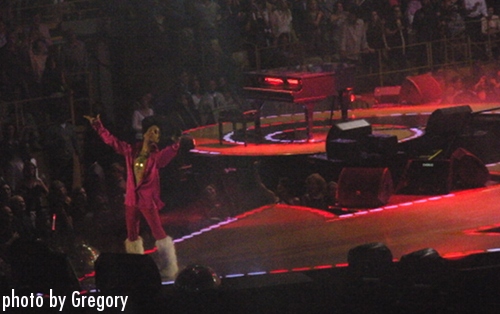 Prince: He's not a human. He is a dove.
Happy Birthday, Prince. Good Wishes to You and Yours.