After the Mods & Rockers Film Festival 40th anniversary celebration of the Monterey Festival - there was a private party for the assembled Monterey veterans and film festival staff in the Mods & Rockers Clubhouse. Writer Gregory Weinkauf found himself at the bash and witnessed the stage reunion of two rock icons from the 1960s - Eric Burdon and Donovan ...
Will miracles never cease? That is, indeed, a rhetorical question -- as less than a month ago, Sir Paul McCartney showed up with full band at Amoeba Records in Hollywood, and proceeded to delight the capacity-plus crowd with a full concert. (I can still hear echoes of each Na-Na-Na-Na! from Hey Jude!)
Macca performing in a record store?! Does it get better? Possibly ...
Imagine the delight of this intrepid correspondent Thursday night, when he managed to find his way into the 'Sanctum Sanctorum' of the Mods & Rockers Film Festival -- this meaning the famed Clubhouse of yore, nestled deep within the historic 1926 restaurant and club, the Pig 'n' Whistle.
In delved I, amidst a small gaggle of extremely fancy revelers, toward delights social and sonic -- and, once again, unprecedented.
(Side Note: Viewing the movie Fletch dozens of times at an impressionable age comes in remarkably handy in this realm of velvet ropes and exclusive wristbands. Glowering Security Operative: "Excuse me, sir -- this is a private gathering." Intrepid Correspondent: "Yes -- ah -- I am with the Mods. The Rockers, too. Both the Mods and the Rockers are expecting me back there. Pardon. Thank you, and a good evening to you." You'd be amazed at how much can be accomplished by spouting such absurdities with a straight face.)
Once inside the intimate and pleasingly low-lit Clubhouse, I noticed a backline for a small band being set up in the corner. Good sign, good sign! Something, surely, would be happening here. But it wasn't, not quite yet, so I made my way through the small and conspicuously wristbanded crowd toward what appeared to be a table of Middle Eastern delights. By this I mean late-night, dimly-lit food. Various conversations were sparked by what things were - and how best to eat them. A forty-five degree turn of the head, however, revealed cinematic royalty, sitting in the corner.
There lounged D.A. Pennebaker himself, the legendary director behind such classic rock-docs as Monterey Pop (from which the screen at the adjacent Egyptian Theatre was still warm, its capacity crowd still feverish, spilling out onto Hollywood Boulevard), Don't Look Back (which would be screening the following night), and Ziggy Stardust and the Spiders from Mars -- the last of which I saw for the first time at L.A.'s classic revival house, the New Beverly (Goodnight and thank you, Sherman Torgan. RIP). A few years ago I glowed with pride as my critical rave for the Bowie film accompanied its re-release in San Francisco. And here sat the man who made all those films. Pretty cool!
And then the band began to play ...
A charming and youthful-looking Donovan strode to the mic -guitar-less and bible-black (black was the color of his true beloved jacket) and warmed us up with some improvised honky-tonk riffing - then pleasingly blurred the line between performer and audience by setting off for the bar for a glass of wine ...
Jerry Miller (guitarist for Moby Grape) took over lead duties for a while, playing and singing some urban and rural blues in a gruff voice with languidly fluid guitar playing that captured the room's attention and appreciation.
Master of Ceremonies (and festival founder) Martin Lewis had surprised the Egyptian Theatre audience a few hours earlier by bringing Donovan out to perform (as he had been originally scheduled to do at the 1967 Monterey Festival before the British police staged an intervention of sorts). Now for the second time that evening, Lewis was formally introducing Donovan to an audience
Suddenly, I could not get Jennifer Juniper out of my head! But this Donovan fellow, he is not so easily predicted
Donovan rose again to the occasion. He picked up that pretty green guitar of his and launched into a reprise of Sunshine Superman which he had performed unplugged in the Egyptian. But now fleshed out to its original meatier incarnation by the accompanying trio.
To put a fine point on it: Superman and Green Lantern really don't have anything on Donovan.
Donovan followed this with a rousing rendition of his classic Hey Gyp -- and, not to gush excessively or anything, but everyone in the room did just give him some of our love -- including Eric Burdon (looking Newcastle-tough in a black t-shirt), who, back in the day, recorded his own memorable version of that tune.
Clearly, this would be a musical affair to remember...
In attendance, various V.I.P.s and cinefiles, plus some of the folks who keep the American Cinematheque up and running at both the Egyptian Theatre and its Santa Monica sister theatre, The Aero -- with ludicrous amounts of exceptional programming. All letting their hair down. Most of them, literally.
I noticed Lewis discreetly scuttling back and forth (as though on a mission of shuttle diplomacy) to the corner of the room where Burdon was ensconced with a beautiful young wife and even younger-looking martini. He returned to the stage mic and casually enquired "Do I see ...Eric Burdon? Do I see an Eric lurking in the corner?!"
This was apparently his device to gently nudge an initially reluctant Burdon into performing. It worked perfectly - and Burdon negotiated a pathway through the tightly-packed club and joined his old pal Donovan on the tiny stage for a blistering nine-minute jam-version of Season Of The Witch.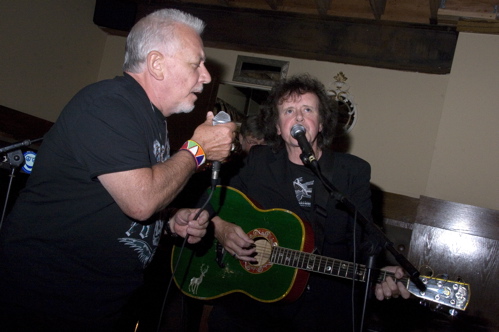 (Photo: Matthew Rabin © 2007 American Cinematheque)
Words fail. I can tell you, however, that after Donovan's rabbits, et al, ran into their respective ditches, Burdon (bashful no longer) launched into several improvised verses with droll lyrics, and then gave the nod to another musician Lewis had noodged towards the stage -- John Altman (film composer: Hear My Song & RKO 281) who took the song to dizzying new heights on his soprano sax.
Burdon then proceeded to amp the energy with a knockout version of a Jimmy Reed blues, with Donovan supporting.
Wonders! It was also good to see Mr. Pennebaker relaxing and simply taking in the show for a change.
Lewis - who has long history working with both Burdon and Donovan - later described orchestrating the onstage reunion of his pals as fulfilling a personal dream. (Burdon and Donovan together really were like a perfect balance of Yin and Yang).
The jamming in the Clubhouse continued until the wee hours. The entire soiree, was infused with the stellar stuff of casual greatness.
Of all the sanctums sanctori in all the towns in all the world - I had clearly walked into the sanctum sanctoriest...