After ten months of preparation, our transcontinental trip began with a slow lurch.
We departed London on with Friday's weekend traffic only to realize Chris forgot his passport at home in Shepherd's Bush. He did, however, remember to bring along his guitar, his leather mountaineering goggles and his hair-raising, static electricity globe. Not to be outdone by Chris's forgetfulness, I failed to pack the tent stakes and rainfly. Croquet wickets easily held up the tent, but it has already become clear that there is no suitable alternative for a rainfly.
Friday evening, about 200 Mongol Rally teams converged on a field near the Goodwood Motor Circuit in the south of England to kick off the festivities. The vehicles were as varied as teams' motives for competing. A group of three Danes shooting footage for the Discovery Channel was embarking on the Rally for a second time in a van wrapped entirely in purple fur. Two twenty-something Australian lads were each driving a Smart Car they hoped to return home with. There were also three full sized fire trucks, a dozen or so ambulances, one of which was driven by five Storm Troopers, and a small Suzuki truck with a greenhouse behind the cab. A Skoda, a Vauxhall, and a Suzuki were dressed as a yak, a brontosaurus, and a great white shark respectively.
This correspondent is happy to report that his was the only school bus.
On Saturday, the teams made their way to the raceway for the official launch. Our bus was selected to lead the pack of cars on a celebratory lap around the British racecourse. This honor was quickly diluted when we got lost upon exiting the raceway and knocked a jerry can off the side of our bus in the charming but narrow streets of Singleton Village.
Team 2BIG2FAIL made its way east towards the Chunnel and France and spent Saturday night camped out by a lighthouse in the Belgian port town of Oostende after a night of billiards with the local fisherman. The next morning we realized we were parked next to a local castle museum, which appeared from the outside to be a houseboat painted to look like stone with a fake knight and a real horse standing on the roof.
We brushed our teeth over a canal as museumgoers looked on curiously. The horse neighed.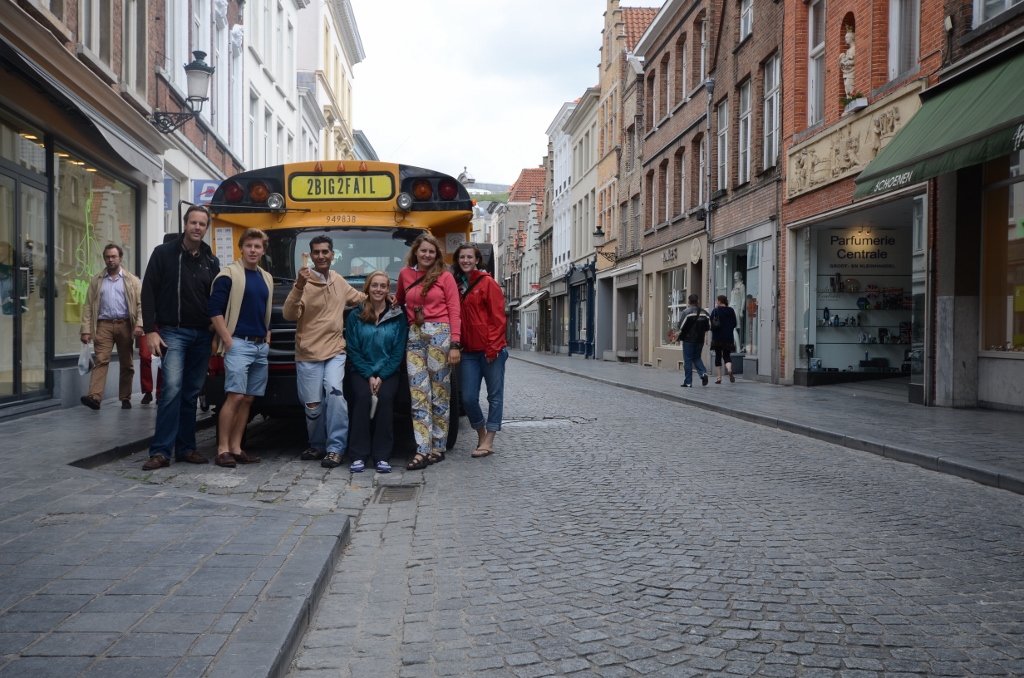 Leaving Oostende, we stumbled upon a nude beach while looking for a place to wash our hair and, afterwards, proceeded to navigate Brugges in a vehicle much better suited to suburban America than to Europe's old towns. Our drive on Sunday took us through Brussels, Luxembourg, and western Germany.
Upon arriving in Heidelberg around 11PM, we set out to find a place to sleep. Imagine our surprise while navigating the steep roads surrounding Heidelberg Castle when we emerged around a corner and found our bus face to face with Team Ready to Mongol, a group of 6 Brits driving a fire truck three times our size. We promptly pulled over beside them and tucked in for the night.
SUBSCRIBE AND FOLLOW
Get top stories and blog posts emailed to me each day. Newsletters may offer personalized content or advertisements.
Learn more