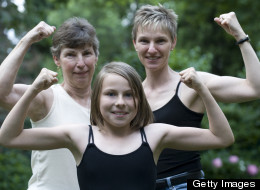 Much has been written about the "mommy wars" and almost all of it speculates on the costs to mothers and children of the decision to stay at home or stay in the paid workforce. In this "war," women who have continued to work full-time while having children look down at their stay-at-home counterparts for backing away from the workforce. In return, those women who are caring for their children full-time, denigrate the parenting of women who have combined work outside the home with motherhood.
Most women writing about this topic still have children in their homes and thus can only guess how they will feel about their decision, when it is all said and done. But a generation of time has passed and there is no reason to speculate, we have the data, if not the answers.
Millennials were raised by women who came of age after the feminist revolution. They were raised by mothers who graduated from college in equal numbers as their fathers and entered the workforce with similar qualifications. They were raised by the first generation of women who truly had a choice. These children are leaving home or have left and the fall-out of their mothers' decisions, the benefits and the regrets can now be examined.
The War Within
I don't believe that women are at war with each other, but rather that any hint of a clash sells copy.  If there is a conflict, it is inside each of us, not between us. The only mommy war I waged was with myself.
We wage a war with ourselves from the moment we drive away from our babies and go back to work. Sometimes the professional in us wins, sometimes the mom.  We wage war within ourselves when we stay home to nurture our children and then berate ourselves for "wasting our education" and not living up to the dream we had during our younger years. Some of us find an uneasy peace, others never quell the internal battle.
Regret
I am just going to put it out there and say I have huge regrets about leaving the full-time workforce.  I stopped working in an office when my older sons were two and three and I was contemplating having their brother. I had a job in which I left home before my children awoke and came home to find them in pajamas, showered, fed and ready to wind down for the evening.
Neither my husband nor I could do almost any work from home, as this was the mid-1990s, and thus pre-internet. According to
research by Professor Pamela Stone
, I was a classic opt-out, a woman who had never before imagined herself outside the workforce but found that the long hours and inflexible schedule left her feeling devoid of options.
If I wanted to know what was happening with my children, I asked my nanny and at some point, for me, that didn't feel like parenting.
So I found a way to work from home by writing books, joining boards and volunteering my time. Like so many other women, I opted for flexibility.
I regret not using my degrees for the purpose they were intended, but when I look upon my grown and nearly grown sons, it is very hard to have a moment's doubt that spending the last 17 years with them was the right decision.
Clearly I am of two minds, torn as to whether I could have or should have done things differently. I think that if technology had allowed me to work differently, more flexibly, I might have kept working outside of our home.  But since I am ambivalent, I asked others for their retrospective thoughts and I am going to ask you for yours.
Looking Back
Sharon "I don't regret giving up my career at all - though there were times when I wished I was earning money, and there were times when the tedium of motherhood made a regular job seem glamorous and fun."
Linda "Staying home with my kids and beginning a new career as a writer and then editor was fantastic -- but in hindsight I see that if I had stuck it out, I would probably have landed a position at a prestigious university in the area and achieved my original dream career and be doing something that I would feel good about."
Mary Dell "I was gung-ho about working as a new MBA and loved my Manhattan job, before I had my first baby. Then, with a small child at home, an hour commute each way, babysitting to juggle and a husband who began traveling quite a bit, the stress began to outweigh the pleasure.  I was a pretty tired mom when I arrived home to greet my firstborn and he deserved better. I hope that as I stepped down from the workforce, to job share, and then to stay home full-time, that both kids got a more engaged mom than they would have otherwise. I know it made me happier. "
Amy "I don't handle stress well and I know for me personally, that I would not have balanced work/home well. What I wanted most, was to be fully present and enjoy my kids and, for me, staying home was how I accomplished that. I did begin to feel regret as they grew. I began saying to my husband "what was I thinking?" as I moved into the "what do I do now, I'm 50 and jobless stage." But in the bigger picture, I know it was right for me and them."
Pam "And sometimes I feel like a 'loser' for not working outside the home! I also have to say that working in a male-dominated environment as I did I was able to get the male perspective on things - and believe me, they have as many concerns about their children as women do. They just don't have these guilt games thrust upon them by our culture."
Both Sides of the Battle Lines
The term 'mommy wars' suggests that I could or should be on one side or the other, but I am on both. I am simultaneously glad that I had the luxury to spend years with my sons and regretful that I passed up a career that might have been something.
The reality is that, to some extent, I had a choice, something most men I know never had. The fact that it's not a perfect choice, is laid out by Michael Winerip when he discusses how both he and his wife each took a decade on the home front and a decade as the primary breadwinner.  Each lost something in their decade at home as they did in their decade in high career mode.  Men are not immune to the pull of the home front.  Recent Pew research found that only 23% of mothers felt that they spent too little time with their children while 46% of fathers felt their time was inadequate.
If there is one thing life teaches us it is that we never get to wind back the tape, never again watch a movie with our 6-year old cuddled in our lap or spend hours sledding on a snow day with our 10-year old.  We can go back to work, but we cannot go back to their childhood. Work is still there, the children are not.  I am not naive enough to think I didn't make a professional sacrifice but not foolish enough to say that many who worked full-time didn't make a personal one, as well.
Earlier on Huff/Post50:
10 Things to Look Forward To As An Empty Nester
Gone is the detritus of your children's lives scattered here and there, carelessly flung about and forgotten. Your bathroom towels will stay hung neatly on their bars, the dishes are placed in the dishwasher instead of left to sit next to the sink. Beds remain made, floors remain clean, clothes are neatly put away. Mystery spills vanish, and you never wake up to a mess. Who knew it could be like this?

Some couples decide that it's time to separate and move on, others remember why it was they fell in love in the first place -- or find new reasons and ways to connect to each other. Without your kids, you become each other's only companion when you're at home. It can't be overstated how much of a distraction our kids are while they are growing up. This is probably the most jolting part of the empty nest -- when you look at each other and think, "Oh wow, it's just us now." For better or worse, it will happen.

No longer are you waiting for the sound of a key in the door, or the porch light to be turned off upon your children's safe return from another night out. No longer are you part of the day-to-day ups and downs of your children's lives ... no matter how often they may text/call/email/facebook message/tweet you. Their mental and physical well-being, though still hugely important to you, are their responsibilities now, and you no longer have the minutiae of their daily lives to think about like you did when they lived at home.

If your kids are in college, or even if they're not, you may still be paying for them to eat. But it's nice to go to the grocery store and come home with the things you want, and not have to buy all the things they want, things that you really don't want in your house.

Initially, this may be disturbing or difficult for you to deal with. You may want to do things you've missed -- museums, movies, theater, travel or you may not want to do much of anything at all. Whatever your thing is, there's now time to do it ... a lot of time.

No longer do you have to socialize with other parents because of your children's connections. No more booster club barbecues or committee meetings, making small talk with people you most likely never would have crossed paths with if it weren't for the fact that your children were on the same team/in the same class/part of the same group of friends.

Your children leave home and, for better or worse, they have to grow up, no matter how much help you may be giving them financially OR emotionally. There are just too many daily things to manage, too many random people to deal with, too many bumps and blips that they have to encounter on their own that leads to them, inevitably and sometimes painfully, growing up. It can be liberating when kids take over, driving or planning or explaining -- giving up some authority is in many ways a big relief.

There's nothing quite as wonderful as seeing your kids after weeks or months apart, especially when they first go away to college. Their faces are familiar and beautiful, their smiles just for you, their laundry ready to be washed...it's such a thrill to have them home for holidays, or summers, or a weekend visit. Within minutes of their return, it's as though they never left. You love having them home for a while, but then...

Enough said.

Remember before kids, when you would dream and plan for the rest of your life? Remember when it was wide open, and you had no idea what would happen next? Well, you can do that again, now that you're an empty-nester. No longer do you have to worry about childcare, or kids missing school, or whether they'll like the place you pick to go on vacation -- your time, your future, and your life is yours to create. Always wanted to travel? Now you can. Go back to school? Now's the time. Write a book? Get cracking. You have your life to live, just as they have theirs. Go do it!
Follow Grown And Flown on Twitter: www.twitter.com/grownandflown