In a nearly full Pennsylvania High School auditorium, Congressman Joe Sestak held his district's third veterans summit.
The elephant in that auditorium had nothing to do with veterans and everything to do with Congressman Sestak. The elephant was when Joe Sestak would officially announce that he is running against Senator Arlen Specter. Notice, I said when, not if.
I questioned a few district military veterans about the "when" word. One said best what all were saying:
"He cannot back out now and he will kick Specter's butt".
Time will tell if Congressman Sestak makes his move against Pennsylvania's newest Democratic senator. But his options are disappearing quickly.
My thoughts went back to 2005 when several candidates took up the challenge to run for congressmen from Pennsylvania. Joe Sestak pulled rank and took over Iraq Veteran Bryan Lentz's congressional campaign and Bryan agreed to run for state representative. It was a win for Pennsylvania. Both Sestak and Lentz won their races. Sestak performed at such a high level that he is now considered a real contender for senator. Bryan Lentz is a star in the Pennsylvania House. What now if Sestak abandons his seat to challenge Senator Specter?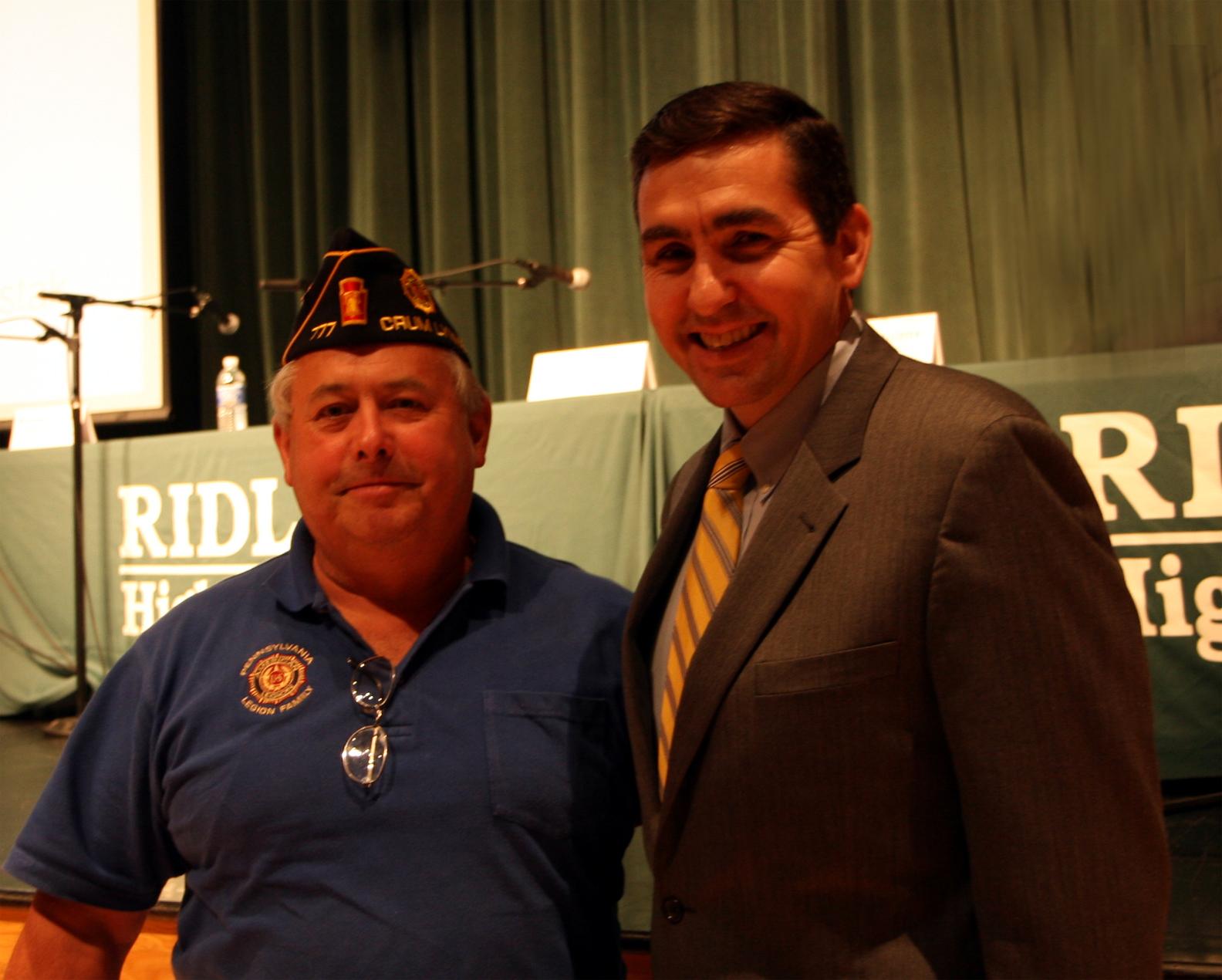 Bryan Lentz is a former ranger and paratrooper and recipient of the Bronze Star for Service. He was deployed to Bosnia in 1998 and when asked in 2003 by his former commander to return to active duty, he volunteered to go to Iraq to serve with his old unit. During his 2004 tour of duty in Iraq, Bryan rightly earned the respect of his troops. Wayne Bowen, author of the book "Undoing Saddam" and a Republican and Army vet who served under Lentz in Iraq, cited Bryan's leadership and valor in the book recounting Bowen's time in Iraq: "Bryan Lentz was the finest example of wartime leadership that I saw in Iraq, and he will always have my respect and admiration." That literally says it all to my mind.
 
Lentz is a member of Pennsylvania's Veteran's Affairs Committee and a constant and visible advocate for Veterans' issues. He pushes and promotes job training and education programs for veterans. In his very first year, he was the prime sponsor of a law creating a 50 million dollar grant program for volunteer firefighters and emergency personnel.
As a former city policeman, I appreciate that Bryan, a former prosecutor, is a leader on legislation supporting police officers and emergency personnel in the areas of benefits, training and equipment and law and order. Lentz is pushing for parole reforms in the wake of the killing of police by violent parolees.
 
Do not confuse Bryan with a Republican however! He is a solid progressive or liberal. Lentz co-sponsored legislation banning discrimination on the basis of sexual identity; he is pro-choice and received a perfect score from Penn Environment for advocacy of renewable energy programs. Representative Lentz supports the Pennsylvania's Democratic Governor's energy independence program. Since his experience in Iraq, Bryan knows that a renewable energy policy is directly related to national security because of our dependence on hostile nations that produce oil.
Bryan was the first elected official in the 7th congressional district to endorse Barack Obama for president. Although facing his own re-election bid, he worked with grass roots groups including Obama for America to help deliver both primary and substantial general election wins for Obama. Lentz demonstrates a selfless commitment to party and principle, and a practical approach to politics that produces results.
Bryan Lentz possesses the perfect resume for a member of Congress. Veterans at the Sestak event, to a person, endorsed State Representative Lentz as the individual best suited to replace Joe Sestak. They remember Bryan's willingness to sacrifice personal desire for the good of the nation and the state.
I remember a younger Bryan. Fresh from active duty and willing to put it all on the line to continue service to country and community. I was searching the nation to find candidates that could win races and were military or could strongly support military. Pennsylvania hit home runs. Lentz was one of the best of that group.
We need leaders like Bryan in government. People who see honor and duty in government service. People who know government is a necessity to a well run society. People who still hear the echoes of long ago: "Ask not what your country can do for you; ask what you can do for your country." Pennsylvania Representative Bryan Lentz knows that life is not about him; he knows life is about all of us.

SUBSCRIBE TO & FOLLOW TRUMP'S FIRST 100 DAYS
How will Donald Trump's first 100 days impact YOU? Subscribe, choose the community that you most identify with or want to learn more about and we'll send you the news that matters most once a week throughout Trump's first 100 days in office. Learn more