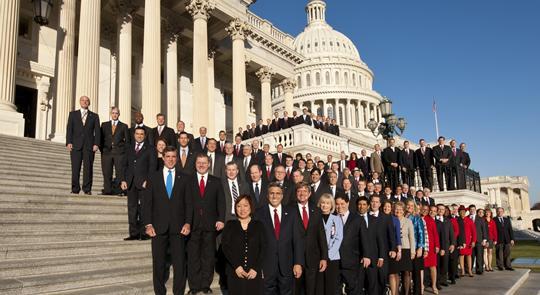 Apparently missing the key role played by social media like Facebook and Twitter in the continuing Arab Spring, Republican Congressmen Barletta and Marino are adopting the tactics of former Egyptian President Mubarak. In an edict imposed by the congressmen, no electronic media will be allowed during town hall and public meetings except by recognized press. These tactics, designed to stifle free expression by constituents, failed President Mubarak and will fail these conservative congressmen.
Granted, the past week was not kind to Republicans. Following the uproar over the Republican proposal to end Medicare as we know it and the recent publicity over the massive cost to elders for that end, conservative Republicans appear to be running to their undisclosed locations. But it isn't just Medicare that has conservatives scurrying for anonymity.
The conservative cause is not helped by their support to maintain huge tax cuts for our highest earners and to continue subsidizing extremely profitable oil companies in the face of growing government deficits. Elected with the promise to bring economic recovery and jobs, these congressmen and their party focus on social issues like the Defense of Marriage Act (DOMA) and reestablishing Don't Ask Don't Tell (DADT) in a military that clearly states it doesn't want it. Jobs? None from anything that they have done.
"The public can attend the town-hall meetings of U.S. Reps. Lou Barletta and Tom Marino and tell the congressmen what they think on the great issues of the day on one condition:

Mr. Barletta has banned anyone who is not a news media member from using video or audio recording devices at the meetings so attendees feel freer to speak, said Shawn Kelly, Mr. Barletta's spokesman..."
Futile gestures like the no-recording rule underscore that the congressmen and their staffs fail to understand how drastically the world is changed and not just in the Middle East. Government officials hide from social media at their peril. A far better course of action is to campaign and vote as you really are. Be honest; compromise is necessary in a republic and a free society. Part of a member of Congress's job is to make those tough decisions. Another part of that same job is to listen and to account for their votes to constituents.
Only the timid, frightened or embarrassed avoid standing by their actions or admitting mistakes. Considering conservatives are the Tea Party party where some adherents actually came to town halls bearing weapons, it is both sad and amusing that now these vaunted conservatives shriek in panic and flee public media and recording. I certainly hope that they are recorded at every opportunity.
If any member of Congress is unable to stand up for a free interchange of ideas with their constituents, they, and anyone else attempting to stifle the free exchange of ideas, should be literally hounded until they are out of office. Accountability and openness are a requirement of a free society. Now about legislation to actually create jobs....
SUBSCRIBE AND FOLLOW
Get top stories and blog posts emailed to me each day. Newsletters may offer personalized content or advertisements.
Learn more