A friend of mine, a well-connected dude, sent me a cryptic email the other morning: "U need to talk to James Cameron."
Right, sure, I'll just give James 'King of the World' Cameron, director of runaway hit Avatar, a ring on his cell phone. I wrote a quick note back to my friend, assuming he had just seen Avatar and thought I should pitch Cameron on donating to Amazon Watch and our work supporting real-life indigenous struggles against corporate evil-doers. Okay, yeah, nice idea, but c'mon.
My friend called a few minutes later and told me that he somehow ended up at a little cocktail reception at the Four Seasons in New York, where Cameron was shmoozing Academy members ahead of the Oscars. Apparently, Cameron gave a powerful speech about how he's "on a mission" to support environmental causes. He specifically noted how moved and inspired he was by a screening of Avatar in Quito for a group of Shuar and Achuar indigenous leaders and community members from the Amazon rainforests of Ecuador - people that Amazon Watch and our allies have worked to support.
Then, last night at an event in support of the Natural Resources Defense Council, Cameron called himself "proudly anti-corporate" (which I must say is a bit tough to square with the Avatar-McDonald's tie-in campaign) and went on to say that " Avatar asks us all to be warriors for the earth." Like with the little New York event, I got a first-hand report from another friend of mine who was there. He even got a little face time with Cameron, who he believes is plenty sincere and sees it as a "duty" - not just an opportunity - to speak up for the planet and its most front-line defenders.
A number of organizations who work to advance indigenous rights and defend against corporate pillage of indigenous resources are trying to get the director's attention, and hoping he'll put his money where his mouth is. Or at least stand on the stage at the Oscars and say what he's been saying lately in smaller rooms.
The latest push is from our friends at Rainforest Action Network (RAN), who are reaching out through online social media like twitter and facebook to encourage people to ask Cameron to speak up for the indigenous people and peasant farmers in the Ecuadorian Amazon whose rainforest home was ravaged and poisoned by American oil giant Chevron.
RAN's new Acting Executive Director Becky Tarbotton published an article on San Francisco Chronicle's City Brights blog. The title of the piece is the same as the tweets I've been seeing going around: 'I want Avatar Oscar speech to mention real-life Ecuador struggle against Chevron.'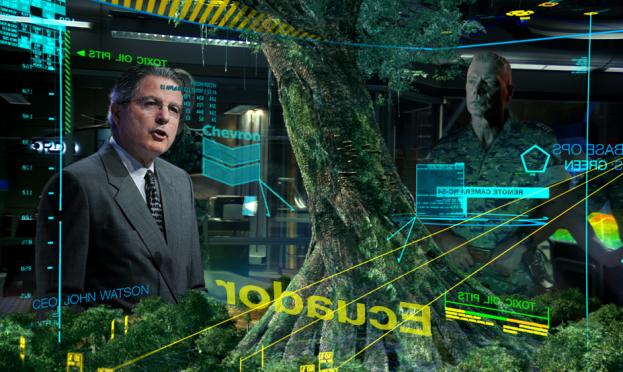 Chevron CEO John Watson conspiring with Colonel Quaritch from the movie Avatar.
Everyone agrees that the film broke new ground visually and technologically. There's less consensus on the merits of the storytelling and character development. But despite the boilerplate narrative - and some argue racism - Avatar has brought to the masses a popular film about awakening to the ills of rapacious capitalism, recognizing the inherent interdependence of the natural world, and defending the rights of its indigenous inhabitants. And of course, Avatar has multiple Oscar nominations and Cameron will likely take to the stage at least a handful of times on Oscar night.
As Becky writes, "What if in his acceptance speech James Cameron mentioned the real-life Indigenous Ecuadorean heroes who are battling the real-life Chevron bad guys?" It would be a big boost to the campaign to hold the company accountable and demand justice for the people of Ecuador.
You can help make it happen. Read Becky's article to learn how:
I want Avatar Oscar speech to mention real-life Ecuador struggle against Chevron

By Becky Tarbotton

Once upon a time there was a movie.

Hundreds of millions of people around the world saw this movie. They were transported to the beautiful jungles of Pandora and introduced to the blue Na'vis and the evil RDA corporation.

Avatar (or unil-tìran-tokx in Na'vi) has been nominated for 9 Oscars. James Cameron, its infamous creator, has explicitly said he wants the highest grossing film in history to inspire mass environmental activism.

Fast forward to March 7. You're watching the Oscars and Avatar wins.

What if in his acceptance speech James Cameron mentioned the real-life Indigenous Ecuadorean heroes who are battling the real-life Chevron bad guys?

Retweet and help make it happen! I want Avatar director James Cameron to mention real-life Ecuador struggle against #Chevron at #Oscars:http://bit.ly/aOwuNI #realavatar

If James Cameron called out Chevron in his Oscars speech a world transfixed by this film phenomenon could take off the 3D glasses and step into a reality where they can make a difference.

[continued...]
Read the rest of Becky's article, and join the fight for corporate accountability, environmental justice, and the rights of the people in the Ecuadorian Amazon.