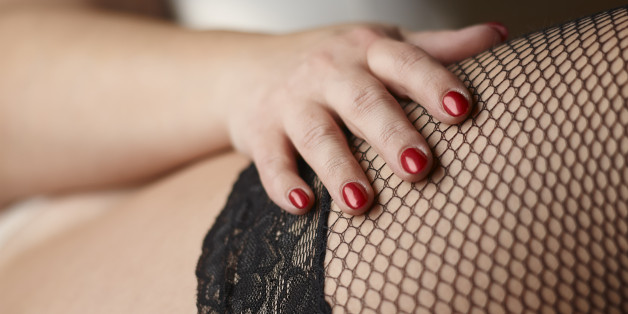 When asked by a prospective client to write a cultural analysis of packaging, I chose something drifting around my computer that I had just recently purchased in the Brussels Louboutin store: Louboutin Rouge nail polish. The bottle represents a little taste of the iconic red that hits the pavement.
The black gift bag fits only the bottle of red nail polish. Like a well-curated woman, her bag and contents are always coherent, alongside her undergarments, garments, and shoes. If something is unseen, it's not an opportunity for disarray but rather an occasion to withhold. Rouge Louboutin signifies this tension.
The bag's black sheen evokes patent leather, a devious material that resists fluids. Its opening folds over and closes by threading a one-inch red grosgrain ribbon through several collated slits. It's like threading a needle, but more succinctly signals ritual--a very feminine trait historicized by menstruation but also by dressing. Preparation is a privileged luxury and done repeatedly--like painting nails. Tying a corset (even one made of patent leather) requires threading and time. Once closed, the bag can dangle around the wrist by the red loop not dissimilar to a bondage strap. The ribbon, like the curvaceous, slinky signature on the bag, is also the first hint of red--a flirtatious, bold, sexy, passionate, bloody, vampiric, and indeed patented color.
Once unwrapped, the woman pulls the polish out by its spike. The handle is long, shiny, and black, tapering off to a sharp point. The highest heel Louboutin made, measuring eight inches, inspired this architectural design. The handle also suggests a calligraphy pen for writing longhand letters, which harkens to an intimacy shared amongst girlfriends or lovers--something time consuming and private. The spike is also a spire reaching heavenwards but its black lacquer is more gothic and suggestive of dark magic rather than Christianity. The Louboutin website shows Loubiville: a white fairytale mosque of bottles awaiting color. The sharp point even conjures the spindle that sent Sleeping Beauty to sleep--it's enchanting and mythical. It can also be used as self- defense like perfume substitutes for mace. Grab the spike to stab someone at a moment's notice.
The bottle is hidden within a fitted black box with Louboutin's etched calligraphic signature and a red reveal: the top and the bottom meet but still leave a red strip of the inner box showing. It's a naughty detail aiding to the confusion of how to open the box like undoing some complicated garment. The spike penetrates through the top and all the interwoven parts build tension. It's also the size of a ring box mocking the sentimentality of Tiffany's ivory satin ribbon and signature blue.
Nestled inside is the weighted, chiseled glass bottle--a princess cut diamond that's not glittery or crystal clear but wicked with a black base gradating up to the Louboutin red. The whole item is fetishistic. Like the shoe, it's not for a blushing bride but for an independent nocturnal vixen.
Louboutin Rouge is for the well-curated, secretive, ritualistic, kinky, independent, vicious, private, and sometimes mythical anti-heroine.
SUBSCRIBE AND FOLLOW
Get top stories and blog posts emailed to me each day. Newsletters may offer personalized content or advertisements.
Learn more