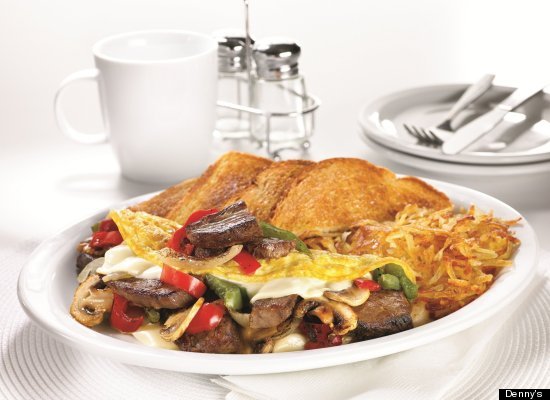 Denny's is a foodie's worst nightmare. Sure the Grand Slam Breakfast costs only a few bucks -- but is it worth the gut-ache in the morning? But what are some of Denny's worst menu items that would send shivers down the spine of a cultivated palate?
Here are 5 Denny's menu items that will leave you running for the Alka-Seltzer.
1) Mac 'n Cheese Big Daddy Patty Melt
Imagine this if you will: A burger patty with mac and cheese on top of it -- served on a bun. This concoction has twice the calories of a stick of butter.
2) Fried Cheese Melt Sandwich
What parallel universe do these people live in? This is not a cheese melt; it's a fried cheese melt. Yes, fried mozzarella sticks are served within melted American grilled cheese and stuffed between two slices of sourdough bread. Add some French fries to that. Welcome to the road to heart disease, all for $4.
No! Really!? Are they make this up as they go along? It's that perfect combination of smoky bacon and swirly ice cream that we have all been seeking. Add some whipped cream and a super-sized Coke for a real artery-clogger. Welcome to America.
Okay, I got to give it A+ marks for the funny name -- but my love of this edible ends there. Denny's has taken its most popular breakfast item and raised the bar by making it a sandwich. Between the bread is two scrambled eggs, sausage, bacon, American cheese, shaved ham and mayonnaise.
5) Philly Cheesesteak Omelette
Okay, now you're testing my patience. You're just creating things to piss off vegans. Part of the Taste of America menu, it's a Philly cheesesteak wrapped in eggs instead of bread. Hurrah! Ring the Liberty Bell to denote my heart stopping. Extra points if they add Philadelphia Cream Cheese.
SUBSCRIBE AND FOLLOW
Get top stories and blog posts emailed to me each day. Newsletters may offer personalized content or advertisements.
Learn more