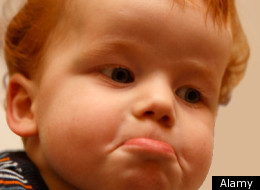 The holidays can be the most magical time of year -- but let's be honest, if you have a willful, impulsive toddler (in other words, if you have a toddler) it can also be the most trying. Swarms of visiting relatives and a cacophony of music, tinsel, presents, and candy can create a perfect storm of over-stimulation that can cause your little one -- who is still learning how to process all the excitement and manage his frustrations -- to act more like a demon than an angel. But with a few of my tried-and-true toddler techniques, you can nip their challenging-est, Grinch-iest behavior in the bud.
Here are five common tantrum triggers, and how to keep them from turning into holiday horrors.
Your little friend spots a giant chocolate Santa at the store and starts screaming, "I waaant it!" Solution: Speak in Toddler-ese. When your two-year-old has a meltdown in aisle three, trying to reason with him in quiet, complex sentences is often a total bust. His frustration temporarily dials down off his brain's language center making him unable to focus on what you're saying. So, switch to a more primitive language style -- filled with short phrases and lots of repetition -- to sincerely acknowledge his feelings: "Candy! Candy! Now! Now! You want it NOW!" You may have to repeat this 3-4 times before it gets through that you understand and care how he feels. Then -- bingo! -- more than half the time he'll calm down long enough for you to offer a distraction, solution or compromise. "I know you really want it, Sweetie! But you know what's yummy? The cookies we're going to bake today. Do you think we should pick out red or green sprinkles? Let's look for sprinkles!"

Your daughter refuses to change into the fancy holiday dress Grandma bought for her. Solution: Play the Boob Kids love when grown-ups act silly: Not only does it get a giggle, it also makes them feel clever and strong compared to their inept parents. You can say, "This dress from Grandma is so pretty, I'm going to wear it instead. It goes on my head, right?" Then put it on like a hat. Or put the tights on your hands, the shoes on your ears -- you get the picture. Within minutes, she'll be laughing, cooperating, and demonstrating the real way you're supposed to wear a dress.

You're expecting a dozen relatives over for a holiday dinner, which means your child is saving up all his worst behavior for the moment everyone sits down to eat. Solution: Time-Ins If you know you're going to be rushing around the kitchen, greeting guests, and listening to your great-aunt's long story about her gall bladder all evening, make sure you prepare your child earlier in the day by giving him plenty of special alone time, reading a story together, coloring pictures to use as centerpieces, and just sitting and cuddling for a little while before the guests arrive and your attention gets diverted. And, assign your 10-year-old niece (or even a baby sitter) to give 5-minute bits of play peppered throughout the dinner to feed your tot's need for attention during the whole commotion. These little time-ins will result in a more cooperative and confident tot...and may even prevent a few time-outs!

When it's time to open presents, you hover over her like a mama bear trying to keep your toddler from grabbing everyone else's toys. Solution: Gossip Before the struggles start, plant a tiny seed of good behavior in your child's mind...through the "side-door." Let her "overhear" you praising some of the good things did earlier in the day (to Daddy, the cat, even her favorite stuffed animal). Then, whisper a few things you hope she will do later, when company is over. Amazingly, your tot will believe your gossiped words more than if you said it directly to her, because she knows you're not trying to butter her up. The trick is to make it really seem like a secret by cupping your hand by your mouth and whispering just loud enough for her to hear: "Blue Bunny, did you know that Molly is really good at sharing? I'm so proud of how she takes turns playing with her toys when cousin Fiona visits." If Molly says, "I heard that!" You can just say, "Oh, it's nothing, Bunny and I are just having a chat." A little gossip before the event to prep her and then afterward to reward her can really encourage the behavior you want to see.

You're taking your toddler to a holiday party at a neighbor's house, where there will be sugary sweets and plenty of rambunctious children to whip him into a frenzy. Solution: Role Playing Around the second birthday tots start loving to pretend to be someone else when he plays. You can take advantage of this new interest by using puppets, dolls, or toys, to act out exactly how you'd like your little guy to behave. The story doesn't have to be Oscar-worthy, but it should have a beginning, end, and a clear message. "Batman is going to a party at T-Rex's house. Look how Batman says hello to T-Rex and plays nicely with the other guests." Your child can play along by acting out one of the characters, or simply enjoy the show. Then while you're at the real-life party, you can remind him of how the characters behaved. "What does Batman say to the host when she gives him a cookie?" By the time January rolls around, the cookies will all be eaten and the Christmas stockings and menorahs packed away until next year. But learning to manage your toddler's behavior without either parent or child throwing a fit? That's a gift that keeps on giving throughout the year.