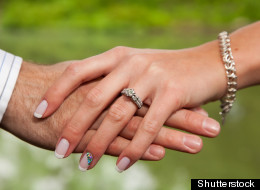 Welcome to the Relationship Revolution! Making Marriage Simple: Ten Truths for Changing the Relationship You Have into the One You Want is the accessible, essential road map to building a strong marriage in the modern world. We divulge 10 essential truths what we've learned about how to create a successful and satisfying relationship--both from our decades of R&D in the marriage lab of our workshops, and from our own relationship journey.
Each chapter introduces a simple truth about relationship, followed by easy yet effective exercises to help couples apply each truth in real life, every day.
We spend a lot of time and energy finding our perfect mate. Some of us then spend a lot of time and energy planning the perfect wedding. By the time we hit "I do" we assume (and fervently hope) the work is over.
The idea of having to spend time focused on our most important relationship may seem strange - even depressing. But it's worth it! And while creating the relationship of your dreams will take effort, it doesn't have to be a grueling experience full of suffering.
Especially when you've got the right tools at your disposal...
Here are 7 tips that will help you create a deeper, happier couplehood!
Seriously, we know that's hard to do – especially when you're feeling miserable. And it seems as though the source of your misery is, well, that annoying person your dating… or living with… or married to. Here's the thing: 90% of the upset we feel with our partner comes from our own PAST. It's true! The frustrations we feel with our partner are the same ones we felt with our parents when we were kids. So remember: the next time you feel your blood boiling, remind yourself: this has more to do with my past than my partner!

People generally react to conflict in one of two polar opposite ways. When stressed out, the folks we call Turtles minimize their energy – pulling themselves in and shutting others out. Hailstorms, on the other hand, loudly broadcast their stress to anyone and everyone within a five mile radius. Turtles and Hailstorms always marry each other. So stress hits your relationship, and one of you becomes stone-cold silent while the other gets louder and louder. So remember: to stop this recipe for disaster, each of you has to recognize that your partner needs the exact opposite of what you're doing. Turtles need the Hailstorm to stop hailing and give them some space. And Hailstorms need their Turtles to stop hiding and communicate.

Most people believe that if you're having problems in your marriage, it means you're with the WRONG person. Nothing is further from the truth! ALL relationships go through a journey that starts with Romantic Love, and bottoms out in the Power Struggle. Conflict helps you deepen your relationship into Real Love – when you learn to work with it in creative ways. So remember: Conflict is actually an indicator that it's time for your relationship to grow.

Prevailing wisdom goes something like this: if a couple is having difficulty, one or both of the partners in the relationship need to be "fixed." And of course we all know that each person within the relationship assumes that it's the OTHER person who needs fixing! Flipping this idea on its head, we believe that the best way to create healing in your relationship is to actually focus on your relationship. So remember: Stop blaming each other! No matter how broken it feels, the best way to help your relationship feel better is to work together to heal it – focusing on the relationship, not on each individual partner.

The brain is a complex organ, made up of many parts. In our workshops (or in our book?), we focus on two parts of the brain: the higher part and the lower part. Like a Crocodile, the lower brain is highly reactive. It responds spontaneously without stopping to analyze a situation. The higher part of the brain, or the Owl as we call it, is capable of more creative and sophisticated thinking. Even armed with this small intro, we bet you can figure out which part of the brain is better to use when approaching and responding to your partner! So remember: use the higher Owl brain when approaching or responding to your partner, and you'll be able to seriously reduce the amount of wine-pouring, flower-giving, I'm-sorry card buying that happens after you've made a mess of things!

If you're having struggles in your relationship, it's probably because you: (1) expect your partner to know what you feel, want and need without having to tell them, and/or (2) assume that you know what your partner feels, wants and needs without having to ask. Expecting, assuming, and demanding all equal death for a relationship. So what should you do instead? Each one of you has to learn how to ask for what you need – tell each other – and then actually give it to each other. So remember: you know the old adage about what assuming does! It's time to start sharing – and meeting – each other's needs instead.

Sometimes we're so busy working on our relationship that we actually forget to ENJOY our relationship. And what's the point of doing all that work if we're never having any fun together? The truth is that a couples' wisdom about using humor and joy is critical to their happiness together. So remember: lighten up, and get your fun groove on!