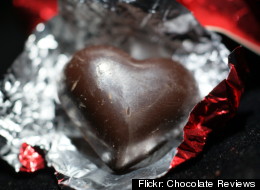 Love is in the air! Well, Valentine's Day is in the air, specifically. You know that holiday built around pink and red and conversation hearts? It's one of my favorites, but it can be a diet landmine. Although you'll thank your new boyfriend profusely for the enormous box of chocolates he gave you (who can resist that?) I definitely have some strategies to make this special day healthy, too.
I can't guarantee you a date on Feb. 14, but I can certainly help you stock up on foods of love. And rather, foods that will love you back (with nutrition, of course).
Yes, we've all been bombarded with the whole chocolate thing, but did you know that it was considered the "Nourishment of Gods" by early Aztec cultures? Chocolate contains two properties, caffeine and theobromine, that act as natural stimulants in the body. Besides revving you up for a hot date, it also contains more antioxidant properties than a glass of red wine. Now, I'm not telling you to go overboard and end up in a pit of Hershey bars. You can't eat a two-tier box of truffles. Brands like Bissinger's and Sweetriot keep it simple with 45 cal squares and 100 calorie bars of dark chocolate decadence. Sweetriot also has tins of flavored cacao nibs that are ideal for an on-the-go fix. Or get a dose of calcium and sweetness with Adora chocolate discs; they satisfy a sweet tooth AND provide your daily calcium requirements. Flickr photo by Lee McCoy

I know what you're thinking. Asparagus is unsexy and... fragrant. Not true! These spears have tons of potassium, fiber, vitamin B6, vitamins A and C, and thiamin. They also contain a healthy dose of folic acid, boosting histamine production, a hormone that regulates other "feel good" chemicals like serotonin and norepinephrine. Try a quick steam by placing in a microwave with a damp paper towel over them. Cook for 1 to 2 minutes and drizzle with a small amount of olive oil and a pear vinaigrette for great flavor. Delicious served chilled as a salad course! Flickr photo by Liz West

Said to increase fertility in women, sweet basil has an intoxicating smell and taste. Simmer tomato sauce with a few leaves and pair with a serving of whole wheat pasta. Sweet basil is also delicious in salads or simply as a topping on a freshly-sliced tomato. Flickr photo by Ewen Roberts

Yeah sure, this might not be the best food for a makeout, but there are some amazing benefits to garlic. (Plus, if you're both eating it... it doesn't matter!) The health benefits are well worth it! Packed with the chemical allicin, garlic increases overall blood flow in the body. Skip the capsules and get this V-day staple directly from food for a full effect. Flickr photo by Clay Irving

In moderation, we all know that wine can be beneficial to our body. Even my 21-day Bread is the Devil Blueprint plan allows you to have a glass. Red wine contains polyphenols, which are powerful antioxidants associated with increased heart health. A healthy ticker equals a healthier you! Enjoy, but keep in mind any more than two glasses will have the exact opposite effects on the body.
Whether you're single or attached at the hip, it doesn't matter! Enjoy these foods regardless of your relationship status and you'll feel a warm glow of love from within, without breaking the calorie bank.
Flickr photo by Lee McCoy
Follow Heather Bauer, RD, CDN on Twitter: www.twitter.com/heatherbauer_rd