It took me over 20 years to realize that I once had unconditional love. We met in college in the mid-'80s, and his name was Marty. He was the captain of the rugby team and labeled "a real man" by those who knew him, not just because of his khakis, flannel shirts, rugged stature, and constant twinkle in his hazel eyes. He was by all means of the definition, ruggedly handsome. Those were the qualities that attracted me to him, but it was his sense of adventure that mirrored mine that kept us together for seven years. What I didn't realize until my late-40s was that Marty was the only man to truly give me unconditional love. The problem was, I didn't love myself enough to accept it.
When Marty and I started dating, his father warned him, "Don't get too attached to that girl, she has a heart condition. That's high risk." His dad was right. I was born without the pulmonary valve and had already undergone one open heart surgery at the age of 9 with at least another anticipated someday. Marty, however, didn't think twice about it. He went on to fall in love with me anyway. That was my first lesson in unconditional love. And in a short amount of time, his father welcomed me into his home and heart as well.
The first time I met his mother, we had lunch at their house. I was so nervous, I didn't say a word. Halfway through lunch, she looked at me and said, "Do you ever talk?" After that moment, we talked and talked, and every Christmas she baked me a raspberry pie because she knew raspberries are my favorite.
Marty had three sisters, and each of them welcomed me into their family as a fourth sister.
Marty was the first and only one to fully support my photography and writing on an emotional level. In college, I photographed his rugby matches (mud, scrums, and all) and as soon as the images were developed, he was out showing them to his teammates, brimming with pride. (This was the 1980s, long before cell phone cameras.)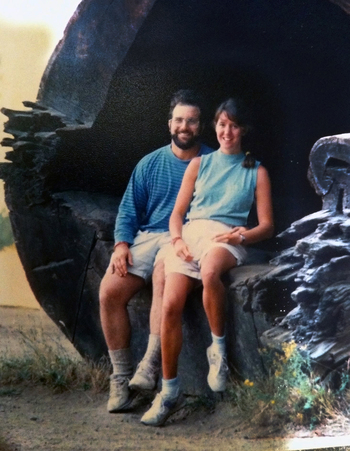 We drove cross country three times, capturing photos and camping in places like Yellowstone and the Grand Tetons the whole way. When we hiked Mt. Washington, and I became ill at the top, he put me on the shuttle bus so I could get safely down and bought me some maple sugar candy at the bottom to elevate my blood sugar.
When we skied Mt. Bachelor, and I was afraid of the steep sections, he guided me through them with patience.
When I had my second open heart surgery at the age of 25, he was by my bed every minute and even kept a nurse from giving me the wrong fluids in an IV.
When my grandmother died four years earlier, he rocked me in his arms and sang to me in French. I had no idea what the words meant, but they were the most beautiful and comforting words to ever lay on my ears.
When he brought up marriage, I changed the subject. I realize now that I didn't believe someone could love me for a lifetime when I didn't love me enough in that moment.
We ended our relationship after seven years but agreed to live together for the remaining four months of our lease. He was finishing his BS in Chemistry, and I was saving money to move back east. The last day of our lease, the day we moved out, was also his birthday. There was no celebration that day, only sorrowful goodbyes.
Since leaving Marty, I've been in plenty of other long-term and not-so-long-term relationships. I've been searching for the "right man" for me. The one who would give me his everything with no conditions. The one who would rave about my photography to his friends, family, and colleagues. The one who would be by my side through surgeries and hiking adventures. The one who would give me unconditional love. It took me twenty-some-odd years to learn that we don't know what we've got until it's gone. Marty went on to marry a very smart woman who knew better than to change the subject when he brought up marriage.
For years now, whenever I hear Harry Chapin's song "Taxi," I think of Marty and imagine that one day we'd run into each other on a rainy night in San Francisco. I would say, "How are you, Marty?" and he'd say, "How are you, Heather? Through the too many miles and the too little smiles, I still remember you." Marty even drove a Dodge.
I took off when I was 28 to find what I thought would be love from another man. Instead, I found conditional and temporary relationships with a lot of men. Another man might have been angry, and another man might have been hurt, but Marty moved on and found love and marriage with one woman. It's strange how you never know that you might not get what you ask for, but Marty knew.
After Marty and I parted ways, my writing and photography was replaced with office manager work. I was terrible at it, but I had lost my creative passion and my support system. Luckily they found me years later, and now that's how I spend my days. I photograph the sky and imagine that one day unconditional love will find me, too.