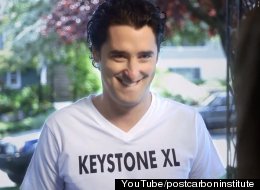 Like many in the environmental movement, I was thrilled when President Obama denied the permit for the Keystone XL pipeline. I really thought it meant the end of the project and the last we'd hear of it. Silly me.
Within weeks, Republicans were looking for new ways to resubmit their plans for the pipeline. Mitt Romney has said he'll make approving the Keystone XL a priority for his first day in office if he wins. Just this week, Keystone XL is back in the news with yet another plan for securing approval.
Watching all of this happen left me feeling frustrated and disenfranchised. So I did what I always do: write comedy.
All I could think of was how much pipeline companies like Transcanada, Enbridge, Shell and Kinder Morgan remind me of guys who just won't take no for an answer. They're going to keep coming back no matter what we tell them, unless we cut them off for good -- and remove their subsidies.
I worked with TckTckTck partners the Post Carbon Institute and the production team at Point Blank Creative to make the short video you can watch below.
Once you're finished watching, I hope you'll want to learn more about some of Keystone's 'friends', their histories, and their plans for our shared energy future. If you'd rather have one powered by greener alternatives, you can join TckTckTck partners the Post Carbon Institute, 350.org, Avaaz.org and Oil Change International and pressure governments to eliminate or redirect fossil fuel subsidies.
After all, isn't it finally time to end this dirty relationship?
Follow Heather Libby on Twitter: www.twitter.com/heatherlibby