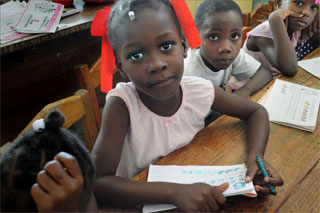 It was on summer nights that I felt I was the luckiest of children -- lucky to be a kid, to have my family, to be looking forward to exciting adventures ahead. After a blistering hot day, dusk and a cool breeze usually meant permission to "stay outside until dark." I'd lie on the grass, gaze at the moon, and hear my little brother circling our yard in search of fireflies. Dad punctured the lids of our glass jars as we set out to capture the magical creature whose light inspired this lucky child to dream about what was possible on a midsummer's night.
I thought about those wondrous summer nights of my childhood when I found myself in an SOS Children's Village in Haiti last month. It was my first night. I was in Croix des Bouquets -- the very same area outside of Port-au-Prince where 14-year-old orphan Daphne Joseph, whom The New York Times wrote about this week, now resides in a tent city.
As the sun went down I could hear the din of hundreds of children's voices. Children were laughing, playing outside the SOS houses that had become their temporary homes. I wondered to myself, what were they feeling? What were their dreams for the future? Most of their parents died under the rubble of the earthquake. If they were lucky, they had a sibling still alive and with them in the SOS Village. But how could they shout and talk excitedly after they'd lost everything? They remained at SOS because no family member had claimed them. How cruel and unfair that they had been dealt such a blow.
By my second night in Haiti, my sense of these kids' misfortune had changed. Maybe they were, in fact, the lucky ones. They are the ones brought to SOS Children's Villages where no one will hurt them, where they will have a loving surrogate mother, education through high school, and a shot at a future.
Why the change in how I looked at them? Earlier that day I'd visited an "orphanage" like the one described in The New York Times article. The one I saw was an encampment in the ruins of the earthquake where children sat in the blistering sun under a tarp. They slept among debris, dust, and dirt. They had little food, no security, and no hope for a better day. I was told that this was one of many small, independent orphanages existing on the largesse of a few local people. These places lack adequate resources and expertise and are vulnerable to any number of forces that could shut them down.
Compared to Daphne Joseph, now living in a tent city, the children brought to SOS Children's Villages in Santo are lucky, indeed. Haiti's tent cities remain dirty, disease-ridden areas where women and girls are often vulnerable to rape. At SOS, children live in a clean, safe environment. They are fed, clothed, given shelter from the imminent rainy season. They attend the SOS school and get medical care. They are visited by psychologists who specialize in helping children who've been traumatized by horrendous loss. They participate in play and art activities designed to give them a sense of stability and normalcy.
These "lucky" orphans might well be able to dream once again. If only all of Haiti's lost children could find a haven like SOS Children's Villages.
FOLLOW HUFFPOST