In this era of the seemingly unstoppable cupcake craze, it is nothing if not refreshing to see another player emerge in the landscape of baked goods. Enter southern-bred transplant Chrysta Wilson who opened the cheekily named Kiss My Bundt Bakery (told you) in LA's West Third Street neighborhood. While offering a variety of confections, Wilson focuses on one particular item at her sunny boutique bakery and I think you can probably guess what it is. Small or large, savory/sweet or just plain sweet, bundt cakes reign supreme here and Wilson crafts each one with skill, heart and creativity. Read on for her thoughts on Los Angeles, her Southern roots and how her Easy Bake Oven predicted the future. And since we know that reading about these cakes won't be enough, we're sharing Wilson's decadently delicious recipe for a boozy almond pound cake.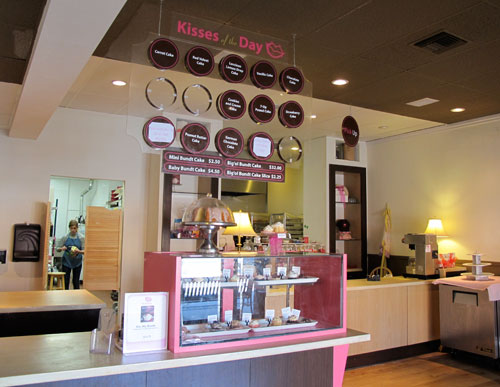 Heather Taylor: Why bundts?
Chrysta Wilson: I grew up in the Southeast, namely North Carolina, Georgia and Florida. In the Southeast, pound cake is pretty much the regional cake. And it is best when baked in the deep pans of the bundt, which lends to the density of the cake. The word "Bundt" is also loosely translated in German as "gathering." And because I'm a community builder by nature (I did it for ten years working for local government) the bakery and bundt cakes enable me to bring people together.
HT: When did you fall in love with baking?

CW: I grew up in a family where food was integral to connecting us together. As a little girl, I saw how my Aunt Dia's bundt cakes were able to create community in her living room. When I was six I started baking with my aunt, shadowing her and learning what baking from scratch was all about. Soon after, I was making goodies on my Easy Bake Oven and selling them on my street corner.
HT: Tell us about what you're trying to communicate at Kiss My Bundt Bakery. That's quite a name, by the way.
CW: Clearly with a name like "Kiss My Bundt" you know our style is tongue-in-cheek, and a bit sassier than the average bakery. I am very interested in pushing the limits of what is expected for the bundt cake. Most bundt cake bakeries are, forgive me, a bit on the corny or hokey side. They focus much more on the novelty of what you can put in the bundt hole (which is fun to say) like flowers and such. The emphasis is never on the quality of cake, the freshness of the cake or the innovative flavor development that Kiss My Bundt Bakery has been known for. My goal was to create a high-end bakery focusing on innovative flavors of a very classic baked good - the bundt!
HT: What are some of the more unusual flavors on your menu?
CW: I'd have to say that Chocolate Bacon, Lime Basil, Tecate Cake, and of course, the glorious Maple Bacon, are a touch on the unusual side.
HT: Obviously your Southern roots are your main influence in the kitchen. Has Los Angeles inspired you as well?
CW: I'm a Southern girl who has been living in Southern California for the last twelve years. My Southern background inspires me (I've been known to use butter, more butter, bacon, pecans, etc), but Southern California definitely inspires me too. In LA, we're exposed to a whole world of culinary influences that is more diverse than the South I grew up in. It is perfectly normal to find chai masala or matcha green tea powder in your local market when exploring new flavors to bake with. There's also less focus on the "traditional" recipes like vanilla and chocolate cake and more of a focus on innovative modern baking that integrates savory ingredients such as basil. And LA is absolutely home to savory/sweet mash-ups like chocolate and bacon.
HT: After you've put away the Kitchen Aid and called it a day, where do you go to relax and enjoy a tasty meal?
CW: Conveniently located right next door to my bakery is Tasca Wine Bar. A little prosecco, and some of their garlic shrimp or short rib, and I'm in heaven. I walk in and the wait staff knows my order. This little wine bar has been my go-to place for comfort since I built out my bakery. When I'm in the mood for something sweet I'll stop into Joan's on Third for the Morning Bun - cinnamon and fresh orange rind in flaky dough. I love this little breakfast pastry!

HT: What's in store for you in the immediate future?
CW: I'm looking to forward to growing the distribution of my first cookbook, Kiss My Bundt. It was released in November of last year and so far the local response has been favorable. I'm also looking to grow my Baking Academy, which is an offshoot of Kiss My Bundt where we teach students how to custom create cakes and confections from scratch. I started teaching these classes in March 2008, and since then we've taught over 1,000 students here in Los Angeles how to bake.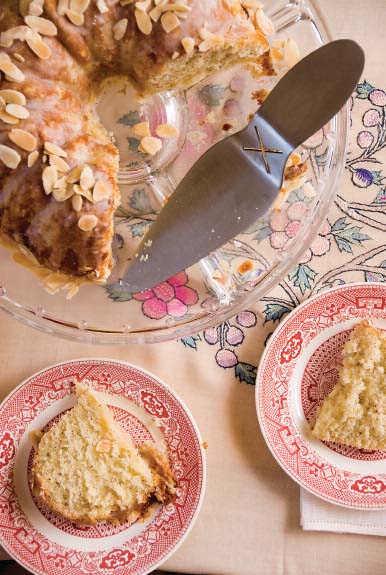 Kiss My Bundt Amaretto di Saronno Pound Cake
This batter should be baked in a 10-12 Cup Capacity Bundt Fluted Cake Pan
Ingredients:
1 1/2 C unsalted butter, room temperature
3 C sugar
5 eggs
2 1/2 C all purpose flour
2 tsp baking powder
1/2 C ground almonds
1/4 tsp salt
1 tsp almond extract
1/2 tsp vanilla extract
1 1/3 C milk
2/3 C Amaretto di Saronno, or other amaretto liqueur
*1/3 C Slivered almonds, enough to cover the bottom of pan (optional)
Directions:
Preheat oven to 350
Beat butter and sugar with an electric mixer on a medium speed while slowly adding sugar. Continue until mixture is fluffy, about 3 minutes.
Crack eggs into a separate bowl and add to butter and sugar mixture one at a time. Then beat on medium speed for an additional two minutes.
In another bowl, sift together flour, baking powder, ground almonds, and salt. Set aside.
Measure your milk, Amaretto di Saronno, almond extract and vanilla extract. Combine and set aside.
Turn the mixer speed to low. Beginning and ending with the flour, add 1/3 of the flour to the mixing bowl, then ½ of the milk mixture, alternating until all ingredients are mixed.
Prepare your pans with a coating of baking spray that includes flour. Sprinkle slivered almonds into the bottom of the greased pan, then pour batter into pans.
Bake until just done, about 55 minutes, or when a cake tester or skewer inserted into the cake comes out clean.
Invert cake onto a cooling rack or serving plate. If cake resists, cool in the pan for 15 minutes before inverting.
Chef Speak is a bi-monthly column by LA-enthusiast Heather Taylor in which she explores LA's diverse and dynamic food culture, featuring interviews with Angeleno chefs of-the-moment, seasonal recipes, and rising restaurants.
Photo Credits: first image courtesy Heather Taylor; second image courtesy Kiss My Bundt Bakery.
SUBSCRIBE TO & FOLLOW THE MORNING EMAIL
The Morning Email helps you start your workday with everything you need to know: breaking news, entertainment and a dash of fun. Learn more