THE BLOG
Chef Speak: Josie Le Balch
After years of running the kitchens at classic LA restaurants (Saddle Peak Lodge and Remi, most notably) Josie Le Balch opened her eponymous restaurant in 2001. The resulting Josie Restaurant in Santa Monica is consistently named one of the city's best places to eat dinner, and it's easy to see why. Her menu is refined yet homey with an emphasis on organic, local and sustainable ingredients. She even offers a three-course Farmers' Market Menu each Wednesday, which diners can enjoy for a cool $35.
The main reason foodies flock to Josie is because she creates a satisfying dining experience from beginning to end. She starts you off with one of the tastiest amuse bouches in the city, a perfect slice of Wild Mushroom and Gruyère Quiche. Dishes like 'Tagine' of Beef Short Ribs (a luscious, fall-off-the-bone kind of situation) keep carnivores happy, while the Warm Harvest Vegetable Salad keeps vegetarian-inclined Angelenos coming back for more. And the Heirloom Apple Crumble Pie, served with butter pecan ice cream and brown sugar caramel? Well, that just makes everyone happy.

Read on for Chef Le Balch's thoughts on Farmers' Market night, BBQ night and why she loves cooking in LA.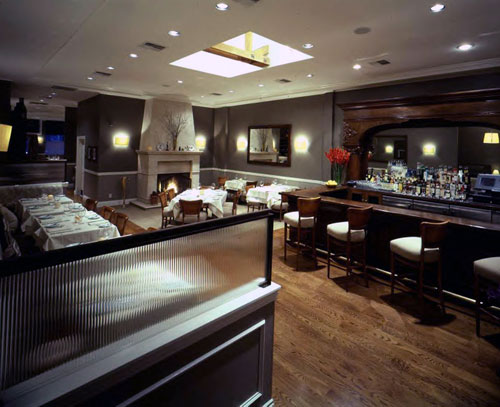 Dining room at Josie Restaurant
Heather Taylor: How long have you been interested in food?
Josie Le Balch: My passion for food started when I was very young. I was close to my father and he was a chef so we always had something interesting having to do with food going on in our house.
HT: What about Los Angeles inspires you in the kitchen?
JLB: There's such a wonderful mix of cultures here, which gives me a vast amount of influences to play with. I feel spoiled with the fact that the weather gives us such great produce (and such a long growing season). Also, people in LA love going out to eat.
HT: I think one of the most exciting things about Josie is your weekly Farmers' Market menu. Please give us the background.
JLB: We do have a farmers' market menu that we feature every Wednesday evening. I do my main shopping on Wednesdays at the Santa Monica Farmers Market on Arizona Avenue and 2nd Street. Just walking around and seeing the latest items that our farmers are growing inspires me.

HT: Is shopping locally important to the identity of the restaurant?
JLB: Our restaurant's identity is not solely based on the farmers' market, but also on sustainable and organic foods as well as the health aspect of good animal husbandry. In addition to the great produce, we focus on hormone-free meats and grass-fed beef and well-treated livestock. I think it's important to bring to my tables the food I want to eat and serve to my own family.

HT: What was a recent menu that you were particularly excited about?
JLB: Recently, we had a farmers' market menu that featured an Oro Blanco grapefruit salad with arugula and red onion, and seared diver scallops with red cabbage, yellow cauliflower, and roasted sunchokes. Dessert was a warm persimmon pecan cake.
HT: I have also heard about a BBQ night at Josie. How did that begin?
JLB: BBQ night came about because I love BBQ and while I was shopping one day at a local hardware store I came across a smoker and bought it. So, it's become a tradition on Thursday nights in the summer. We even had some BBQ cooking classes last summer that were great.

HT: When you aren't cooking for others, where do you like to eat in the city?
JLB: Let's see...I very rarely get out, but when I do I like to try the new places around town to keep an eye on what my fellow chefs are up to. Campanile is one of my favorites as well, but if I'm not at the restaurant, you'll usually find me at home playing with my dog.
In addition to plans for future restaurants, Chef Le Balch hinted at an upcoming cookbook, which will no doubt delight her fans. Here she shares the recipe for her Warm Harvest Vegetable Salad, perfect for lunch or a light dinner. Happy Cooking!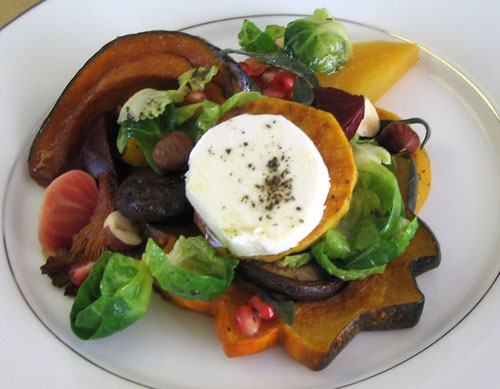 RECIPE

Josie's Warm Harvest Vegetable Salad

This recipe might seem complicated at first, but all of the components can be made ahead and assembled at the last minute.

2 cups Brussels sprout leaves, blanched and cooled
1 butternut squash, peeled and cut into rounds
1 kabocha squash, skin on, cut into 1-inch wedges
1 acorn squash, skin on, cut into 1-inch wedges
1 stick butter
1/4 cup honey
1/4 cup fresh sage leaves
1/4 cup vegetable stock
1/2 cup extra-virgin olive oil
1 1/2 pounds assorted baby beets, roasted, peeled, and cut into quarters
1 cup shiitake mushrooms, sliced and sauteed
1/2 cup hazelnuts, toasted
1 6-oz log of goat cheese, sliced into 1/2-inch rounds
1 cup pomegranate seeds
1 cup pomegranate juice, reduced until thick
salt and pepper

To roast the squash:
1) Preheat oven to 375 degrees
2) Melt butter until slightly golden. Add the fresh sage leaves and let them wilt a bit.
3) Add the honey and vegetable stock, and stir until warm, about 5 minutes. Stir in the olive oil
4) Place the squash in a single layer in a roasting pan and drizzle with the sage butter mixture and sprinkle with salt and pepper. Roast for 20 minutes Turn the squash gently, and roast until tender, about another 20 minutes more. Let cool.

To serve:
1) Preheat oven to 350 degrees
2) On a baking sheet, arrange 8 portions of squash and beets (keep any red beets separate or they will bleed) and heat until just warm.
3) In a saute pan, combine 1/4 cup hazelnut dressing, Shiitake mushrooms, Brussels sprout leaves, and hazelnuts and heat through.
4) On each plate, drizzle a few lines of reduced pomegranate juice, then layer the warm squash and beets. Spoon some of the warm hazelnut mixture over each.
5) Pop the goat cheese slices under the broiler for a few minutes until they are warm and arrange one on top of each plate.
6) Sprinkle with pomegranate seeds and serve

Hazelnut Dressing

1/2 cup hazelnut oil
1/2 cup grapeseed oil
1/2 cup sherry vinegar
1/4 cup minced shallot
1 T chopped parsley
1/4 t granulated sugar
1 T salt
1 T ground white pepper

In a large bowl, whisk together the vinegar, shallot, sugar, salt, and pepper. Slowly add the oils while whisking to incorporate. Add the parsley right before serving.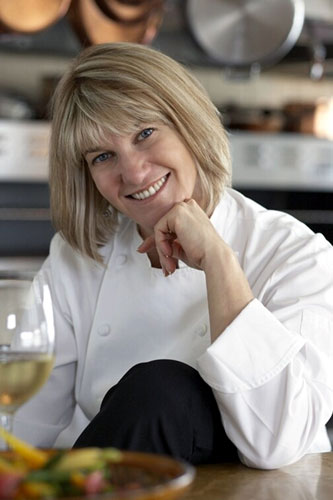 Chef Josie Le Balch

Josie Restaurant
2424 Pico Boulevard
Santa Monica, CA 90405
310.581.9888
Chef Speak is a bi-monthly column by LA-enthusiast Heather Taylor in which she explores LA's diverse and dynamic food culture, featuring interviews with Angeleno chefs of-the-moment, seasonal recipes, and rising restaurants.