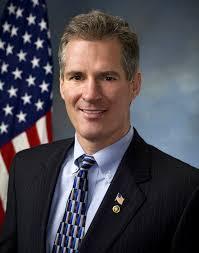 In 2012, Massachusetts voters decided they didn't like Senator Scott Brown's loyalty to Big Oil and they voted him out of the Senate. This year, he's back, but in New Hampshire, where he is trying to unseat Senator Jeanne Shaheen.
Not only did Senator Brown vote in May 2011 to keep giving billions of dollars to oil companies instead of using that money to reduce the deficit or invest in renewable energy, he also voted to weaken the oversight standards of offshore drilling operations. This was after the tragic 2010 BP Deepwater Horizon oil spill disaster in the Gulf of Mexico, and would have weakened oversight even beyond what was in place during that catastrophe.
That record is far out of line with what Granite Staters want in a Senator. Many voters in New Hampshire are aware of Senator Brown's record in the Senate, and according to a July Marist poll, he has a very divided favorable/unfavorable rating (38 to 37 percent). Also, a majority of New Hampshire adults (53 percent) and two-thirds of adults under age 30 support limits on power plant emission of greenhouse gases that cause global warming, even if utility costs are passed down to consumers. In his last bid for the Senate, Brown said he believes climate change is real, but would not support efforts by the EPA to reduce dangerous carbon emissions.
The Koch Brothers and their Big Oil allies know that electing Scott Brown in New Hampshire is an uphill battle, and that's why they've already bought ad time for the month of September to the tune of $1.2 million on one New Hampshire television station alone. It's a safe bet that this is only the tip of the iceberg of Big Oil's effort to buy a Senate seat (again) for Scott Brown.
Our advice: It's time for Scott Brown to stop shopping for a Senate seat with dirty polluters' credit cards.
FOLLOW HUFFPOST