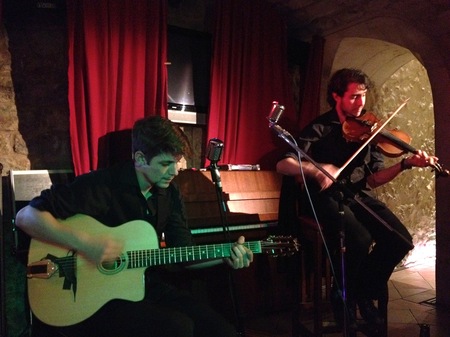 "Two friends, two musical instruments, two passionate fans of Django and of gypsy jazz, one desire... to share it."
Arsène Charry (guitar) and Amaury Suchon (violin) are the two young and talented musicians that make up the duo Les Emmanchés.
I met them at a show in the cellar of famed jazz club La Cave du 38Riv' on rue de Rivoli in the 4th district, where I found myself blown away by their fresh, stellar performance and humble presence. From their black ensembles to thin moustaches, I felt myself transported to 1930s Paris in the audience of a younger version of the awe-inspiring jazz duo that started the movement. Gypsy jazz, or jazz manouche, is a style of jazz originating from France, believed to have been pioneered by guitarist and composer Django Reinhardt who, despite having lost feeling in his third and fourth fingers after a burn accident, modified his way of playing and later left an indelible legacy in this genre of music.
The two boys have just come from the annual Django Reinhardt Jazz Festival in Samois-sur-Seine, just southwest of Paris, where they have spent evenings playing jazz throughout the night with friends, fans, mentors and renowned artists.
How did The Emmanchés come together as a duo?
AC & AS: The Emmanchés first met at the CFMI d'Orsay (Centre de Formation de Musiciens Intervenant) in Orsay, a suburb of Paris, brought together by a mutual passion for swing, Django Reinhardt, and gypsy jazz. We've been working together for one year to increase our repertoire and since January 2012 have been playing exclusively on stage to share this music with our audiences.
What is the signification of the name of your group, "Les Emmanchés"?
AS: Very good question (laughs). We both believe that the guitar and violin are instruments that can wear sleeves -- "manche" in French. [Ed. note: referring to the neck of the instruments.] And so... (laughs).
You play a lot of songs from the '50s. One can't help but make reference to the duo Django Reinhardt and Stéphane Grappelli. Who are your main inspirations when it comes to your style and the songs you choose to play?
AC: Django and Grappelli definitely paved the way and are the incontestable great masters of the guitar/violin gypsy jazz duo. But their successors such as Bireli Lagrène, Stochelo Rosenberg or Angelo Debarre and even younger still, Adrien Moignard, Sébastien Giniaux or Gonzalo Bergara are very big inspirations to me.
AS: Grappelli is, of course, a infinite source of inspiration for me. But I also enjoy listening to Louis Armstrong, Ella Fitzgerald and rock music -- AC/DC, Pink Floyd. I think I've learned something from listening to each of these artists.
At your concerts, you attract quite a varied group of people -- kids, teenagers, couples, seniors... Who is the most surprising member of your audience that you have encountered?
AC & AS: We'll both respond to this one as we have the same person in mind. One day while playing a concert next to the city of Mans, after leaving the stage we met someone, quite elderly, who came to speak with us. We discover in conversing with this person that she had known on a personal level, artists such as Babik Reinhardt (the son of Django Reinhardt) Schnukenach Reinhardt, Marcel Campion, Fapy Lafertin... in brief, all the big names of gypsy jazz that has shaped the music to what it is today.
Your group only consists of the two of you -- a violin and a guitar. Is this common in playing jazz manouche? Would the sound or feeling change with a group of three or four members?
AC: These two instruments are the most typical of this style, but more and more I notice the emergence of more unusual instruments in manouche (trumpets, flutes, harps...). Of course the sound and the atmosphere change from a group of two to that of a group of four. With a duo, the sound and the relationship with the audience is more warm and intimate.
AS: The guitar and the violin are two major instruments in jazz manouche. We can also add bass or another rhythmic guitar to the list -- there are lots of trios in manouche. We've made the choice to play as a duo, and hopefully succeeded in letting go of the need for the missing bass.
What is the next step for Les Emmanchés?
AC & AS: The next step will be, to our regret, a temporary "stand by" of at least one year. We are forced to separate as I (Amaury) will leave for work in Los Angeles. However, a "stand by" is not an end, and we will try to work together despite the distance... Fortunately for us, we live in the year 2012 and internet is always there to help!
SUBSCRIBE TO & FOLLOW CULTURE SHIFT
Every Friday, HuffPost's Culture Shift newsletter helps you figure out which books you should read, art you should check out, movies you should watch and music should listen to. Learn more