Gallery girl Heidi of 10 Chancery Lane Gallery in Hong Kong lets us follow her footsteps during the week of ART HK 12.
 
Hong Kong art fair week is an exciting, fast-paced, tumultuous, and hopefully rewarding period for all involved in the art world. It is a global phenomenon bringing about a significant cultural transformation to the region. This year's event will bring a bevy of international collectors, gallery owners, art aficionados, curators, consultants and advisors, journalists, and critics to participate in the spectacle.
 
266 galleries from 39 international territories have claimed a temporary space under the umbrella of ART HK 12. Touting itself as the new Art Basel -- as it will soon be renamed 'Art Basel in Hong Kong' ART HK's productions seem to be growing bigger every year. With Basel as the more experienced "uncle" of Hong Kong's ART HK, the art industry represented at Art HK is growing at an astronomical rate as well. Hong Kong, a city that prides itself on embracing novelty, undoubtedly occupies the optimal position for showcasing new art to a global audience and to host the largest regional contemporary art fair, not only in terms of location but also culture. As the perfect junction of both Western and Eastern influences, Hong Kong is one of the rare global hubs in Asia where language is not a barrier and foreign cultures are embraced with open arms.  
One may deem art fairs to be generally new to the Chinese, but in recent years as Chinese buyers increasingly end up as the final bidders at record-breaking prices at the top auctions, one must speculate that general interest in art as an investment has struck a chord in this part of the world.
Art fairs, although still very much a trade fair, are no longer exclusive to men strolling around with cigar cases nestled in their pockets and gold signet rings. Art is becoming an accessible commodity, with many galleries catering to a younger audience, and showing younger artists. While the selling aspect of the fair remains, we easily forget as part of the fun is also in people watching, and indulging in our interests in seeing what's new in contemporary art.
And although it seems that the behemoth galleries hold quite the monopoly on the art market, it may rather result in a favorable effect for the smaller galleries. For example, if aesthetics plays more of a factor than brand-name, one who may not be able to forgo half a year's rent on a piece from Andreas Gursky's latest water reflection series, may be very content with Hong Kong artist William Furniss' well-known photographs for a fraction of the price.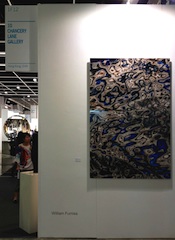 William Furniss at 10 Chancery Lane Gallery.
Georges de Tilly recently remarked on the concept of buying art as giving back to the community. When art is chosen as an investment, money is recycled back into the system. There is no pollution involved, no one is killed, and usually you end up satisfied with what you have. But in the end, the works usually end up being donated to museums or institutions to be enjoyed by all.
I'm taking notes day by day to document the general pandemonium.
 
Monday, May 14th.
 
Our opening solo show in our Central gallery by young Japanese contemporary artist Ai Yamaguchi. Her works are a delicate, feminine portrayal of prepubescent women in traditionally Japanese costumes and settings. The soft nature of her works appeal to established collectors such as Jean Pigozzi and the public alike.  By the end of the evening, the 20-piece puzzle-like installation is on reserve. Afterwards we have dinner in the pleasant company of artists and collectors alike including Ms. Ai Yamaguchi, Ken Matsubara, American conceptual artist Joseph Kosuth and grand supporter of the avant-garde Joni Waka with his artist-in-residence Catherina Nelli.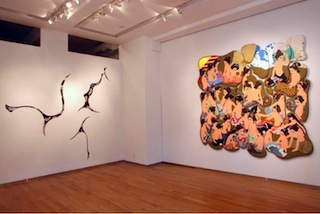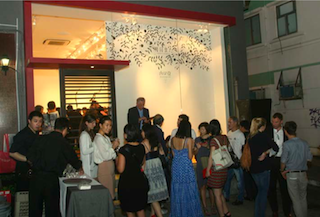 Ai Yamaguchi, installation view of ashita mata.
Tuesday, May 15th
 
First day of installation for the big event.
 
Entering the hall of the Exhibition Center the day before the opening of Art Fair is not unlike peeking through the curtain of a play during intermission. It is, in all respects, a staged affair.
 
I walk though the halls passing men pushing trolleys, a women strategically positioning a small forest of trees, and exquisite sculptures standing vacantly in open crates. A giant dog completely wrapped in bubble wrap sits in the middle of the hall. Approaching our booth, I walk down the corridor hearing murmurings of Chinese, Korean, Italian and Hebrew before I arrive to our designated area. Works already look stunning even without the correct illumination.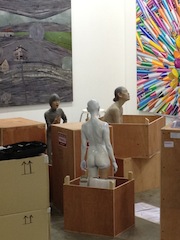 Sculptures standing in crates.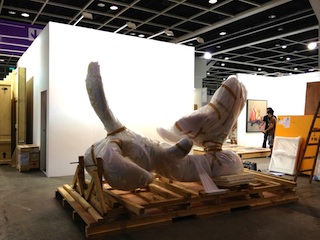 A giant bubble-wrapped dog.
 
One of our artists is fine-tuning a mechanism attached to his sculpture while helpers are apply grey paint to the walls to compliment the works of another artist.  He decided to change the name of his work yesterday so we must re-print the current handouts and brochures to accommodate this change.
 
Tonight also signals the openings of several galleries of note. Upon approaching historic Pedder building in Hong Kong, we notice a line snaking out of the building to the sidewalk. It is quite refreshing to see how motivated one becomes for the sake of art. As one said in line with his chest pressed against another's perspiring backside, "I can't believe I'm doing this. I feel like a lemming." Those too impatient to wait in the warm duvet of 100 percent humidity opted to take the stairs. In this back stairwell, dusty metal poles, tarp, and scaffolding surround the winding stairs which happen to be covered with a fine layer of white drywall powder. It is quite a sight to see the sheer will of women in cocktail dresses and heels followed by their husbands in tow in tailored suits climbing up and down, exchanging enthusiastic hellos and kisses mid-step with those they only see at similar sorts of functions. It's hot, it's sweaty, but somehow, it adds to the whole experience because what's art without a bit of dirt?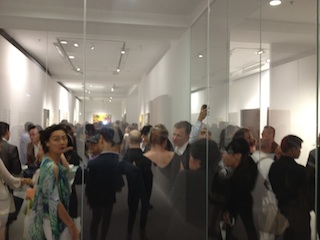 Packed at Pearl Lam
Mr. Jay Jopling at the opening of Anselm Kiefer at White Cube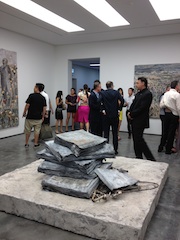 White Cube in Hong Kong.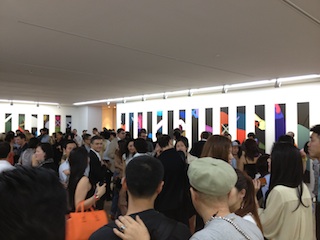 Opening of KAWS at Galerie Perrotin
 
Now back in the office to prepare for the big day: the press preview and VIP vernissage, where selected guests get to see the action before the general public. Also, apparently an eager client is landing in HK tomorrow morning at 6:30 a.m. and requests a viewing of Ai's works as soon as she gets into town. 
Wednesday, May 16th
Art HK 12 Vernissage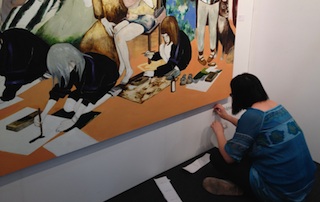 Tiana applies labels for artwork on walls.
Frantically finishing some last minute print-outs in the morning, I am rushed to the fair earlier than expected to ensure prompt arrival of an available taxi for a guest from the Tate Museum in London who was scheduled to speak at two simultaneous luncheons in two different locations. The press conference marks the official start of the fair. Fair advisory group member Philip Dodd and organizer Magnus Renfrew share sentiments on the catalyst effect of the fair, the rapid emergence of new collectors, the blossoming of magazines, and the spread of new galleries across Hong Kong.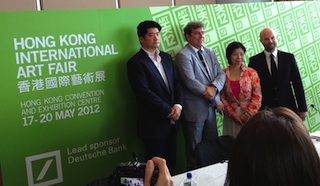 Press conference marks the opening day.
The ringing of bells signaling the ART HK 12's opening echo throughout the halls, all brochures set out on the table and we are ready to welcome visitors at our booth. The transformation from last night is astonishing, as works on display appear immaculate and enticing. It's hard not to leave the stand to have a look around. As opposed to last year, the overall scheme appears to be more diversified with works less recognizable at first glance. Yayoi Kusama sculptures to Francis Bacon, from Gerhard Richter paintings to Zhang Huan and Korean artist Lee Lee Nam, the stimulation of museum-quality art satisfies the appetite for the art-hungry public.
Many of the artists are present at our booth allowing opportunity for on-spot interviews.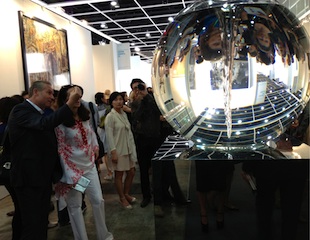 Élan Vital by Petroc Sesti
"Élan Vital" by Petroc is a definite crowd magnet with its mesmerizing liquid vortex contained in a large glass sphere. He describes his work as a chameleon- it is a unique entity on its own, but somehow is able to blend in perfectly with its surroundings.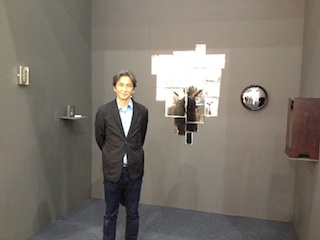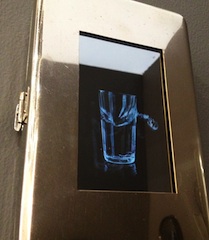 Ken Matsubara in front of his works.
Tokyo-based artist Ken Matsubara's antique boxes are haunting, dreamy, and serene. Peer in closer, and you see a slow motion video of falling letters or a flaming hoop. His works have been described as that of a high-tech Joseph Cornell.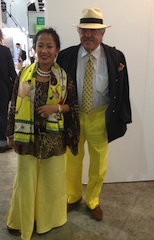 A cheerful couple from Phuket, Thailand.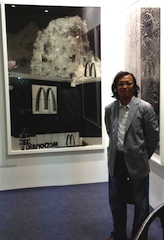 Shi Guorui in front of his work.
Shi Guorui, a phenomenal Beijing-based Chinese photographer, who captures large panoramic landscapes using the camera obscura technique stands in front of his work "Guilin."
By the end of the day, our feet ache and we are in search of any drink other than champagne. We make mental notes of items to remember tomorrow to simplify coordination between staff and make sure battery-powered works are set to be recharged.
A joyous cocktail celebration at the poolside of the Hyatt is held after the crowd is shooed out of the exhibition center, but I will miss it this year in favor of my first substantial meal of the day.
Thursday May 17th
This morning's activities consisted of zipping back and forth from the gallery to the convention centre to our space in Chai Wan and back.
It is the opening of two of our artists in the industrial artist space known as Art East Island. On the 6th floor of the building, we are showcasing a pioneering Vietnamese contemporary artist Dinh Q. Lê, whose impressive Erasure installation, has been brought from the Sherman Foundation in Sydney last year to our space in Hong Kong. In the late '70s, Hong Kong experienced a mass refugee migration following the Vietnam war. The Victoria prison would directly faces the walls of 10 Chancery Lane's SoHo gallery, served as a major transit and repatriation centre for hundreds of Vietnamese who sought refugee rights in Hong Kong.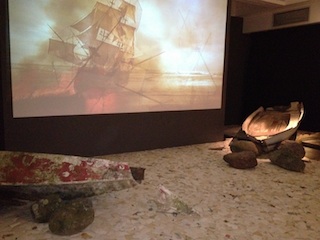 Installation shot of Erasure at 10 Chancery Lane Gallery Art Projects, Chai Wan.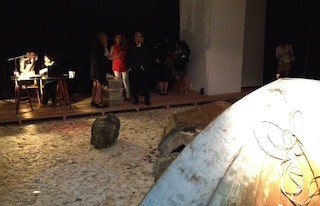 Installation shot of Erasure at 10 Chancery Lane Gallery Art Projects, Chai Wan.
Says director Katie de Tilly of the interactive exhibition; "I was so moved when I first saw the work of Erasure by Dinh Q. Le in Australia. The crashing boats, the ship burning were captivating but not as much as the 100,000 'ocean' of photos that lay on the floor. Photos of so many families and where have they gone? In 1995 I visited the Vietnamese refugee camps on High Island here in Hong Kong when I worked with Medecins Sans Frontieres, I remember seeing the faces particularly of the teenagers who never knew any other life but those barbed wire fences. They wanted to go to America and not back to Vietnam stuck between the past and the future. Their family photos might be on the floor of Erasure. This is why it is so great to see this exhibition here in Hong Kong. Le's work is at once powerful and yet so gentle showing the fragility of ones circumstance." 
Approximately 80 VIP members attended the morning brunch session to listen to a talk by artist Lê and curator/co-director of SanArt, Vietnam's first contemporary art space.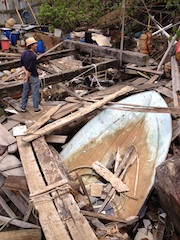 One of the boats from the show prior to its rescue.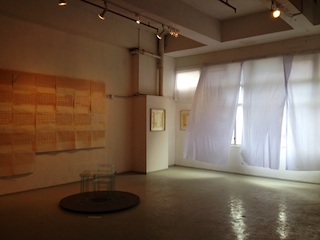 Hong Kong artist Carol Lee holds a solo show in the Chai Wan space on the fifth floor.
On the fifth floor is renowned Hong Kong artist Carol Lee's very delicate works in a 3,000-sq. ft. space, featuring time paintings of personal items and stories, created with time, light, and newsprint in her solo exhibition Threads of Luminosity.
In a cab on the way back to the fair I am sitting between an art critic from Hungary, and gallerist from Vienna, and a woman who lives in Australia but works in Shanghai. The international attention is quite extraordinary, bringing together unlikely groups of people, and consequentially creating new, unpredictable dialogues about the present and future state of contemporary art in Asia.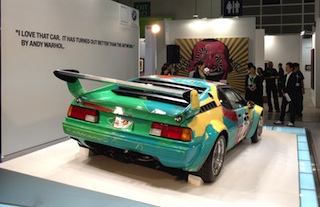 Many galleries exhibit museum-quality work.
As soon as the fair closes, guests who have received our invitations are ushered to the new flagship store of Shanghai Tang, also known as the Shanghai Tang Mansion. There, one of our dear artists Huang Rui has executed a one-of-a-kind installation entitled Language: Sound (a continuation of his previous nearly sold-out solo show at the gallery last month, Language: Color) with works displayed throughout the three-story store. Huang Rui, a highly influential and thought-provoking contemporary art leader from the STARS "Xing Xing" movement in late 1970s China, has constructed a piece combining both art and performance. His 'Musical Ping Pong Table' is built with the intention of allowing the ball to make a sound when hit against the table's inlayed percussion instruments. Additionally, a large gong was suspended over the net, resulting in a very satisfying ring when hit in the sweet spot.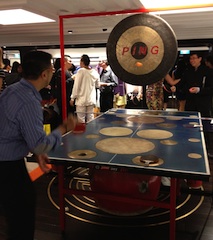 Guests test out the Musical Ping Pong Table.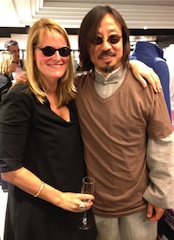 The artist Huang Rui with gallery director Katie de Tilly.
Yet another full house during Art Fair Week in Central, Hong Kong, and the night is still young!