Last year Rocco Landesman, Chairman of the National Endowment for the Arts (NEA), spoke at a meeting of the Association of Art Museum Directors (AAMD). He came to speak with us about what he perceived as a lack of civility in contemporary American society and to seek our help. His goal was a reactivation of the traditional "town square," where people of all different backgrounds, perspectives, and experiences have historically intermixed. He suggested that museums were an appropriate and logical place to emphasize the town hall concept.
Last week, I was driving down the freeway in Los Angeles and saw a sign for the Museum of Tolerance. Of course, the Museum of Tolerance is a specific museum advocating a specific type of tolerance, but their mission includes, "confront(ing) all forms of prejudice and discrimination in our world today." Thus I thought about museums as places of tolerance in general and how this furthers Landesman's perspective.
Installation view, Asco: Elite of the Obscure, A Retrospective 1972-1987
(September 4, 2011-December 4, 2011), Los Angeles County Museum of Art. Photo © 2011 Museum Associates/LACMA.
The idea that art can broaden awareness of and exposure to "other" cultures is particularly well expressed in Los Angeles right now. In conjunction with the expansive Pacific Standard Time project spearheaded by the Getty Foundation, LACMA is presenting an exhibition entitled ASCO: Elite of the Obscure, A Retrospective, 1972-1987, which is the first retrospective of the wide-ranging work of ASCO, a Chicano performance and conceptual art group.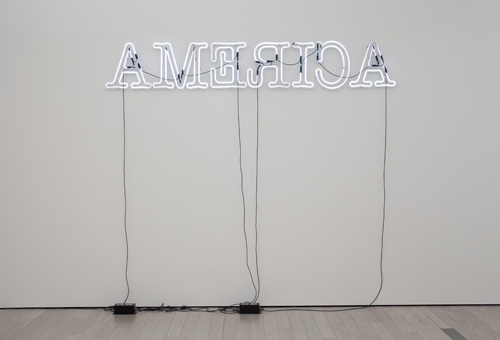 Glenn Ligon
:
Rückenfigur
, 2009. Installation. Mixed media/assemblage/collage/neon and black paint. © Glenn Ligon. Photo © Museum Associates/LACMA.
Simultaneously on view at LACMA is the Whitney Museum of American Art's outstanding survey of the work of Glenn Ligon, an artist known for his specific and at times searing commentary of what it means to be Black in America. The Hammer Museum has solo exhibitions of the work of Carlos Bunga and Patricia Esquivias, along with the group exhibition Now Dig This! Art and Black Los Angeles 1960-1980, another excellent survey that includes the work of both lesser- and well-known LA-based African American artists.
David Hammons
:
Untitled
, 1976. Body print. 32 ¼" x 26 ½". Collection of Linda Goode Bryant, New York. Photograph by Tim Nighswander.
LA MOCA is presenting Under the Big Black Sun: California Art 1974-1981, a massive exhibition that incorporates female artists and artists of color into an important and timely re-examination of this period in the development of California-based art.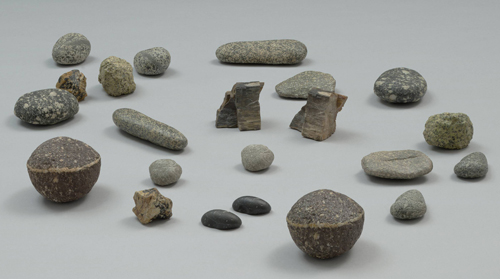 Vija Celmins
:
To Fix the Image in Memory
, 1977-1982. Stones and painted bronze, eleven pairs, dimensions variable. Collection of the Museum of Modern Art, New York; gift of Edward R. Broida in honor of David and Renee McKee (2005).
A highlight for me was a work by Vija Celmins entitled To Fix the Image in Memory (1977-1982), in which "eleven real rocks are paired with replicas carefully cast in bronze and painted." The work aptly and effectively addresses Zen meditation and practice, while at the same time speaking to the prevalence of simulacra in a city deeply intertwined with Hollywood and the entertainment industry. Alongside this historical survey is a moving exhibition of new work by Chicago-based artist Theaster Gates, An Epitaph for Civil Rights, utilizing decommissioned fire hoses as a medium.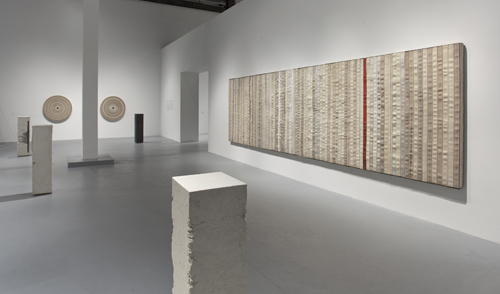 Installation view of Theaster Gates's
:
An Epitaph for Civil Rights
at The Museum of Contemporary Art, Los Angeles. Photo by Brian Forrest.
When writing about civility it is hard not to think about the recent events of so-called "Black Friday"* or the often caustic, anonymous comments left on blogs or online articles. How can art help what appears to have become an American epidemic of incivility? If we can look at works of art and acknowledge our visual biases, perhaps a better understanding of difference may be illuminated. Maybe that realization could facilitate a decrease in bullying and other destructive behaviors and an increase in civility. Optimistic? Indeed. But Landesman's goal is a worthy and important one, and museums fit logically into the promotion of tolerance.
* Andrew Blankstein, "Wal-Mart pepper-spray attack caused 'total pandemonium,' says LAPD," L.A. Now (blog), Los Angeles Times, November 29, 2011.