THE BLOG
Amplifying Banned Arts
As Chinese Premier Wen Jiabao arrived in New York this week for UN conferences, he was was met with Tibetan supporters protesting the increased crackdowns in Tibet.
But in downtown New York, there was another protest going on, one that mirrored the current movement inside Tibet -- art as a peaceful means of protest. The walls of the Union Gallery were filled last night with Art For Tibet:
Contemporary Tibetan artist Tenzing Rigdol shared wall space with traditional Tibetan thangkas, Richard Gere and Shephard Fairey.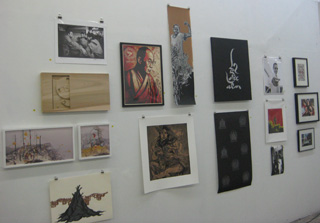 Presented by Students for a Free Tibet (SFT), this benefit event is part of an ongoing effort to amplify the voices and means of expression that are banned inside Tibet.
Tibetans inside Tibet are banned from having pictures of their exiled leader, the Dalai Lama, the Tibetan flag is outlawed, and religious institutions face government-mandated restrictions. As artists use different mediums to tell of both suffering and hope, China's response is reminiscent of the cultural revolution, as they increase the arrests of artists, filmmakers, writers, and musicians.
Writer Shogdung, film maker Dhondup Wangchen, and singer Tashi Dhondup have all been detained, arrested and sentenced for their peaceful protest through their artistic voices.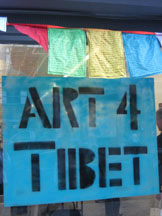 The Art For Tibet exhibit continues through the end of the week. SFT's ongoing project, the Renaissance Series will continue to shine a light on the arts banned in Tibet.
To hear music currently banned in Tibet, you can visit SFT's ring tone download page.