Westerners who joked they were glad to see 2009 gone, hoping for a better 2010, may find kindred spirits in the Tibetans. Losar, the Tibetan New Year, will begin on February 14.
Out with the old, and in with the new
Losar activities center on ushering out the old, purifying, and welcoming the new. The celebration can last between three and 14 days. The monastic community cleans and decorates the monasteries and performs special rituals evoking protective deities. The lay community also embraces purification for the New Year; in the days before, new clothes are made or purchased, houses are cleaned (sometimes repainted) and decorated and new prayer flags (Tib. Lungta) are raised.
The first day of Losar is traditionally spent with immediate family. Celebrants wear their new garments to signify a new beginning. There are special dishes and treats such as phagthuk and khapse, and lots of chaang -- a beverage similar to beer. There are prayers in the home for purification, and for an auspicious new year. Juniper incense is burned and small amounts of barley flour (Tib. Tsampa) are thrown into the air to ensure successful livelihoods and crops.
The Tibetan calendar is based on a lunar cycle of 60 years; it consists of 12 animals (Rat, Ox, Tiger, Rabbit, Dragon, Snake, Horse, Sheep, Donkey, Bird, Dog and Hog), which are then combined with the five elements (water, wood, fire, earth and iron) and two aspects (male and female).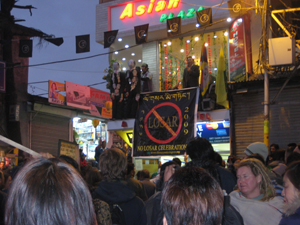 While I was in Dharamsala last year, and with friends -- what I experienced was both a protest and a solidarity movement, it was Black Losar.
My friend Kusang is the director of the Tibet Hope Center. He explained that Tibetans came together and decided not to celebrate the New Year. Too many Tibetans had been killed and imprisoned inside Tibet since the March 2008 uprisings.
While different events had been planned for this year, many have been canceled following an announcement by the Tibetan Government earlier this week:
"Central Tibetan Administration urges Tibetan Officials not to take part in celebrations such as parties, dancing and singing, and fireworks, except for religious rituals such as burning incense and making traditional offerings."
No doubt, there will be much talk of His Holiness the Dalai Lama's meeting with Barack Obama this week.
International Campaign for Tibet released information on the visit:
It will be the first meeting between President Obama and the Dalai Lama as two Nobel Peace Laureates (2009 and 1989, respectively). In this capacity, and as is typical for the Dalai Lama, it is expected that he will also raise issues of global concern with his fellow Peace Laureate.

The meeting reflects a historic and internationally-shared recognition of the Dalai Lama as an important and valued spokesperson for human rights and human dignity, a record of U.S. programmatic and political support for the Tibetan people's struggle against oppression, and the precedence of meetings between U.S. Presidents and the Dalai Lama.

The Dalai Lama arrives in Washington, D.C. on the afternoon of February 17. His visit is primarily to meet with President Obama. On the 19th morning, he will receive the Democracy Service Medal from the National Endowment for Democracy at a ceremony at the Library of Congress. He departs Washington, D.C. thereafter.
Let's hope the new year really does mean out with the old, and usher in support that helps Tibetans and puts an end to China's gross human rights violations.
SUBSCRIBE AND FOLLOW
Get top stories and blog posts emailed to me each day. Newsletters may offer personalized content or advertisements.
Learn more