I'm not a sports person at all. So, at 11 a.m. on Sunday, when a friend reminded me it was in fact Superbowl Sunday -- I replied with the only question I could think of, "Who's playing halftime?"
With the 'Janet debacle' still in my mind, I was planning on hearing it was something sensational -- maybe Lady Gaga?
I almost choked on my coffee when they said, The Who. The Who's "I've Had Enough" echoing in my head, I began to think about music. Songs that had inspired me -- songs so powerful they drove me to action.
In my youth, I surrounded my self with all genres of alternative music -- whether it was punk, mod, or ska, I was open to it all. 2-Tone ska was some of my favorite -- the music was built out of cultures coming together -- Jamaicans immigrating into England (Birmingham in particular.) Island dance hall beats and toasting dovetailed with working class punk and mod music, birthing the politically charged, racially-unifying 2-Tone ska movement.
Bands like The Beat, The Specials, Madness and The Special A.K.A dominated the airwaves and dance floors. The movement behind these songs was political, it was for change. Both the Specials and the Police at that time were taking stabs at the National Front in their lyrics. Jerry Dammers was particularly political with the Special A.K.A.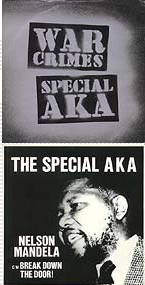 His songs were, to me, action anthems.
"21 years in captivity
Shoes too small to fit his feet
His body abused but his mind is still free
Are you so blind that you cannot see? I said...
Free Nelson Mandela, I'm begging you
Free Nelson Mandela
Aided the causes at the ANC
Only one man in a large army
Are you so blind that you cannot see?
Are you so deaf that you cannot hear his plea?"
Dammers was a driving force behind Nelson Mandela's 70th birthday concert at Wembley in '88 featuring major performers; but it was a very special day when two years later the event was held again, and Mandela was free and able to attend.
Dammers has been quoted as saying:
"Music gets political when there are new ideas in music ... punk was innovative, so was ska, and that was why bands such as The Specials and The Clash could be political."
This music has always been so special to me. It reached me when I was with my friends, when I was in my car, dancing at a club -- or just listening to my Walkman. It made me question what was happening in the world, it taught me that music is a powerful tool, and it can move the masses to action.
On my last trip to India, I met Tibetan ex-political prisoner, Palden Gyatso. I had read Palden's Book, Fire Under the Snow, and he has had a huge impact on my life. Inspired by Palden, and others I've met, I'm currently working on two projects that aim to help Tibetan ex-political prisoners. As I work on these projects, I find the words to 'Nelson Mandela' in my head -- it is truly an action anthem.
If you are interested in learning more about ex-political prisoners in exile and stay informed of human rights violations inside Tibet, I suggest you visit Gu Chu Sum.
SUBSCRIBE TO & FOLLOW ENTERTAINMENT
HuffPost Entertainment is your one-stop shop for celebrity news, hilarious late-night bits, industry and awards coverage and more — sent right to your inbox six days a week. Learn more