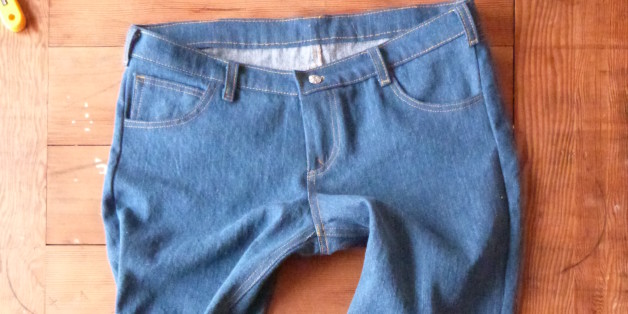 Why wear pants on June 11? Because for females, wearing the pants is STILL not a universal freedom. So, when you wear pants this Thursday -- thanks! -- tell people that.
Our girl members are often baffled that female pants-wearing is even an issue. Why wouldn't we all be baffled, really? What is so heinous about females donning the same things that men routinely wear?
Worldwide, the penalty for daring to wear pants is much higher. Sudanese activist Amal Habani says at least 40,000 women have been publicly flogged and imprisoned for wearing pants and exposing their hair in public in recent years.
But don't be tempted to put places such as Swaziland and Sudan and North Korea into that "other" category of backward thinking and religious fringery. The "tend to lust" (and "naturally," possibly sexually assault) defense is the reason that scores of stateside schools are now forbidding girls from wearing yoga pants, leggings and close-fit jeans. These lurid outfits are "too distracting" to boys who ogle and lust rather than read and write, administrators say.
Outraged parents are blasting back at the actions. An Evanston group of middle-schooler parents told school officials that the ban "lands itself squarely on a continuum that blames girls and women for assault by men. It also sends the message to boys that their behaviors are excusable, or understandable given what the girls are wearing." The parents want administrators to "consider the impact of these policies and how they contribute to rape culture."
Indeed, regulations mandating female garb are always part of a continuum and a cumulative burden of crushing cultural expectations for females. Safak Pavey, Turkey's first disabled female Parliament member, was happy to see the Parliament's female pants ban lifted in 2013. But she sees it as part and parcel of many other restrictions that limit women daily, such as current efforts in Turkey to segregate girls in separate classrooms, keep pregnant women from walking in public, and even curtailing cesarean sections.
That's why fighting pants rules makes a difference in gender equality. So, if you agree that the shape of a person's skin should not determine their clothing choices and other freedoms, consider these actions.
When you hear opinions to the effect of, "well, tight pants are provocative," respond that girls and women (and boys and men) are sexually assaulted every day regardless of what they wear. Case in point: the rape epidemic in the military. Would anyone consider military uniforms a sexy come-on? Say something when you hear opinions that don't make sense and that contribute to violence and needless limitations.
Just Wear The Pants this Thursday, and tell everyone why you're doing it. We'll create change the way it always has been done -- one leg at a time. Many thanks for supporting fairness for all!
SUBSCRIBE AND FOLLOW
Get top stories and blog posts emailed to me each day. Newsletters may offer personalized content or advertisements.
Learn more