Do You Sabotage Your Power?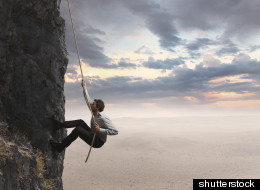 Fortune has released its new list of the 50 most powerful women -- on newsstands in its October issue. I have found in my work that too many of us struggle to claim our power, and there are those of us who inadvertently sabotage it.
In what ways do we undermine ourselves and how can we stop doing that? Here are six pitfalls that can be turned.
6 Ways We Undermine Ourselves (And How To Stop)
When we don't tell the truth, especially to ourselves, we waste a lot of time fabricating stories. Why not say what you mean the first time around? If someone doesn't like it, you will survive. Saying "no" can be like saying "yes" to yourself.

We all are talented -- possessing many skills, but our career visions are often too small. To overcome this, find your sense of purpose. Ask yourself these questions: "What was I put on this planet to do?" and, "Am I living up to my potential?" If you reflect on this, the answers will come.

Have the courage to step forward when you know you can make a difference. If you are resisting doing that, ask yourself, "What false idea do I believe about myself?" It might be something you heard from a parent, teacher, ex-boss, current boss, but it is not who you are. Challenge the untruth, and step out.

Worrying never got us anywhere, except to drain our energy and waste our time! Be vigilant, check in with yourself throughout the day, and if you catch yourself worrying, change channels, do something more productive.

It is often easier to acknowledge our strengths rather than our weaknesses, but the whole package is what makes us who we are. No one is immune to limitations. And once you accept your shortcomings, they're less likely to stop you from moving forward.

We may stay confused about what we truly desire, or when we know what we want, have trouble communicating it. You are worthy of having all those good things. Take time to reflect on your desires and share them out loud with people who are supportive.
For more by Helene Lerner, click here.
For more on success and motivation, click here.