It took you a while to get used to the concept of a man having three wives in Big Love -- but you finally accepted it, since after all, it is an HBO series and the dialogue and plot lines are actually quite intriguing. But a reality show starring one man and his four flesh-and-blood wives? That just seems a bit excessive, doesn't it? What could possibly compel one to watch TLC's The Sister Wives, knowing that it is not an HBO creation, but a real-life depiction of a polygynous family?
Useful love lessons, for one.
In an article for Her Campus, Nicole Karlis explores the complex relationships between The Sister Wives and their husband, Kody Brown, enlightening us on a few love lessons we could learn from the TLC show.
Click here to read the full article from HerCampus.com!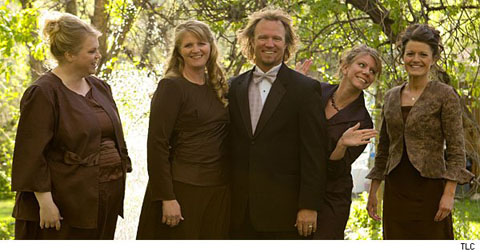 One husband.
Four wives.
Thirteen children.
A scenario you probably don't see in your future.
Unless you're a Fundamentalist Mormon like Kody Brown and his four wives Meri, Janelle, Christine and Robyn, on the TLC show Sister Wives.
They practice polygyny, a part of polygamy in which the man courts more than one wife. Together they live under one roof and raise twelve children, basically a real life Big Love. Kody met his first wife, Meri, about 20 years ago, three years later he married Janelle, and a year after that he married Christine. Most recently he married Robyn, which set the premise of the show's first season. It seems like it would be complete chaos, right? Three women sharing one man (and adding kids to the mix) could be a very overwhelming situation. But for those of you who haven't watched the show, it's far from the petty catfights you'd imagine. No, there isn't any hair pulling or face slapping. Sister Wives is about a family that just had more people involved, a situation that drew many in front of their TVs every Sunday night (including myself). And sex is never a taboo topic on the show. Kody spends each night with a different wife -- they have a schedule.
Many people have been quick to criticize the family, and I understand why, since it is something that we're unfamiliar with. But after watching the show and consulting with experts, I found there are in fact valuable lessons to be learned from these polygamists.
Here are the 4 Love Lessons to be learned from the Sister Wives:

Lesson #1 Keep your relationship exciting
"I just fell in love. Then I fell in love again, and I fell in love again," -- Kody Brown
Sure, from a man's perspective, falling in love with three different women and not having his penis cut off is a pretty good deal. But honestly, it's an unrealistic situation for most of today's population. The question is then: how can you keep your man falling for you over and over again?
"It's important to make that a priority," said Liz Langley, a sex and relationships writer. "When relationships start to get stale, people wonder 'why can't it be the way it used to be?' Relationships naturally change because we change chemically."
SUBSCRIBE TO & FOLLOW LIFESTYLE
We're basically your best friend… with better taste. Learn more