In recent weeks, politicians, pundits, market commentators and even some economists have conveyed an improving employment outlook. Their reasoning is predicated on the decline in the number of people that continue to collect unemployment insurance payments as reported weekly by the U.S. Department of Labor (DOL). However, this so-called "key indicator", known to Wall Street as the "weekly continuing claims" number, is merely a partial count of the number of unemployed Americans that are truly on the dole.
Yes, "regular" state-funded continuing claims have declined significantly - from a seasonally adjusted 6.9 million in June 2009 to 4.6 million as of the New Year. However, pointing to the drop as a prelude of a burgeoning prosperous economy is the handiwork of either the optimistically naïve or the dreadfully specious. The fact is that, as of January 1 2010, more than twice the amount of people reported in the continuing claims number were actually receiving an unemployment check.
By adding the number of people collecting "emergency" and "extended" unemployment benefits to those making regular unemployment claims, a truly daunting picture of the unemployment situation is revealed. Emergency Unemployment Compensation (EUC) is a 100 percent federally funded program that provides benefits to individuals who have exhausted regular, state benefits, which are paid for a maximum of 26 weeks in most states. Depending on the state, EUC benefits can be collected for up to 53 weeks.
The EUC program was originally created in 2002 and phased out in 2005. However, due to the dire economy, the program was reinstated in June 2008, and its beneficiaries have reached unprecedented levels. A second form of financial assistance that also relies on federal funds is known as "Extended Benefits ." This program was also revived during the current crisis. Although not as widely used as EUC benefits, Extended Benefit payments can be obtained by certain workers and may last up to 20 weeks. The Extended Benefits program is set to phase out in the first quarter of 2010 but, as has happened recently, it could certainly be extended.
Given the paucity of the both the emergency and extended benefits data, seasonally adjusted numbers are not published by the DOL. However adding the January 1, 2010 unadjusted emergency and extended figures to the adjusted regular claims number yields a whopping 10.5 million people on the dole. This dwarfs the seasonally adjusted 4.6 million headline number cheerily reported by many news outlets.
Also, it turns out that the January 1, 2010 unadjusted (i.e. actual) regular unemployment claim figure is significantly greater than the seasonally adjusted number (6.0 million vs. 4.5 million). Therefore, there were actually 11.9 million people on the (extraordinarily long) unemployment line this month. People are acutely aware of their own employment (or lack thereof) situation. Telling them that unemployment is decreasing will only continue to breed frustration and mistrust in an already incredulous public causing popular sentiment to deteriorate further. This week's Massachusetts senatorial election clearly shows that the public will vote based on the reality of their lives and not on overly optimistic promises and lofty aspirations.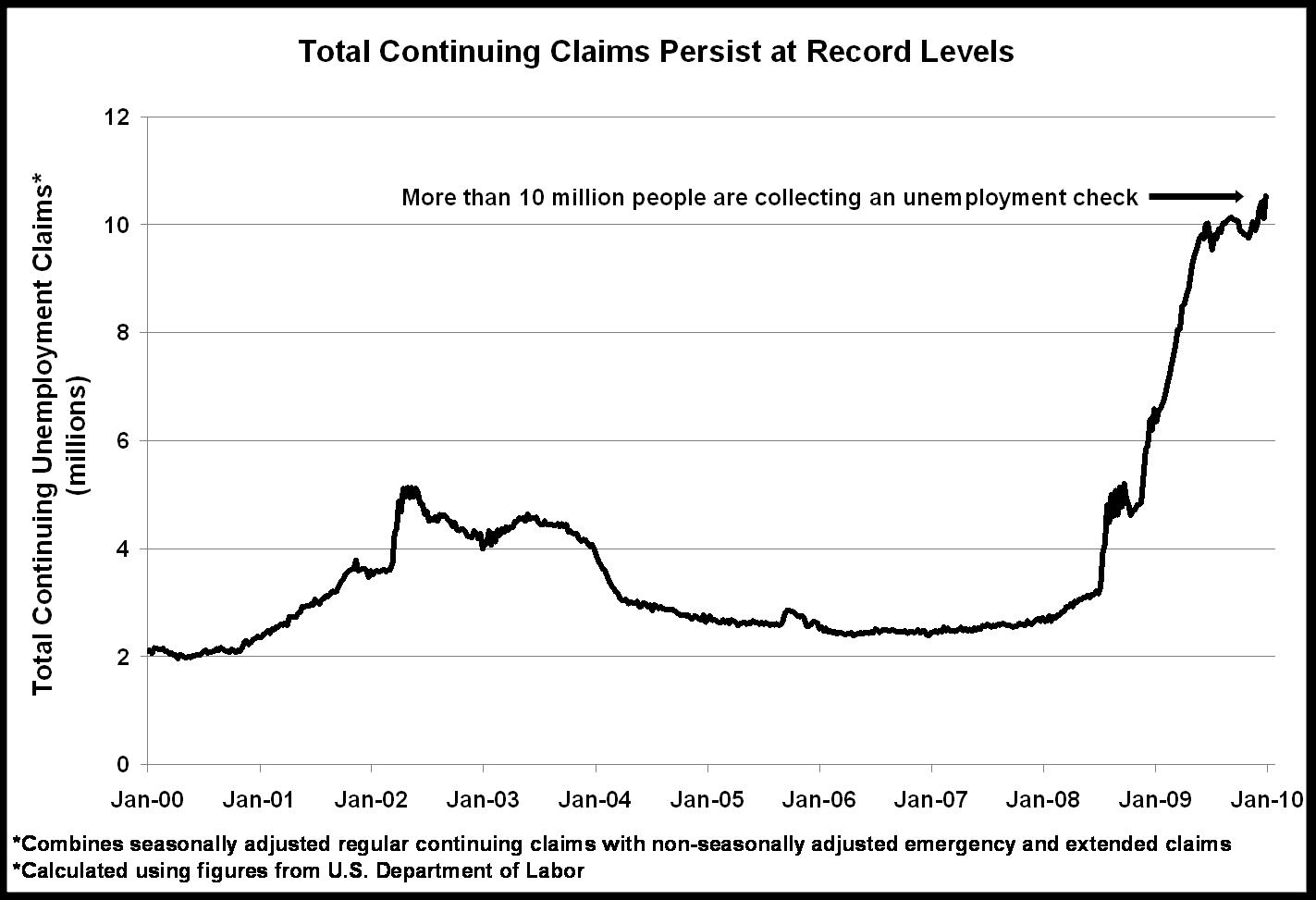 Washington needs to focus on true job creation. Extending unemployment benefits while falsely touting job growth will ultimately backfire, leaving us worse off than where we started.
In the mean time, it is important to note that unemployment benefits can last for up to 99 weeks and that these benefits do help those critically in need of financial aid as they struggle to meet their everyday living expenses. However, this sword has at least two other potentially sharp edges. The first is that the longer a person is out of the workforce the more likely it is for that person's skills to diminish. The second is that the option of collecting benefits for a prolonged period of time may spawn complacency when jobs do begin to become available. Workers may choose to continue to channel-surf and collect a check rather than flip burgers and help revive the economy. These two factors would negatively impact an almost certainly fragile recovery.
This post was written by Hilary Kramer and Roman Wolf.
SUBSCRIBE TO & FOLLOW THE MORNING EMAIL
Start your workday the right way with the news that matters most. Learn more