Every three minutes, a woman in the US is diagnosed with breast cancer.
That means, during the span of an average song on my iPod, an American woman has been given the burden of news that will change her life, her family's and her friends'. It means an agenda book of appointments, a prescription of pills and an unplanned path of uncertainty for an undisclosed amount of time. And breast cancer diagnosis is not limited to women.
In response to this staggering statistic, at 17, my friends and I fearlessly created 3Minutes: a Battle of the Bands for Breast Cancer.
"You don't have time to do this," people said. Looking back, they may have been right. I was Editor of the Yearbook, Historian of Key Club, a member of the Varsity Tennis team. My close circle asked when would I find the hours between clubs, sports, school, homework and sleep, to take on such a task. Touché.
Additionally, the majority of breast cancer patients, survivors and advocates, were years older. Why focus on an adolescent audience that rarely deals with this diagnosis?
For those two reasons (doubt and awareness among youth), this project became a priority. My group of friends -- turned staff members -- dedicated six months of our high school senior (and some of us junior) years recruiting 10 local bands to play an eight-hour show at Revolution (a venue in Fort Lauderdale).
We designed the show as a friendly competition -- the winning band would open for a national act at the venue -- adding further reason for fans to support their favorite South Florida musicians.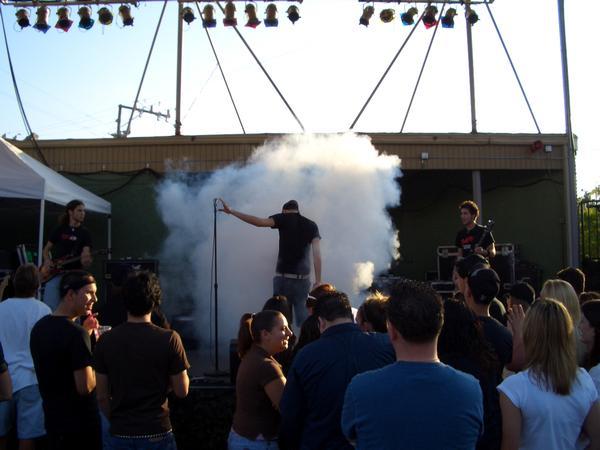 In addition to ticket sales, guerilla marketing (including fliers, a MySpace page and regional media outreach), balancing a budget and coordinating sponsors, we set up donation cups at local businesses (delis, ice cream shops) to drive awareness and extra funds.
Tickets sold for $10 each, as did bold and slightly raunchy T-shirts in two designs (created by yours truly -- a minor at the time). Knowing they were catchy and a tad controversial; both were black with baby pink writing across the chest. The girls' read: 'cause i got 'em, and the boys' read: 'cause i like 'em -- 'em being breasts. If teens didn't before, we gave them these reasons to care about breast cancer awareness, research and treatment -- they had boobs or they liked them.The back of the tee featured the bands' names, event sponsors and show information (date, location and our beneficiary).
At the conclusion of an exhausting, scorching April day (and six long months -- totaling about 800 hours of community service), we donated thousands of dollars to the American Cancer Society.
Though the stress of balancing school, extra curricular activities and the volunteers' schedules was difficult at times, overcoming the craziness only propelled my desire to become more involved.
The experience not only engaged the community, raised awareness and money, and served as an entertaining Saturday activity, but it also inspired me get involved in collegiate Relay For Life the following two years at Florida State University.
It's also made me pay more attention to -- and respect -- brands that fight for the same cause, including cosmetics, cereals and especially less obvious partnerships, such as NFL apparel.
When people - even those who are usually your closest supporters -- doubt your ability to carry out and complete something of importance to you (whether community service oriented, or a personal goal), it's vital to be fearless and prove them wrong.
In the process -- or after the final encore -- you'll likely learn something about yourself. Perhaps you'll change a life (or two), within the span of six months, eight hours or three minutes.
SUBSCRIBE TO & FOLLOW TRUMP'S FIRST 100 DAYS
How will Donald Trump's first 100 days impact YOU? Subscribe, choose the community that you most identify with or want to learn more about and we'll send you the news that matters most once a week throughout Trump's first 100 days in office. Learn more