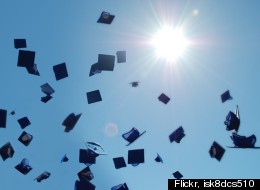 When I graduated from high school there was one thing -- and only one thing -- I desperately wanted: a car. And that wasn't happening.
Before departing for college, my parents were kind enough (and boring enough -- sorry mom and dad), to gift me with a check. Still... really grateful!
Perhaps this was partly my fault. I knew my chances of getting a car were less likely than being accepted to Julliard without a background in song or dance. On that note, because I didn't want to ruin my nonexistent chances of auto independence, I didn't hint toward other gifts that would've also been music to my ears. Wamp wamp.
To save parents the stress of shopping and college-bound graduates the disappointment of lackluster loot, here are my top picks for the graduating class of 2012:
Grad Gifts Galore - 2012 High School Edition
Sure, every incoming freshman can buy a generic school shirt from the bookstore. Rather than blending in with everyone else on campus, gift grads Prep Sportswear custom college gear. Select from thousands of designs on more than 700 products including t-shirts, hoodies and bags. Each product is custom produced within five business days, and the site has no minimum order. Our favorite? The Women's Racer Back Tank, starting at $22.99.

Capture the grad's latest memories or unearth old ones with customized canvas printing. Canvas Shop allows gifters (or the grads themselves) to completely personalize a canvas from start to finish. Use phone Instagram files, filter effects (sepia, black and white, vintage) and frame type options to completely customize. Great for the new freshman's dorm wall, canvas sizes range from 8x8 to 40x60, starting at $36.

With snapshots from diapers to diploma, help the ambitious alum wander back to yester-year with a customizable reel and classic View Master (in red, black, blue or white). Image3D.com grants gifters the ability to compile multiple photos for the new grad to flip through, looking back on good times and milestones. After uploading images, one can edit, crop and add 3D
 captions to slides. Great for environmental friendly students, as it's 100 percent recyclable. $24.95. 





After the second or third graduation party, the overload of chocolate cake, vanilla cake, cookie cake and ice cream cake can be too much cake. Switch it up with Lady Fortunes, an online bakery, serving gourmet treats including chocolate dipped Oreos and Giant Fortune Cookies (with a foot-long personal fortune inside). Items range from $1.50 to $39.99.

iPhone apps and flat screen TVs, step aside. Brookstone's Pocket Projector transforms the iPhone 4 and 4S into a portable theatre. With built-in speakers and the capability to display a 50'' wide image, the small case simply slides onto the bottom of the iPhone. The new grad can watch movies, YouTube videos, or TV shows in the dorm room, dining halls or anywhere else on campus. $229.

Unique-vintage.com has a gift for every type of grad –one in particular that helps adjusting to life without mom and dad. The Four Piece Gingham Tool Set, equipped with a tape measurer, scissors, four-in-one screwdriver, and hammer, is the practical present for constructing new items (and for fixing when things fall apart, too). $32.

Growing up means suits, slacks and sitting up straight (well, sometimes). Though undergrad garb is generally informal, there will be a time for dressing up. For those instances (whether they be immediate or four years later at college graduation), Cufflinks.com has a selection of collegiate ties, tie bars, lapel pins and money clips to keep guys looking studly with school pride. Our pick: the NCAA cufflinks, starting at $60.
If the new graduate insists on a car they won't be getting (or has every tangible item possible for a successful first year at college), consult Cloud 9 Living. With 1,800 experiences in 43 regions, including white water rafting, hang gliding, flying lessons (for the more adventurous collegiate community) and food tours (my favorite!), there's something for everyone's range of interests and appetite. Yum.
Follow Hilary Sheinbaum on Twitter: www.twitter.com/hilary_she