I remember walking the streets of London, clothed in frocks and boots, trying my hardest to assimilate to the dramatically different style London appreciated. You see, before moving to London, I studied in Boston, where Polo was, and still is, as common as Red Sox paraphernalia. It should be noted, my roots stretch across the continent to Los Angeles, a city familiar with over-sized shirts and cut-off shorts. If I have learned one thing about traveling, it's that one of the best vehicles to learn about a place and their culture is through their dress code.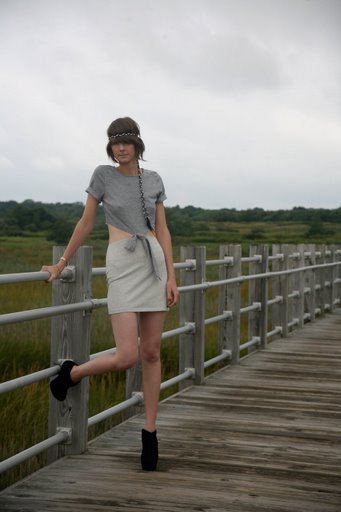 Two of my favorite eco-fashion designers, Rachelyn and Nora, have a similar approach in designing their line, Larsen Gray. It isn't uncommon to find exotic patterns and stories of their travels sown into their collection. Catch my interview with the girls-
What about your line is eco-friendly?
R: We use organic and sustainable materials, and also recycled wools and cotton waste (called cupra). We also strive to use organic trims -- or, like our friendship bracelets from Spring 09 -- artisanal items that help support indigenous communities.
N: We do a lot with organic and recycled wool, organic cotton, soybean, and anything else sustainable we can find.
If Larsen Gray where a person, who would she be?
N: Ourselves. Or my great grandmother. This idea is exactly who she was -- artistic, adventurous, spontaneous.
R: I think maybe a Linda McCartney type person. She was a smart, brave artistic woman who is fearless and has that spirit of adventure. Or of course, Brigitte Bardot, but she is a little but crazy, no? I just love the French ladies.
Where does inspiration for your line come from?
N: Travel, different cultures, art.
R: Fashion history, music, walking around NY and street style.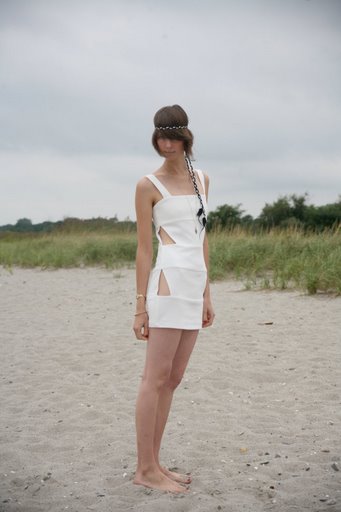 Tell me an unforgettable story from your travels abroad.
N: When I was in China, I was forced to sing Let It Be, alone, in front of an audience of 500 people for Chinese New Year.
R: My then boyfriend, and now fiance, went to Paris for Christmas 2 years ago, and we brought my family some macarons from Laduree as well as some shadowbox insects. Filling out the customs forms, I got a nervous conscious and checked the boxes saying we had insects and food. We spent Christmas Eve in the DC airport having everything we brought back searched by customs agents.
I know you two are big collectors, what do you collect?
N: Rocks, Shells, South American and Caribbean things, and foreign currencies.
R: Vintage T-shirts, bizarre jewelry, religious iconography, charms, books and records.
What are the weirdest souvenirs you've brought home?
N: Spiders. Totally by accident. I brought home a driftwood slab chair from a trip to Costa Rica. It was shrink-wrapped for the flight. When I got home and unwrapped it, 2 spiders ran out. I sort of freaked out.
R: I have a bunch of Topo Gigio toys from Italy -- including one that sings and an inflatable stand up. We also love to bring home shadowboxes of taxidermy insects from Deyrolle in Paris. And my dad always brings me back bizarre Japanese baseball souvenirs.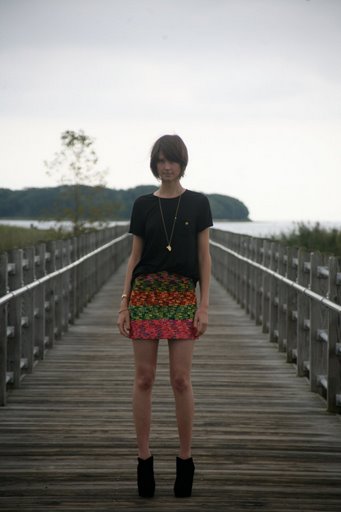 Walk us through your spring line.
R: It's Beachcomber -- there is tie-dye, friendship bracelets, agate slabs, breezy sheer clothes and little shark bites in some items.
N: The theme is strongly found objects influenced -- the gold buttons look like rocks; it is a bunch of different pieces that all look good together. It has a real breezy, summery feel.
A piece of advise for Obama?
N: Make the media report one positive fact about the Economy each day. The reports are all doom and gloom, and I think part of our problem is the media is causing people to be paralyzed with fear.
R: Hang in there-critics will always say negative things, but you have to do what you believe is the best for all of us!

-Ecowarriorr
SUBSCRIBE AND FOLLOW
Get top stories and blog posts emailed to me each day. Newsletters may offer personalized content or advertisements.
Learn more