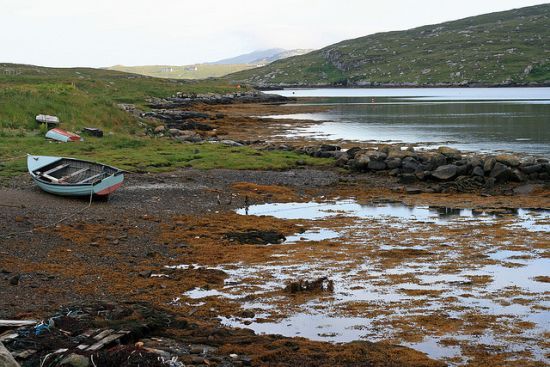 Rugged and windswept, the Outer Hebrides off the west coast of Scotland are among the most isolated and mysterious places in the U.K., where storms have impacted with such ferocity that even the hardiest folk have chosen to leave some areas after thousands of years of habitation. Today, that wild element has transformed the Western Isles into a destination for tourists exploring a simpler, and in many ways tougher way of life. This article investigates a variety of destinations that speak to its rich heritage from Neolithic times to the present.
The Abandoned Village, St. Kilda: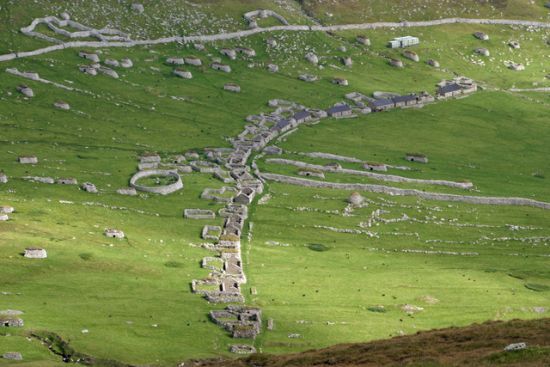 Few places in Britain are too wild for permanent human habitation, but this remote cluster of islands and sea stacks is one of the exceptions. Forty miles west of North Uist, this rugged archipelago boasts the highest sea cliffs in Britain and was occupied for more than 4,000 years. But by 1930 the remaining St. Kildans had had enough and petitioned the government to evacuate them to the mainland. They left behind their largest settlement, known as The Village, nestled amid the relative shelter of Village Bay on St. Kilda's largest island, Hirta. Located near a small military facility that is now one of the few permanently manned places on the island, the 1830s layout of the ruined village, alongside many older cleits, remains reasonably intact. Steeped in folklore, much of which is unique to this corner of Britain, St. Kilda is now a UNESCO World heritage Site.
The Callanish Stones, Isle of Lewis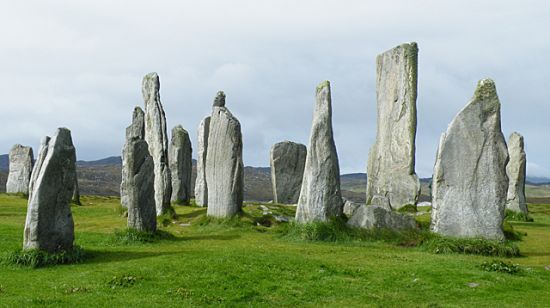 The enigmatic Callanish Stones (or Calanais in Gaelic) are thought to be around 5,000 years old, and the fact that their background is shrouded in mystery has given rise to all manner of theory and folklore. An avenue of stones approaches the 13 primary monoliths from the north, forming a shape that resembles the Celtic cross. Rows of shorter stones complete the circle, while the larger ones, some as tall as five metres, were found to mark the entrance to a burial cairn. Theories of Callanish's original purpose range from rational, though disputed, claims that it may have been a lunar observatory, to folk tales of giants who were turned to stone due to their refusal to be converted to Christianity.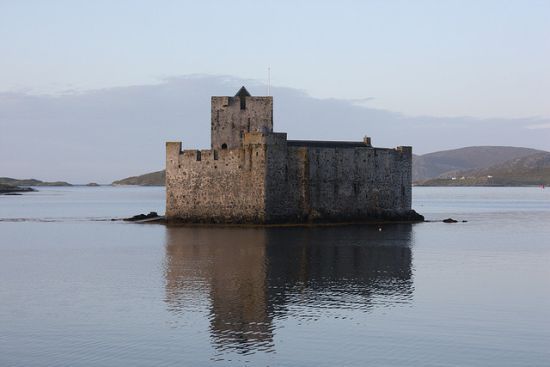 Dominating a small islet in waters off the village of Castlebay is Kisimul Castle, a fortified tower house that was home to the clan chief of the MacNeils of Barra from the 15th century. Taking its name from the Gaelic "Caisteal Chiosmuil," meaning "castle of the rock of the small bay," Kisimul is surrounded by a mighty outer wall enclosing a courtyard of smaller buildings that included a chapel, great hall and watch house. But after its abandonment in 1838, the castle fell into disrepair, some of its stones even reportedly finding their way into the streets of Glasgow.
Thankfully, the property was purchased by Robert Lister MacNeil in 1937, who set about restoring his ancestors' island stronghold to its former glory. By 2001, Kisimul had passed into the care of Historic Scotland, which leased the castle for 999 years for the princely sum of £1 and a bottle of Talisker whisky annually. Last November it was reported that Kisimul Castle was set to undergo conservation and archaeological work in a bid to shed more light on its rather colourful history.
Gearrannan Blackhouse Village, Isle of Lewis: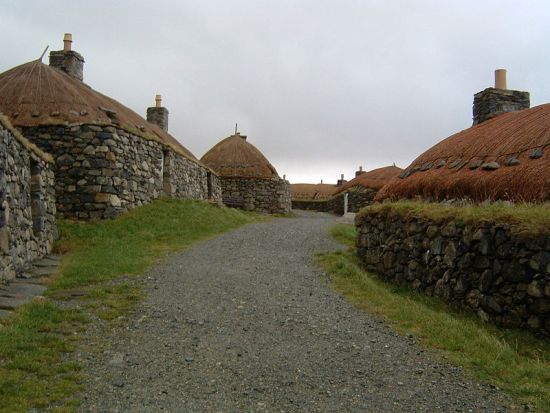 While many remaining blackhouses in the Outer Hebrides lie in ruin, those at Gearrannan are an exciting example of living history. The buildings were occupied by generations of crofting families over the years. But by 1974, the last elderly residents had moved into more modern accommodation, and conservationists seized the opportunity to preserve an important example of vernacular architecture that was increasingly disappearing throughout the 20th century. The low buildings with their double dry stone walls and thatched roofs provide effective shelter from the often ferocious Hebridean weather, and are now available as unique holiday accommodation for hardy tourists seeking an authentic Western Isles experience.
Barpa Langass, North Uist: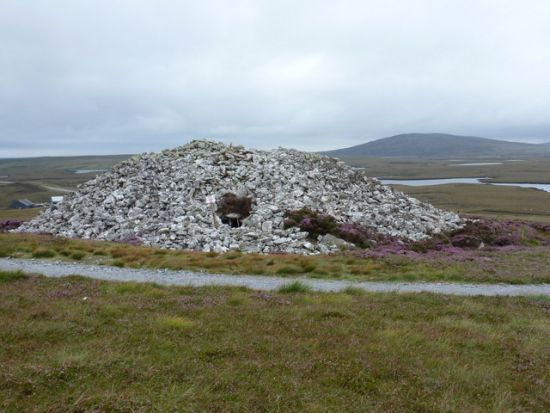 It may look like a large pile of rocks with a carefully crafted entrance portal, but the chambered cairn known as Barpa Langass has been a feature of the North Uist landscape since Neolithic times. Located about five miles from Lochmaddy, its dimensions of more than 70 feet in diameter, and almost 20 feet high reflect the ancient burial chamber's historical significance. An entrance is positioned to the east, sheltering its internal chambers from the ferocity of approaching winter storms. Nevertheless, the elements have taken their toll, leading to the structure's partial collapse and leaving access hazardous. One chamber remains intact and antiquarians speculate that there may be more hidden within. Excavations over the years have uncovered pottery, burnt bones and flint arrowheads, attesting to the rich history of North Uist and its Neolithic residents.
Barra International Airport, Outer Hebrides: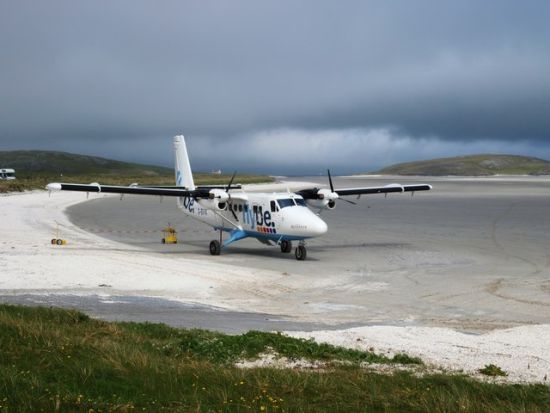 More often than not, airports are mundane and stressful hubs to be visited only when attempting to get from A to B. But Barra International Airport, which opened in 1936 and has changed little over the years, is a unique destination in its own right. Also known as Barra Eoligarry, it is the only international airport in the world where scheduled flights land and take off from the beach rather than a conventional runway. There's even a control tower and a small terminal building overlooking the sand. The Atlantic Ocean covers the three short runways at high tide, and flight times vary accordingly. When the airport isn't active, the white sandy beach opens up for walkers and cockle pickers. So if you're heading for the Outer Hebrides, a flight to Barra is the ideal way to begin.
SUBSCRIBE AND FOLLOW
Get top stories and blog posts emailed to me each day. Newsletters may offer personalized content or advertisements.
Learn more