This episode was titled "It's A Party" but I have a couple of alternate titles:
Gretchen's Ego Explodes
Wooly Balls - And Then Some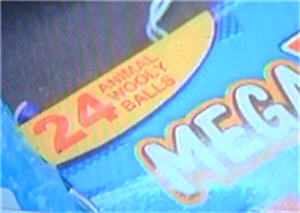 This is the first week the show's new 90-minute format actually worked for me, perhaps because there were so many delicious moments including what seemed to be an extended sequence of Tim Gunn's workroom pep talks (you can't have too much Tim Gunn, is my feeling). We begin with Gretchen, fresh off her two sequential wins, confiding to camera that "the group is very caring and loving." Cut to St. Louis Michael dishing, "I hate that bitch, I can't believe she won again," which pretty much sums up Gretchen's colleagues attitudes for the rest of the show. Even Valerie, her friend, is a little nonplussed by being second runner up last week ("However comma...always a bridesmaid never a bride").
Another reason I love Valerie: she actually says the word comma in that comment.
Since we lost two designers last week, it falls to Gretchen to crush the dreams of two models (she chooses her original model) before the gang heads off to face their new challenge, which is to design an outfit using party store supplies. Many of the group are completely stymied during their shopping trip, especially Casanova, who shrugs: "I'm not able to make a dress with bullshit" before grabbing some stuffed animal plush puppies and dissecting them rather violently in the workroom.
Gretchen, meanwhile, declares herself a force to be reckoned with - more than once during the show. Is it me, or does her head look bigger? She's taken to doling out helpful critiques a la Tim Gunn, apparently now thinking she's All That. Meanwhile, much eye rolling takes place whenever she opens her mouth. She foists her opinion on everyone, solicited or not. I'm beginning to hate her and pray for her to be knocked down off her high horse. It's now becoming clear that she was that know-it-all in grade school everyone hated on.
Mondo's hands have stopped shaking for the first time since the show began two weeks ago. He likes the unconventional challenges. AJ is blabbing almost incoherently about his process as they take a dinner break - he's the one person in the room who regularly uses party supplies in his garments in the real world and therefore, of course, this could make or break him for the challenge. (Other Michael - meaning not St Louis Michael - commenting on AJ: "Everyone in the room knows that you love a hot glue gun". By the by, Other Michael is a terrific comedy mime... he could provide great wordless commentary on the lower thirds. Are you listening, Lifetime?)
Tim comes in for some helpful drive-bys. As he stops by Kristin's station and she shows him the packages of 'Animal Wooly Balls' she purchased for garnishes to her dress, he absolutely loses it to the point of wiping tears from his eyes. Tim's comments are on fire this week. He says to Peach that she's really uptight, "it's like you have a piece of coal up your rear end - make it into a diamond and pull it out." As he leaves the room, TG states that he's blown away by their profound concepts.
Another observation: Peach's model is a zombie. Just saying.
Amazingly, Peach does make it through this challenge unscathed because there were more heinous designs but she needs to quit with the suburban old lady clothes. This week she is wearing a black sweater with tiny white eyeglasses all over it which looks like it came from a mall in the Midwest. Which, come to think of it, it probably did.
Their guest runway judge this week is no other than Betsy Johnson, who knows a party dress when she sees it. The bottom three turn out to be AJ (as predicted - since this kind of thing is admittedly his milieu), Casanova, and Sarah. AJ is told by Nina that his dress looks like a hot mess to which he replies "thank you." Heidi: "That wasn't a compliment." Betsy, meanwhile, thinks he didn't go far enough, which also seems to be MK's consensus. Heidi thinks the dress looks like a hat you'd wear at a bridal shower.
Casanova's outfit is like a couture dress in bizarro world. He thinks it's real couture, which leads MK to question his taste level although he admits the workmanship is there. "Where do I start, she looks like a transvestite flamenco dancer at a funeral," MK observes. You just know they have to keep Casanova around for awhile longer just so we can hear lines like these.
Sarah's dress "seems very simple" to Nina. She basically attached painted fake palm tree fronds to muslin. "I have to say, I wrote sad," says Heidi. Casanova and Sarah end up in the bottom two and Sarah, unsurprisingly, is sent back home to Toluca Lake.
The top three are Valerie, Gretchen, and Andy. Valerie has fashioned an incredibly sophisticated little number out of black and white napkins which everyone loves, including Betsy. Gretchen's made a three piece outfit with a glittery gold and silver skirt and a jacket out of crushed paper, I'm not too down with this look at all but apparently she's got the Midas Touch with the judges after her two wins. Betsy says "it's Tina Turner in Dreamgirls on the bottom and Mel Gibson and Mad Max on the top" which to me sounds like a mishmash 80's nightmare.
Andy's dress is exquisite, meticulously made from braiding ribbons together (proving he is a dark horse I wasn't originally betting on but clearly need to take notice of). He takes the top spot this week, deservedly so, although I still think Valerie had a really good chance and should have been second, not Gretchen. Sarah goes to pack her things and the show ends on an odd note: Ivy apparently fainted in the hallway back at atlas, and an ambulance takes her to the hospital. (I note that right after the show ends, she tweeted she was glad Andy won, so we can rest assured all is okay now)
Who's your favorite? Who's going home next? What's the next challenge likely to be? Who's going to poison Gretchen? Will Other Michael start doing lower third mime commentary? And - perhaps most importantly - what happened to Kristin's wooly balls?
Project Runway airs Thursdays at 9PM on Lifetime TV

SUBSCRIBE TO & FOLLOW ENTERTAINMENT
HuffPost Entertainment is your one-stop shop for celebrity news, hilarious late-night bits, industry and awards coverage and more — sent right to your inbox six days a week. Learn more