Agorafabulous! Dispatches from My Bedroom by Sara Benincasa is the Valentine you should give to yourself today. Especially if you are a) anxious b) scared c) agoraphobic d) wearing an angora sweater e) from New Jersey f) in your first year of college g) a human being, or all of the above. Benincasa's memoir hits bookstores today. This book both made me laugh out loud in front of people I didn't know as well as cry openly on the subway. "Oh! I'm sorry but thank you!" said the author when I confessed this to her during our interview.
In case you are not familiar with Sara Benincasa, she is an award-winning comedian, writer, blogger, and all around hilarious person. I first met her when I was working on The Yes Men Fix The World a couple of years ago doing PR for the theatrical release. I had arranged for her to interview Andy and Mike for her web show, Democracy WOW! I nearly split a gut when she told them during the interview that they were on the shortlist for Mother Jones' annual Anti-Globalist Activists I'd Like to Fuck Issue and that she was on the selection committee and had voted for them. That magic moment (which you can see here) placed her firmly on my radar for keepsies.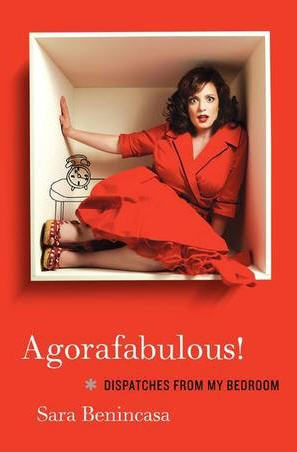 I spoke with Sara last week about her first book, Agorafabulous!, which is not only fabulous and funny but extremely well written and very, very brave. This is not the idyllic suburban tale of a young woman growing up in New Jersey and deciding after a few fits and starts to be a comedian in what remains for the most part a man's world. Rather, it is an honest, gripping, and at times wrenchingly sad story of a young woman with severe panic disorder to the extent that - not only could she not leave her apartment - she couldn't leave her bedroom to even go to the bathroom.
The book grew out of a one woman show in the early spring of 2009. Based on that, Sara wrote a book proposal and got a book deal in 2010 with Harper Collins. The entire process took about two and a half years from beginning to end. "It was devastating writing this book in some parts, it was so depressing and it dredged up a lot of old shit for me. I chose it, of course, no one forced me to do it. I actively pursued it as one of my life's dreams to get to write this story but it was tough - it was very tough to write. " She found as she was close to finishing that it was bringing up a lot of anxiety and depression, so she went home to her parents' house in New Jersey for a couple of months last summer to complete the manuscript.
Did she find it cathartic to work through these experiences again for the purpose of the book? "I think it was. It drove home a lot of points that I knew to be true but had been ignoring. Like people like me need routine in our lives...and we need a support system, we need to nurture that support system through friendships, through phone calls, through hanging out. Not just looking to people for help in the dark times, but also forming friendships and being there for them during the happy times too. So I relearned a lot of things that I had learned during the time period that I covered in the book."
Besides a nine-city book tour which kicks off this Thursday February 16 at Housing Works on 126 Crosby Street in New York City's Soho (come on come all! "it won't be some fucking boring book reading," promises Sara -- The Onion's Todd Hanson will also be reading in addition to Sara herself, as well as a q&a, and free stuff, and open bar the first hour; the whole shebang takes place from 7 to 9pm), Sara's got quite a few other irons in the fire. She's working on a YA version of The Great Gatsby in which the characters are high school students in the Hamptons and Gatsby is a girl. She co-hosts the podcast Sex and Other Human Activities with Marcus Parks which you can download from iTunes. She is the GOP analyst for Vice.com and writes about politics for xojane.com, and about pop culture for NewNowNext.com (check out her review of the movie Shame -- which she hasn't seen -- here).
Was the publishing date of Valentine's Day intentional, I wanted to know. "It is a total coincidence, I am really excited about it because the cover is very red and looks very valentine-y," gushed Sara. "It's certainly my valentine, I mean it's been such a part of my life in such an intimate way that it's practically my boyfriend at this point!"
She went on to add, "I think it could be a great choice as a Valentine's Day gift for anyone who wants to take better care of themselves -- and it could also be a good present for someone who wants to show a friend that they are trying to understand what they're going through in dealing with anxiety and depression." In my idea of a perfect world, this book would be required reading for every young woman in this great country of ours. "I subscribe to the notion that if you can laugh at the shittiest moments in your life, you can transcend them," says Sara in the book's foreword. "And if other people can laugh at your awful shit as well, then I guess you can officially call yourself a comedian."
More on Sara's adventures here.

What is a panic attack? here.