I have to admit I've been waiting with something akin to bated breath for the second season of Bravo's competition series, Work of Art, since it ran on the network over a year ago. And why? Because Bravo can do reality competition programs like no other network, it's way clear. They have the formula down and they're really good at it. I'm not the only one who has complained bitterly about the turn Project Runway has taken since it flew the coop to Lifetime a few seasons ago. There's something missing, mes cheres. I think one of those things is Bravo. But I digress. Let's coo about the crazy in store for tonight's 9 p.m. premiere.
China Chow is again the host and judge. Bill Powers, New York gallery owner, and Jerry Saltz, New York Magazine's senior art critic, are also back as judges. And to my extreme delight, "world renowned art auctioneer" Simon de Pury (per the Bravo official website for the show) continues as mentor, the show's Tim Gunn if you will. Of course each week the judges panel will be enlivened by a professional artist and this season the guest judges include Adam McEwen, Jeanne Greenberg Rohatyn, KAWS, and Mary Ellen Mark. And, if you recall, the series is exec produced by Sarah Jessica Parker. Bravissimo!
14 artists will fight to the death (ok, maybe that's too strong of a phrase to use -- but honestly with this particular series you never know) for a solo show at the Brooklyn Museum and $100K in cold cash. And just to remind you because it has been well over a year since we last saw Work of Art, challenges range from street art to Parkour (What's Parkour? I'm glad you asked. It's where artists overcome obstacles using their bodies and only their bodies as inspiration. What?!?). Each week the artists will be able to create a work in the medium of their own choosing including (but not limited to) painting, sculpture, photography, collage, industrial design, and performance art.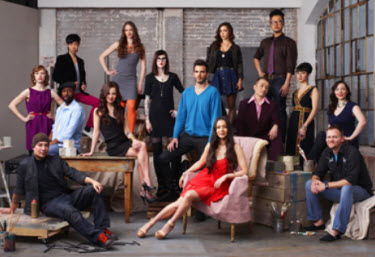 Here are this Season's victims, er, contestants. A quick primer:
Leon, age 31, from Malaysia, "profoundly and proudly deaf since birth." His portrait of Julian Assange was featured in Time Magazine's 2010 Person of the Year Issue. Per the Bravo website, Leon seeks to explore the dispositions and aftereffects of creation, evolution and abstraction, working with the elements of fire, water and sunlight. Deep.
Dusty, age 32, from Mountain View Arkansas, an art teacher in an elementary school. I can already tell he's on his way out from the fact that almost everyone else's bio is more interesting on the show's official website.
Kathryn, age 29, from Brooklyn, whose photographs deal with themes of the human condition and body, often drawing ideas from the medical world. In her most recent work, Kathryn has been constructing and photographing visceral tableaux, which incorporate surrogate organs that she makes out of dough, jelly, berries, fruit juices, and other material. How much fun is she going to be! I can hardly wait. Check out her groovy tats.
Lola, age 24, from LA. Per the Bravo site: Lola enjoys snake charming and boating with her family. She sounds like fun too only perhaps not quite as much as Kathryn.
Sarah, 34, from Cleveland. Currently an art professor at the Cleveland Institute of Art.
Jazz-Minh, age 32, from NYC. Oh, come on! What kind of spelling is that? And what's with the orange stockings?
Kymia, 30, from NYC. She's currently working as a waitress to make ends meet, per the Bravo site.
Tewz, age 31, from Chicago, known internationally for his graffiti and street art. Also teaches at the South Chicago Art Center. Lots of teachers this season.
The Sucklord, age 42, from NYC. Oh hell no. You just know this guy is either going to be sent home tonight, or he'll hang around and drive everyone crazy all season. Apparently: The Sucklord is the creator of SUCKADELIC ENTERPRISES, an evil arts organization based in Chinatown NYC. Specializing in bootleg action figures, illicit remix records, and low-budget sci-fi movies, The Sucklord seamlessly blends geeky nerd obsessions with street-level hipster cool. (Can't you tell he wrote this?) A master of media manipulation, The Sucklord is both an entrepreneur and an artist. Running his art-racket as a legitimate business keeps him safe from the horrors of a "day job." Known for his "art toys," The Sucklord has been in designer toy world business since 2004 and revels in his self-proclaimed "art world outsider" status.
Ugo, 34, from Paris. In his bio he describes himself as both "focused" and "driven."
Sara, age 26, from NYC. Her bio says that she has cultivated "a signature style of painting through the use of unusual mediums." Oy. I can hardly wait.
Bayeté, age 34, from NYC. I knew sooner or later one of these folks would have an accent in their name. Bayeté is a former photojournalist for Knight Ridder.
Michelle, 29, from Bridgewater, NJ. Per the Bravo site: Michelle is driven to shake up the art world with her unusual creations. Yikes!
Young Sun, 28, from Skokie, IL. Just looking at this guy I have a feeling he'll be bringing a big helping of crazy to the show. He considers himself a philosopher as well as an artist, so I can only imagine what pearls of wisdom will tumble from his lips. He's another one to watch out for - I predict a showdown between him and The Sucklord for outrageousness. Who's with me?
I had a great time watching this show last season and can only imagine what's in store for us tonight. Don't forget to tune in at 9pm to Bravo! And here's a sneak peek if you can't wait until then.
Work of Art airs Wednesdays on Bravo at 9pm.
SUBSCRIBE TO & FOLLOW ENTERTAINMENT
THE spot for your favorite fan theories and the best Netflix recs. Learn more