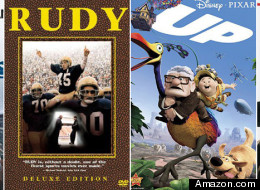 The two to three hours spent in chemo are absolutely no fun. There may be a smile or two, but in general, when I sat in the chair watching my TAC drip into my body, I pretty much counted down the minutes until I could leave.
There was a Silver Lining though, when I reminded myself that I could watch feel-good, no-brainer movies either on my laptop or iPad.
Now that I'm no longer getting chemo (YAH!) I still turn to these flicks for a picker-upper (Silver Lining). So here they are, in no particular order... I love them all!
Top 10 Movies To Watch During Chemo
Talk about inspiring! I don't know anyone who can sit through this movie and not stand up and cheer at the end. I find it incredibly motivating. Photo from Amazon.com

A true classic, and what a cast. Great laughs, great story, great acting! Best part? It's all about perseverance, which is a Silver Lining in my life! Photo from Amazon.com

Well this one is a bit of a tissue-grabber, but oh so precious. It definitely lifts me up, up, up! Photo from Amazon.com

I never get tired of watching this movie. A true gem that keeps me smiling from start to finish. Anybody want a peanut? Photo from Amazon.com

Matt, Ben, Minnie and Robin at their best. I love the youthfulness of this movie so delicately balanced with life lessons from the older generation. Photo from Amazon.com

You can probably recite the whole thing, right? Who doesn't need a Mr. Miyagi in their life! Photo from Amazon.com

Guaranteed to make you feel great about life. This movie is one big Silver Lining from start to finish. Photo from Amazon.com

I've seen this so many times, and it's still fabulously adorable. To me, it is what's great about romantic comedies. It's completely whimsical, but you finish it thinking "You know, that could happen to me!" Photo from Amazon.com

I find new Silver Linings in this movie every time I see it! Photo from Amazon.com

Is there any other way to feel like a reckless high school kid again? I am quite proud of my love for Ferris! (And I confess, I always thought Sloane was the coolest girl EVER!) Photo from Amazon.com
To read more about Hollye's holistic and humorous journey over, around, above and below breast cancer, please visit her blog, The Silver Pen (http://www.thesilverpen.com/). You may email her at hollye@TheSilverPen or follow her on Twitter @hollyejacobs.
For more by Hollye Harrington Jacobs, click here.
For more on breast cancer, click here.
Follow Hollye Harrington Jacobs on Twitter: www.twitter.com/hollyejacobs