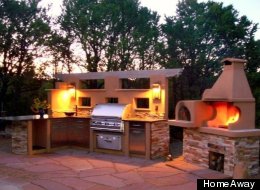 Nothing says "summer fun" quite like the family barbecue. The grill masters in your group can keep the party going on vacation with these 10 'cue-friendly vacation rentals, featuring top-of-the-line grills, Texas-sized smokers and decked-out outdoor kitchens.
Now all you need is one of those classy "Kiss the Cook" aprons and you're ready to ignite some fun on your summer vacation!
On family vacations and reunions, it's easier, cheaper and a whole lot of fun to gather everyone around a patio table for a cookout. I have done this many times at rentals with extended family, and it's a super memorable and relaxing way to enjoy dinner together.
Quick tips to make it easy to cook on vacation:
Use paper plates.
Keep the menu simple: Think chips, premade salads, fresh fruit and bakery cookies.
Put the kids to work setting the table and taking orders.
Check out these amazing places, and master the grill!
-- posted by Kiley and Jaime for the HomeAway team
Top 10 Vacation Homes (and Patios) for Grill Masters
This Santa Fe, NM house has a spectacular outdoor kitchen with wood burning pizza oven and grill.

This Wimberley, TX vacation rental spread includes an outdoor kitchen with smoker. Practice making your own award-winning BBQ.

This Firemagic grill and poolside bar with counter stools in Kissimmee, FL make it easy to throw a pool party.

Enjoy the view from this Kaanapali, HI condo community with 10 Viking Grills near the pool.

The grill master tending the charcoal at this Marshfield, MA beach house couldn't have a prettier view.

A Palmetto Dunes Plantation house with a stunning outdoor kitchen and pool area.

Crank up the heat at this Steamboat Springs, CO rental for dinner.

Poolside grill and outdoor kitchen by the pool at this Scottsdale, AZ vacation home.

This Pompano Beach house has an amazing outdoor haven for grill masters.

This WaterColor, FL vacation rental's outdoor kitchen is the perfect place to cook out and relax before heading back to the beach.
Follow Home Away on Twitter: www.twitter.com/HomeAway