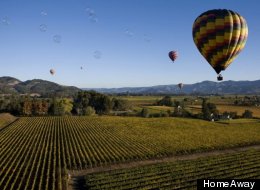 World famous travel destination, Napa, California, is best known for its abundance of wineries. However, it's also home to a multitude of gourmet restaurants, unique shops and a vibrant live entertainment scene. Within driving distance of Napa, charming towns, beaches and attractions delight travelers from all over.
Napa's bed and breakfast innkeepers are local experts who offer an intimate, personalized and delicious way to experience Napa, including the best places to explore, eat and shop. This slideshow contains highlights from BedandBreakfast.com's Innkeeper's Guide to Napa, featuring great insider tips from the region's top innkeepers. Read the complete guide for more recommendations and to learn about the contributing B&Bs.
A trip to Napa isn't complete without a visit to Napa's famous wineries and vineyards. Just be sure to pace yourself, and don't be shy about using the spitting buckets—too much drinking can dull your palate! Innkeepers suggest trying a wine pairing at Sequoia Grove Vineyards or The Salon at Swanson Vineyards. Blend your own wine at Judd's Hill, Conn Creek, O'Brien Estate, or Franciscan Estate. Soak up history by visiting Palmaz Vineyards or Chateau Montelena Winery, two vineyards from the 1800s. Want a hands-on lesson in winemaking? Go grape stomping during harvest at Grgich Hills Estate; pictured is Maria Luisa Reyes with Miljanko "Mike" Grgich, demonstrating how to stomp grapes for their wine club. Grgich has crafted wine in the Old World tradition here for 50 years. To learn even more about wine, stop by the wine tasting bar 1313 Main. At their Wine Maker Wednesday events, local winemakers visit and discuss their craft.

Napa is replete with fantastic cuisine; 17 of its 40 downtown restaurants are Zagat rated. Be sure to try some of these eateries that come highly recommended by Napa innkeepers during your visit: Morimoto: Famed for his appearance on Iron Chef and Iron Chef America, celebrity chef Masaharu Morimoto opened this popular restaurant, which specializes in gourmet Japanese food. Celadon: Their "global comfort food" is inspired by Mediterranean, Asian and American cuisine. Ristorante Allegria: Don't miss their California-influenced Northern Italian dining. Carpe Diem Wine Bar: Try this chic yet casual venue and pair the share-plate style menu with the perfect glass of wine from their impressive selection. Photo Credit: Frisée aux Lardons from The Bocuse Restaurant at The Culinary Institute of America. (Photo credit: CIA/Phil Mansfield)

Further immerse yourself in the culinary world with a visit to the famed Culinary Institute of America, where you can watch a cooking demonstration or take a cooking class. Another way to explore delicious local food is to hop on the Napa Culinary Crawl or the Gourmet Napa Walking Tour.

Shop like a local at Napa's many independent markets, shops and boutiques. The following retailers come highly recommended by local innkeepers. Oxbow Public Market (pictured) is one of Napa's treasures. The 40,000 square-foot marketplace is the perfect spot to shop for everything from local wine, produce and treats from local farmers and vendors, to home décor and art from California designers. It is also home to several artisan cafes. You can even try your hand at blending your own wine at Uncorked at Oxbow, a unique wine tasting salon. If you're in the mood to sample local produce and snacks, stop by Vallerga's Market or Sunshine Market. Want to browse for women's clothing? Innkeeper-recommended shops include Mustard Seed Clothing Company and Cake Plate. If it's art you want to buy, try Artists of the Valley, Napa General Store or Quent Cordair Fine Art. Love to cook? Be sure to check out Shackford's Kitchen Store, where Napa's chefs buy their wares.

When it comes to culture and nightlife, Napa can't be beat. The Napa Valley Opera House features performances of opera, jazz, dance and musical theater. They also screen documentaries and classic films. Another popular nightlife venue is Uptown Theatre, which offers a host of shows, including stand-up comedy and live music by major artists such as Jewel. Robert Mondavi Winery also offers live concert series on the property. Visit Silo's if you're in the mood for live jazz, or try salsa dancing on Saturday nights at Bistro Sabor.

If you rent a car, your day trip options from Napa are nearly limitless. You can drive 50 miles on Highway 1 to visit Muir Woods National Monument, a stunning redwood forest. For ocean views, take a jaunt to Stinson or Dillon beach, which are about an hour and a half from Napa. Or drive along the coast to Bodega Bay, where you can stop and enjoy a lunch of fresh oysters. If you're feeling gutsy, go ziplining in nearby Sonoma. You could even spend a day in San Francisco, which is only about 50 miles from Napa. See a different perspective of the region with an early-morning balloon ride over Napa Valley. Get a taste of the wild by driving over to Safari West, a 400-acre wildlife preserve about an hour from Napa that's home to over 400 exotic mammals and birds. Looking for a guided tour of Napa? Innkeepers recommend touring Wine Country using companies such as Platypus Wine Tours or Beau Wine Tours' Napa Valley.
Follow Home Away on Twitter: www.twitter.com/HomeAway