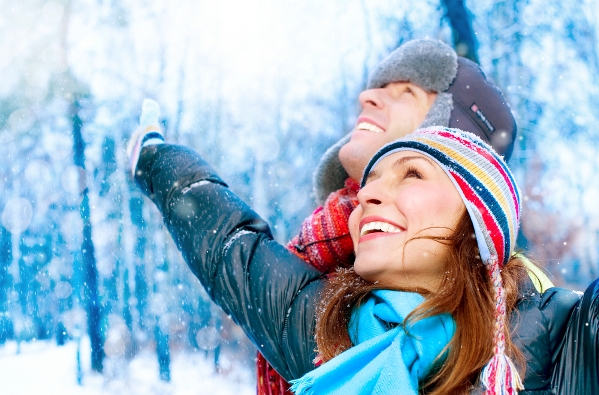 image - Shutterstock
Hello, Winter!
Just a few weeks ago, I was saying goodbye to summer from my kayak on Dillon Reservoir near Keystone while enjoying the display of the changing leaves and cooler air. Suddenly the wind picked up, the sky darkened and I was paddling furiously for shore as the Summit County scenery transformed around me from green and gold to white with a fresh dusting of snow. Seasons change fast in the mountains, and now that it's already snowing in the high country, this is the perfect time to take a look at what the 2013-2014 winter season has in store for skiers in the United States.
It may only be early autumn, but it's "game on" for Colorado ski areas -- many of which have already begun making snow and counting up fresh inches of the real stuff from weekly storms. The temperatures are falling fast, and many ski areas are planning to be open within the next few weeks.
Opening Days Around the West
Loveland Ski Area and Arapahoe Basin, both high on the Continental Divide, are open and started running lifts in mid-October. Keystone will start running November 1. Breckenridge starts its 52nd season November 8, and Vail will begin welcoming powder hounds November 22, 2013 through April 20, 2014. In Wyoming, Jackson Hole will open November 28, and in Utah, Park City opens its 50th season November 23.
California
The softly falling snow was a beautiful sight October 9 at Mammoth Mountain. The resort posted this video to inspire us all to get our equipment tuned and ready!


Mammoth is counting down the days to its opening on November 7. Lake Tahoe's Heavenly and Northstar are both shooting for November 22. Bear Mountain at Big Bear hasn't announced an opening day, but they have already seen some early snowfall and are optimistic that the season will start soon.
Northeast U.S.
Heading across the country to Maine, the Sunday River Resort's website proudly posted photos from October 9 showing its snowmaking equipment in action. No promises on an opening date yet, but it looks like the Sunday River folks are hoping to start sending skiers down the slopes on or around Halloween. Killington in Vermont is keeping full attention on the weather and will pounce on snowmaking just as soon as the temperatures permit. They're hoping for another long ski season -- they hosted the longest season in the East last year from October to May.
The Snow Forecast
The Old Farmer's Almanac contains encouraging words for the 2013-2014 winter season, including above average snowfall. In Region 13, which includes the Northwest Colorado Rockies, Jackson Hole and Park City, the Almanac predicts that winter will be much snowier than normal (which makes me happy!).
California's outlook is also bright with predictions of "mountain snowfall much greater than normal." The long-range snow forecast for the Northeast, including Maine and Vermont, is calling for a milder winter but with "snowfall slightly above normal."
The upcoming ski season is almost here, and it's looking like it could be a great one. See you on the slopes soon!
-- by Kiley Vorreiter