Brady Evans from Honest Cooking with a breakfast dish that gives you all the meat, eggs, and bread you need in one small cup.
Preparing breakfast for overnight guests is always tricky for me. There's always the crowd pleasing pancakes and waffles, but of course that leaves me stuck in the kitchen. And then there's the issue of battling guilt laden, calorie heavy breakfasts with my natural tendencies towards lighter fare.
These little gems, however, kind of swing both ways. Guests can take as many as they want to fill their appetite. If they want just one, however, they're only obligated to half a piece of whole wheat bread, 1 egg, and half a piece of bacon. Not so bad.
And the cuteness factor was hard to beat! Next time I think I'll add shredded cheese to the mix.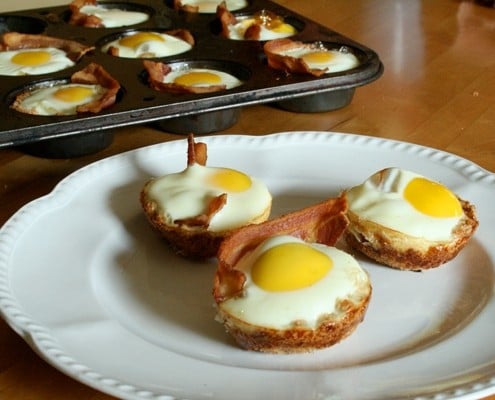 Bacon, Egg, and Toast Cups

Author: Brady Evans, adapted from The Noshery
Prep time: 10 mins
Cook time: 15 mins
Serves: 4
Ingredients
12 eggs
12 pieces of whole wheat sandwich bread
6 strips of bacon
cooking spray
Instructions
Using a 3″ (7.5 cm) biscuit cutter, cut the center out of each piece of bread.
In a microwave, cook bacon 3 minutes. The bacon will be partially cooked.
With kitchen shears, cut the bacon in half lengthwise.
Prepare a 12 tin muffin pan by spraying with cooking spray.
Place a bread round in the bottom on each muffin tin.
Line the side of the cup with a strip of bacon.
Bake at 350 F (175 C) for tin minutes.
Crack an egg into each muffin tin and return to over to bake for 7-10 minutes more or until set.
SUBSCRIBE TO & FOLLOW THE MORNING EMAIL
The Morning Email helps you start your workday with everything you need to know: breaking news, entertainment and a dash of fun. Learn more