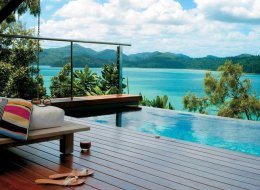 By Kristen McKenzie, HotelsCombined.com
Angelina Jolie has recently set Aussie gossip mags aflutter since she touched down in Sydney with her kids in tow earlier this month. In town to film a movie, Jolie and her tots have been spotted across town enjoying the city's many attractions, including the aquarium and the world-famous Taronga Zoo.
The pillow-lipped beauty is the latest in a long list of fellow A-list celebs like Ellen, Oprah and Lady Gaga who've frolicked under the Aussie sun. And when major stars descend upon the island country, there are only a handful of ultra-luxurious hotels around the country that get the honor of hosting them. With their spectacular suites, top-notch customer service, amazing amenities and most importantly, respect for privacy, these five-star properties attract superstars like a moth to a flame.
From Melbourne to the Gold Coast, we take a look at the glamorous Aussie digs where celebrity sightings are practically an everyday occurrence:
Star-Approved Stays: Where Celebs Check-In Down Under
Angelina and her brood have been snapped enjoying the harbour view from this five-star property and fellow guests have comprised the likes of Ellen, Oprah Bill Clinton, Jennifer Aniston, Pink, Cher and Russell Brand. The main draw for the rich and famous here is the hotel's incredibly decadent Australia Suite, which features underground tunnels, a spacious lounge room and a bird's eye view of the Opera House and Sydney Harbour Bridge.

This South Yarra boutique hotel, recently refurbished as part of Accor's high-end MGallery collection, is located along Chapel Street's trendy shopping district and has housed luminaries such as David Beckham, Kylie Minogue, Michael Buble and Bruce Springsteen throughout its illustrious history. The hotel's three signature penthouses (Pearl, Gems and Gold) are highly sought after by visiting celebs – Robbie Williams once famously entertained his entourage on the baby grand piano in the "Gold" suite.

The world's first fashion-branded hotel (envisioned by the late Gianni Versace), Palazzo Versace is a natural fit for the celebrity lifestyle thanks to its stunning Italian design and coveted waterfront destination. Numerous music superstars from the Rolling Stones to U2 have enjoyed its state-of-the-art gym, high-end spa and elegant suites and condominiums. Having amassed a slew of accolades and awards, the hotel was most recently named to the 2013 Conde Nast Traveller (UK) Gold List.

Named the "Best Resort in the World" by the 2012 Conde Nast Traveler Reader's Choice Awards, it's no wonder Oprah, Gordon Ramsay, Toni Collette and fashion designer Donna Karan have all made a beeline to this stunning waterfront property. But enjoying the lavish retreat's private sun decks and infinity pools comes at a price – a night's stay in a classic room starts at $850 AUD.

This trio of high-end hotels (Crown Towers, Crown Metropol and Crown Promenade) have all had their fair share of celebrity visitors including Katie Holmes, Tom Cruise, Tiger Woods, Katy Perry and Nicole Kidman. Considering the hotels' attention to detail and superb customer service it's not hard to see why the stars keep returning – last year when Kim Kardashian stayed at Metropol, the staff had a photo of her pet kitten framed and waiting in her room upon arrival!

Paparazzi must love the Park Hyatt Sydney given that stars like Rihanna, Lady Gaga, Brooklyn Decker and Miranda Kerr have all been photographed around its premises. Chris Hemsworth and Zac Efron were even snapped shirtless here whilst enjoying the rooftop pool – and if that's not what dreams are made of, we're not sure what is.

Quiet and intimate, this small five-star abode is ideal for celebrities looking to fly under the radar. And with its cutting-edge fitness facilities, DVD and book libraries, acclaimed spa and gourmet mini bars, famous lodgers like Gwen Stefani, Pamela Anderson and Paris Hilton have been able to enjoy all the comforts of home at their fingertips.
Follow HotelsCombined.com on Twitter: www.twitter.com/hotelscombined