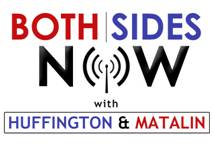 With Arianna away, Katrina vanden Heuvel -- a WashingtonPost.com columnist and editor & publisher of The Nation magazine (only 141 years older than HuffPost) -- debated BSN regular Mary Matalin on several hot topics. Not much "beyond left and right" on today's show. But consistent with our opposition to ideological monologues on talk radio, our co-hosts exchanged ideas, not insults.
First, was the Supreme Court's 5-4 decision overturning Chicago's handgun ban the right decision or merely a far-right decision? Mary defended the majority by citing its arguments about post-Reconstruction blacks needing guns. Katrina chided "the selective use of history" and worried about gun violence rising. Mary dismissed any correlation between guns and crime and thought that crime reduction should concentrate on family breakdown.
Mary teased a) Obama's "stimulus" as "porno-economics" (paging Dr. Ruth) because little was stimulated and b) a White House "recovery tour" that was essentially a "base recovery tour." Katrina countered that Obama's plan saved the economy from a free fall and the GOP merely wanted Obama to fail. The women agreed on the need for an extension for unemployment benefits but not how to pay for it.
So which party was more divided -- the GOP because Michael was no Man of Steele or Democrats because prominent liberals (Nader, Reich, Borosage, Arianna) criticized 44 for what he hadn't done? Mary thought Steele had erred and shouldn't shouldn't be fired. Katrina lectured liberals that they shouldn't fall in love with a politician and that they should understand how the system is stacked against them (see Alterman, "Why a Progressive Presidency is Impossible, Now" and vanden Heuvel, "Are Progressives and Obama on the Outs?")
Katrina is a Russian expert (who was originally supposed to be in Moscow all week and NOT because she was being deported!). She thought that there was still a need for spying/intelligence gathering, though it was hard to distinguish between the two. But nothing should or would interrupt the U.S.-Russia "restart."
The women had diametrically opposite views on whether CNN and the WashPost should have fired reporters whose point of view in private tweets went public. You can be a good reporter "if you're open about your views and check them at the door,"said KVN. These reporters should have been fired because of their "liberal media bias," said MM.
In a parental close, Mary discussed leaving their teen daughter in Paris, Katrina comforting her NYC teen daughter post-LeBron, and I, having gone to hear Lady Gaga at Madison Square Garden with my wife this week, asked who were their Lady Gagas growing up? Katrina reluctantly admitted it was Bobby Sherman and David Cassidy while Mary proudly declared for Gracie Slick. Look who's the hippie!

-Mark Green, Host

Please send any comments to BothSidesRadio.com