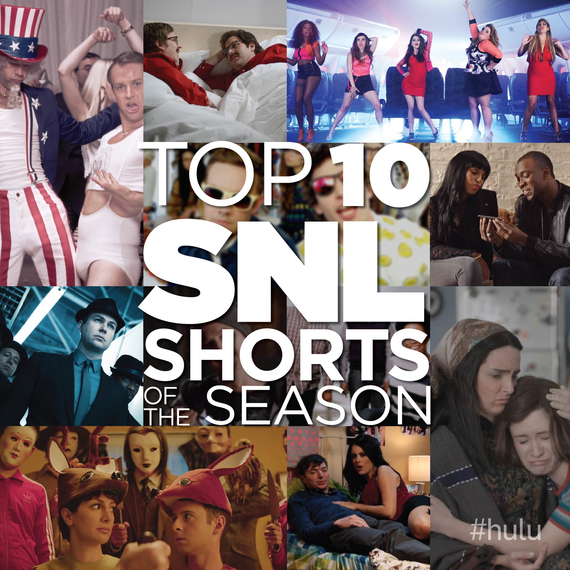 Season 39 of Saturday Night Live may have come and gone, but the digital shorts will live online forever. Here, in no particular order, are our favorite shorts from the past season.
Forget the fox. Kerry Washington suggests that you should be more concerned with what your girl says, specifically about that collection of butt pics you're hiding in your smartphone. -- Sheila Dichoso
We didn't want to take our chances in disrespecting Queen B by omitting this short from the list. (Plus Andrew Garfield is totes adorbes - like, uh-oh uh-oh uh-oh uh-oh na na na.) -- Richard Ogawa
That sexy washed-up quarterback from high school? Totally worth the risk of Aunt Ruth walking in on you. -- Katherine Rea
E-cigarettes have become a hipster trend this year, but SNL took the device a step further by offering methamphetamine addicts a chance to stay social while tweaking out. -- Liz Brown
"Dongs All Over the World"
Anna Kendrick rapping! And Sexual Pokemon seems like a fun summertime activity you can do with friends. -- Raef Harrison
"Midnight Coterie of Sinister Intruders"
This outstanding parody of a horror film in the style of Wes Anderson is so whimsical and accurate, it's almost frightening. -- Liz Brown
Kenan, Jay, and Sasheer gave us so many reasons to hug a black guy this Black History Month that you'll HAVE to dance about it! -- Nadia Vazquez
"We Did Stop (The Government)"
The government shutdown was actually pretty scary there for a minute. But thankfully SNL let us know it was all right to laugh again, and now we kind of want Taran Killam to run for political office. He'd get our vote. -- Raef Harrison
In all honesty, who hasn't wanted to slap a character from Girls across the face with a rubber hand? Tina Fey FTW! -- Raef Harrison
In Me, Spike Jonze's follow-up to Her, falling in love with yourself in a sartorial, pastel-colored, mustached future never felt so right. -- Sheila Dichoso
SUBSCRIBE AND FOLLOW
Get top stories and blog posts emailed to me each day. Newsletters may offer personalized content or advertisements.
Learn more