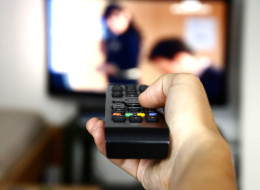 The holidays are over, which means two things: longer lines for the treadmill, and a bunch of brand new shows to watch, judge, and probably discard in favor of Modern Family re-runs.
Since you would have to essentially abandon your social life to check out all of these pilots, we've simplified the process once again with some word clouds. That's right -- you don't even have to read full sentences to know what's watchable. Whether you're looking to geek out about the universe with Neil deGrasse Tyson or just want to see some cowboys getting it on, there's something for everyone. We hope.
True Detective is brought to you by the current Matthew McConaughaissance.

Cosmos: A Spacetime Odyssey is what happens when Executive Producer Seth MacFarlane tries to make up for that song about boobs he sung at the Oscars.

We like the sound of Mind Games, but that's probably the mental manipulation talking.

Star-Crossed is Katy Perry's song "E.T" developed into a show that will somehow run for seven seasons.

The drunker you are when you watch Mixology, the less you think about how these actors had to wear the same clothes for an entire season.

If we came across Looking on Grindr, we'd definitely ask it for a face pic.

Wahlburgers, in which Mark Wahlberg opens up a restaurant with his brothers, is the premise of a very long SNL skit that is somehow also real life.

Rake is further proof that humans taste like chicken and will forgive Greg Kinnear for anything.

The 100 is a show about how to look really, really good while facing certain death on an abandoned planet devastated by nuclear war.

Killer Women would like you to know that no Shania Twain songs were harmed in the making of this show.

Kim of Queens is a show about a bunch of pageant hopefuls who don't have taste in anything. Kim's words, not ours!

Crazy Hearts: Nashville is a documentary about what it's like to live inside of a country song.

Under the Gunn tells the story of a man and his catchphrases, and just how effective a pinstripe suit can be.

The Spoils of Babylon was conceived purely as a vehicle to bring Haley Joel Osment back into relevancy. God bless IFC.
Follow Hulu.com on Twitter: www.twitter.com/hulu