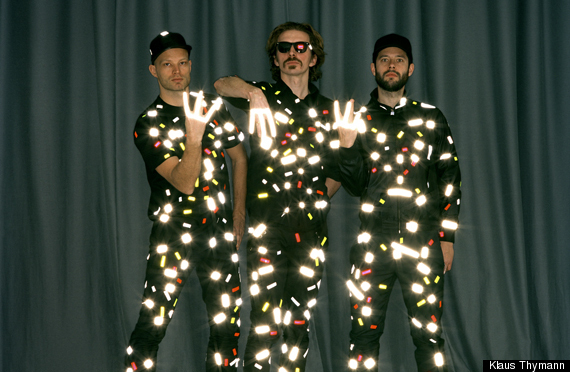 Sometimes you have to take a chance on a band.
Last night at Mercury Lounge in the Lower East Side, a young band from Copenhagen with the puzzling name WhoMadeWho headlined a four-band event with their signature Danish disco punk sound to win the hearts of a skeptical New York audience.
"Don't review the show," one of the band's members told me as I entered the venue. "It's gonna suck. We're gonna be too drunk to play." But when the trio took the stage, in matching suspenders and white Oxford shirts buttoned all the way up, they appeared cool and confident.
WhoMadeWho launched directly into their first song without addressing the crowd. They formed an upside-down triangle on stage, with guitarist Jeppe Kjellberg and bassist/vocalist Tomas Hoffding in front (sporting cheap new fedoras they'd bought earlier in SoHo), and a single drummer in back--the attractively-mustachioed and blindingly-blonde Tomas Barford, who seemed to smile the entire show.
I quickly saw that WhoMadeWho's music is a form of contemporary disco--it's dance music from the eighties that's been dressed for the indie rock scene of the 2010s, with power chords and a slight dose of irony in its presentation (hence the bands' suspenders and oddly robotic dancing on stage). Among members of the audience, I heard them compared to the Talking Heads, Kraftwerk, and the Nihilists from the movie The Big Lebowski.

But such blithe comparisons aren't sufficient to describe the band's innovativeness, and I was relieved to see that WhoMadeWho's hip aesthetic was always secondary to their technical skill. Hoffding picked his bass expertly while Kjellberg played his guitar with a small gadget called an "electronic bow," which is a hand-held plastic device that uses an electromagnetic field to move across the guitar's strings like a violin bow. Kjellberg also sang through a voice-distorter, which was attached to his microphone, producing that classic robotic monotone that Daft Punk made famous in the early 90s.
Certain bands cannot bring the highly-produced sound of their studio recordings to a live performance without losing something along the way. WhoMadeWho is not one of those bands. Their first song transitioned immediately into their second, and then into their third, without more than a beat to separate them. This was a confident, unpretentious band, who had fun on stage at the same time, and even got a relatively-sober Monday night crowd dancing, which is no easy feat in itself.
WhoMadeWho "Keep Me In My Plane" (RadioEdit) by HuffingtonPost
SUBSCRIBE TO & FOLLOW THE MORNING EMAIL
The Morning Email helps you start your workday with everything you need to know: breaking news, entertainment and a dash of fun. Learn more