Heard of us? We're the 6rounds team!
In July of 2009, we launched our destination site, a live meeting point which bridges the offline and online worlds by way of mixing webcam chats, interactive features and real-time multi-user games. We received great reviews from TechCrunch and TheNextWeb, acclaiming our efforts, as well as our fun and friendly UI.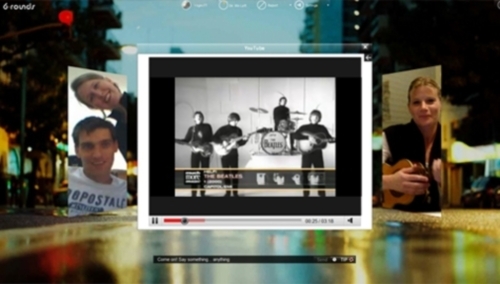 Later on in the year, the Google Wave team approached us to create an extension, and within a month, we were ready to do a live demo for Lars Rasmussen and the rest of the Wave team. Within a week or so, we heard back that we had been chosen to be one of the first six extensions to be featured at their launch, and in fact, until today, we are still the only video chat extension on Google Wave.
/wave.google.com/wave/#restored:search:group%253Agoogle-wave-extension-gallery%2540googlegroups.com,restored:wave:googlewave.com!w%252BR8RbkhA9I" target="_hplink">extensions list.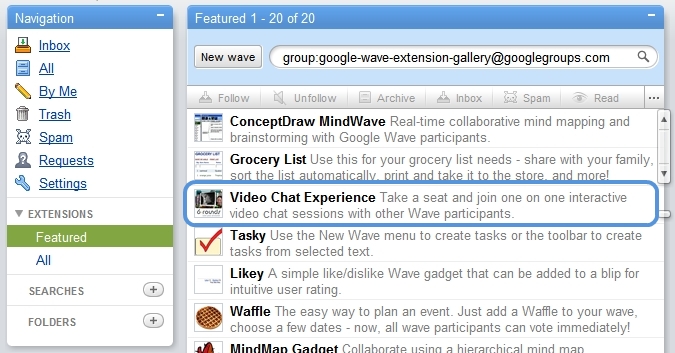 Throughout the year, we have continued our efforts to upgrade our original extension, adding more wavy functionalities. Today, wavers can take snapshots, play games, and collaborate together during their video chatting session. Within one wave, multiple sessions can take place, and the participants are still able to partake in the rest of the wave's correspondence.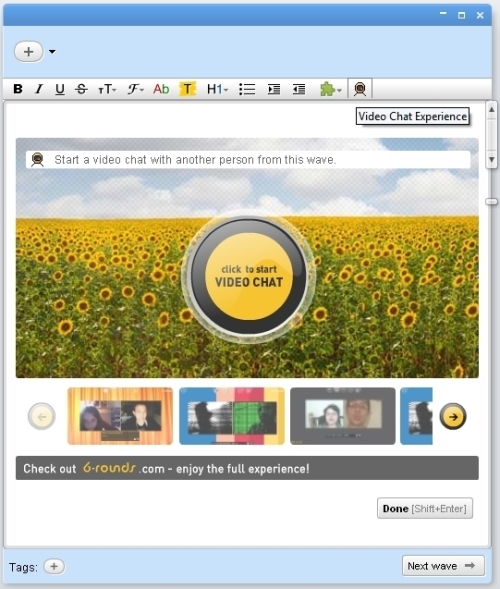 6rounds isn't intended to be a destination site. The current 6rounds site is a mere reflection of the platforms capabilities, and as more applications are added, and more partnerships are created, our cross platform environment will expand.
To date, 6rounds has over 170,000 users. Although currently still in beta mode, today we announced the launch of our Developers API. Using 6rounds simple API, developers can quickly and easily transform their existing social activities and games into 6rounds video chat experience, or create new inspiring applications, within a mere 15 minutes. Both of which can leverage the platform's inherent ability to deploy gifts, effects, and background themes into the video chat environment. Furthermore, the developers will soon have the opportunity to embed their activities in a stand-alone widget, anywhere across the web, which will allow even faster distribution of their products.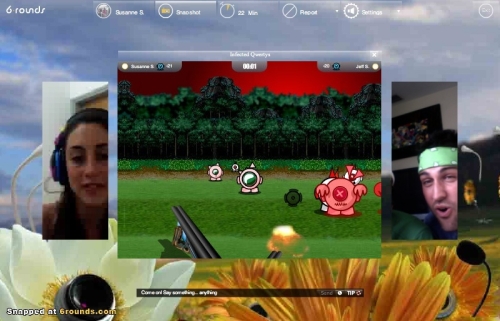 The first few submitted applications will get the chance to be a default application in the video experience that will be spread throughout the cross platform environment through leading social networks and other future partnerships. Furthermore, the 6rounds studio will contain an app store, with free and premium apps, which will allow revenue sharing opportunities as well an affiliation program for developers.
"As developers ourselves, our focus was to create something that will speed up the development process and concentrate on game functionality instead of platform boundaries" says Gadi Srebnik, VP Product Director of 6rounds. "Typical social activities are focused primarily on an asynchronous experience. 6rounds finally changes this", states Co-Founder and CEO, Dany Fishel.
Developers are invited to create real-time multi-user rich activities through 6rounds API. They can incorporate their activities with video streaming and text chatting, sync users' events and mouse movements, customize the user backgrounds themes and webcam effects, as well as use visual gifts to enhance the video chat experience. These features create a breathtaking experience for the users and prolong their interaction within the platform.
In addition to the launch of our developers API, we have plans for quite a number of new announcements this year. Such announcements include our much anticipated Facebook video chat application, as well as our ability to support many-to-many video chat sessions. Stay tuned for more updates and check out our blog.
Ilan Leibovich and the 6rounds Team

SUBSCRIBE TO & FOLLOW THE MORNING EMAIL
The Morning Email helps you start your workday with everything you need to know: breaking news, entertainment and a dash of fun. Learn more